(Sizes large and XL) Naughty People Chemise: Two Reviews in One
This chemise will bring a smile to your face, both for the wickedly cute design, and for the incredible level of comfort you will feel while wearing it. You will want to wear it to bed, and to keep wearing it the next day.
Published:
Pros:
Very stretchy, Comfortable, Amusing, Great conversation piece
Cons:
Ribbon straps will fray, Faint smell before washing
"In the South, there's a difference between 'Naked' and 'Nekkid.' 'Naked' means you don't have any clothes on. 'Nekkid' means you don't have any clothes on ... and you're up to somethin'!" ~Lewis Grizzard
I first saw this chemise on another site in the fall of 2010. It caught my eye - How could it fail to do so? All these little, naked people were displayed from top to bottom of the piece. I didn't buy it then, but it did stay in the back of my mind...
Cut to January, 2012. I have
EdenFantasys
points burning a hole through my computer monitor. It's time for a shopping spree. I load up on items to purchase, mostly lingerie, and decide it is time to finally purchase the
Naughty People chemise
. Unfortunately, it is out of stock in an XL. What should I do? Buy it in a large, of course! Then the next week, when it shows up back in stock in an XL, buy that one too!
The Basics
This piece is a simple, white chemise made from a poly/cotton blend (50% polyester, 50% cotton). There is a printed design that shows a collection of naked boys and girls from various walks of life...and death. There is a naked skeleton. (I guess no one ever told Coquette that the penis does not actually contain bones.) Other characters include, an emo kid, a devil boy, a catwoman (my personal favorite), a girl wearing a strap-on, a monkey, a punk rocker, and...well, a lot more. There are twenty-eight different characters in all circling the length of the chemise. Two thin, white ribbons serve as adjustable shoulder straps thanks to the attached plastic clips. The chemise has a slight V-neckline, which is trimmed with more white ribbon. There is no underwire or other type of breast support, which makes this comfortable for sleeping, but may be an issue for some women if they wish to wear this during waking hours.
Sizing
The Naughty People chemise is available from EdenFantasys in sizes small through 1X/2X. Coquette's size chart lists a large and an XL as having these measurements:
Large
Bust - 38" to 40"
Waist - 30" to 32"
Hips - 40" to 42"
Cup - C
XL
Bust - 40" to 44"
Waist - 32" to 36"
Hips - 42" to 46"
Cup - C/D
My measurements are 42-34-40, with a D cup size, so according to Coquette, I should wear an XL in this. Because of the amount of stretch I expected in this piece, I felt okay with getting the large. Of course, as I have already said, I did buy the XL as well.
Care Instructions
According to the garment's care tag, you should hand wash this chemise, and then let it line dry. I would say that you should either go with those instructions, or wash this piece on a delicate cycle in a lingerie bag. Do not put it in the dryer. As mentioned before, the naked people on this chemise are printed there - They are not part of the fabric. If this goes through your regular laundry process, I have reason to believe that in time the figures on the chemise will peel. You don't want that, do you? Take the extra few minutes to care for this piece properly.
Packaging
Here is an interesting bit for you: My large chemise arrived wrapped only in EF's standard pink tissue paper. The XL piece came in a clear, cellophane bag, on a plastic hanger bearing the Coquette brand name. Both pieces had a Coquette tag attached to them by a white safety pin. I have to say, personally, I much prefer this to the plastic swift attacher (yes, that is what it is called) that is more commonly used. A safety pin is much easier to remove, and may find another use in the future.
Experience
Here are some pictures to show the difference in the large and XL sizes.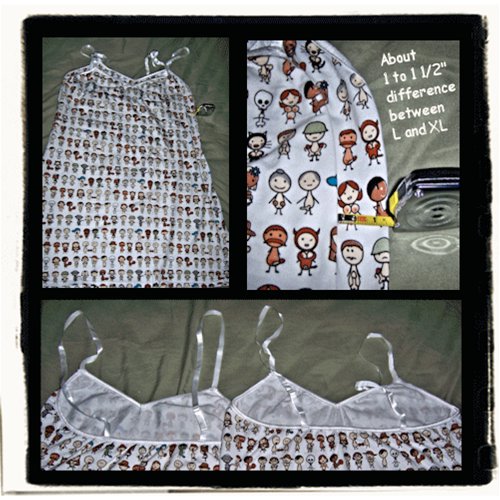 As you can see, there is little real difference between the two sizes. For the large, the length is 26". The measurement across the bust, unstretched, is 16". It is 17" across the waist, and 18" across the hips. The bottom hem measures 23" across.
I found that there is a significant amount of stretch to this material. Actually, for every inch of material, you can get about another 1/3" to 1/2" of stretch. Therefore, I would say you
could
get this size to stretch to as much as 44" to 46" in the bust, 46" to 48" in the waist, and 48" to 50" in the hips. I am not saying this would be comfortable, just that I believe it would be possible.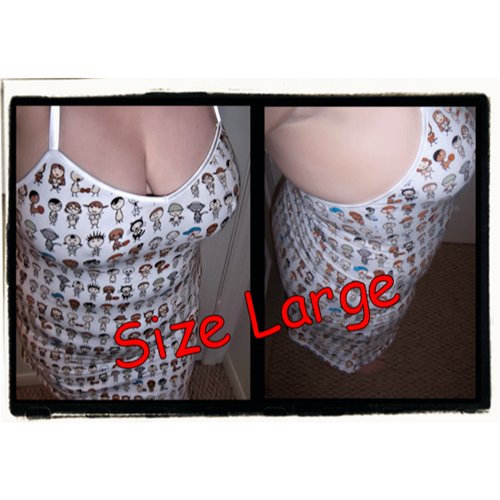 For me, as you can tell, the large did fit, but it was quite tight across the bust and hugs my curves just a little bit too much for my liking. It is comfortable enough to sleep in, but I probably would not wear it for lounging about the house.
The XL has a length of 27 1/2". Its measure across the bust is 17", while the measure across the hips is 18", and across the hips is about 19". The bottom hem measures 24 1/2" across. Taking the stretch factor into consideration, I would say you could get the bust to stretch as much as 46" to 48", the waist to stretch as much as 48" to 50", and the hips to stretch as much as 50" to 52". Again, I am not saying that would be comfortable, just possible.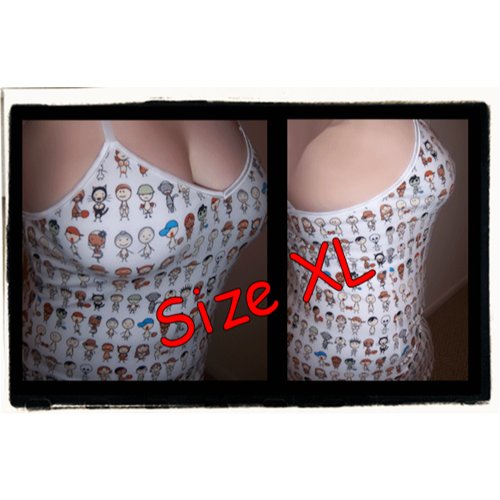 The XL gave me a much better fit. It was not nearly as tight, as you can tell from the pictures above. It simply hangs better. It was also a lot more comfortable. Coquette's size chart was right. XL was the correct size for me.
Other things are important to note aside from the fit. For one, I noticed a slight, chemical scent when I first received these items. I am guessing it was from the dyes in the print design. I washed each chemise, and I didn't notice this smell afterwards. No one else has mentioned this in their review of the item, but I am particularly sensitive to such things, so I find it important to note. Secondly, the ribbon laces on the chemise are quite delicate, and began fraying after their first wash. One last note is that the care tag inside the chemise will drive you crazy if you do not cut it out. It is very scratchy, so you will definitely want to remove it.
Due to this item being particularly clingy, and therefore not the most flattering to curvy girls, and the fraying ribbon straps, I am going to dock this piece one star. It keeps the other four stars for being very, very comfortable and for its whimsical design. Whether these people are "naked" or "nekkid," they are certainly adorable and fun.
If you want to, you can complete this look with a matching
Naughty People thong
. Also, you can coordinate your sleepwear with the man in your life by buying him a pair of
Naughty People boxers
.
Follow-up commentary
16 days after original review
I am still loving this one. I tend to wear the XL instead of the large, as it is a little roomier and more comfortable for not being as tight. I have run it through the wash a couple of times, and the only thing I have noticed is that the bottom hem doubles over, leaving a fold and a crease around it. An iron on a low setting to the reverse side could take care of that, but as I am just wearing this around the house, I am not bothering with that. I believe I am going to have this one in my wardrobe for a long time.
This product was provided at a discounted price in exchange for an unbiased review. This review is in compliance with the FTC guidelines.

Thank you for viewing
Naughty people chemise
review page!