Something For Everyone
Every time I think I've taken notice of every character on this chemise, I find a new one. It cheers me up, and I've received compliments from anyone who has seen it. I'd love a more supportive strap and possibly some breast support, and then I would give this item 5 stars. As is, I'd still recommend it!
Published:
Pros:
Hilarious
Soft
Did I Say Hilarious?
Cons:
No Breast Support
Straps Are Delicate
Hand Wash Only
Who:
The Coquette naughty people chemise is appealing to anyone with a sense of humor who wears size 4 to size 22. There is literally a naked or half naked cartoon drawing to appeal to just about anyone on this chemise...a naked frankenstein, a guy with piercings, a woman dressed as a cat, etc. The characters are also of many races, penis sizes, and even vary in age (yeah, there is a couple with gray hair). However, big-boobed ladies beware! This chemise has no breast support whatsoever, and the straps do adjust, but they are made out of ribbon. So, basically don't expect any support from those either. I will also say that as a curvy girl, this chemise will cling to every roll and show every dimple, but don't be discouraged! Anyone who sees you in this chemise is going to be distracted by cartoon nudity. Last, but not least, this naughty chemise is 50% cotton and 50% polyester, and it's supposed to be hand washed and hung to dry. I have a real issue with buying items that are hand wash only because I never hand wash anything. So, if you are like me, you can either do what I do...stick it in a mesh lingerie bag in the washer, and hope it comes out unscathed, or you can go buy some fabric markers and make your own inappropriate designs on something machine washable.
What:
It's a chemise. It doesn't have a built-in bra. It doesn't have sturdy straps. Yet, it's both hilarious and sexy in a weird way, and I LOVE it. It possibly runs a tad large in size. I generally buy an XL in everything, and I found that I could have gotten away with the large. Here is Coquette's size chart:
Coquette
Cup Bust (in) Waist (in) Hip (in)
Small 4 - 6 B 34 - 36 26 - 28 36 - 38
Sm/Med 6 - 10 B 34 - 38 26 - 30 36 - 40
Medium 8 - 10 B 36 - 38 26 - 30 38 - 40
Med/Lg 10 - 12 C 36 - 40 28 - 32 38 - 42
Large 14 - 12 C 38 - 40 30 - 32 40 - 42
X Large 14 - 16 D 42 - 44 34 - 36 44 - 46
One Size4 - 14 B 34 - 40 26 - 32 36 - 42
1X/2X 18 - 22 D 46 - 50 38 - 42 46 - 52
3X/4X 24 - 28 D 52 - 56 44 - 48 54 - 58
Oueen 18 - 26 D 46 - 54 38 - 46 48 - 56
Keep in mind that this comes in sizes: Small, Medium, Large, XL, and 1X/2X ONLY!
The pattern looks like this: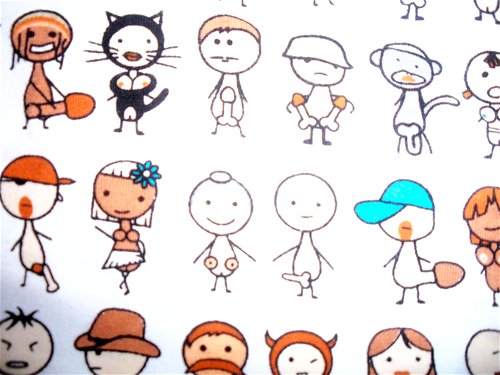 The packaging consists of an unattractive plastic bag and a clear plastic hanger that says Coquette. I wouldn't call it gift-worthy. *And then she took the plastic bag, and shoved it into a heap o' mess like so*:
When:
If you are a particularly forward individual, you won't care about wearing this anytime that you would be found lying around in your normal pjs. My family and neighbors tend to visit unannounced, so I only wear this chemise on occasions when I know I will be left alone by any uptight visitors. Then again, if you want to discourage drop-in visitors, maybe answer the door in this and look guilty of having just masturbated (that might be a true story :P). I also like to wear it for a partner because I think having fun and a good laugh is more important than dominatrix mode at times (just my personal opinion).
Where:
You can wear it in the bedroom. I find it sexy in an alternative way. You can wear it to lounge around...it's extremely soft and comfy. Wear it somewhere warm because I have been freezing my butt off in it this winter in the name of kicks and giggles. You could probably skip wearing it outdoors to get your mail or to take out the trash. It's somewhat on the shorter side as well as being inappropriate in some situations.
Why:
Why would this appeal to you? I'll tell you why! You've got a great sense of humor. I can just tell. You're looking at this review for this product, aren't you?! Also, maybe you're an awesome friend who loves to give a funny gift.
Follow-up commentary
21 days after original review
I love my naughty people chemise. It's just comfortable and hilarious...it's the joke that never gets old. It also withstands a lot of wear quite well. I haven't noticed any stretching, loss of shape, or loose threads. However, I will say that I live with a constant fear of staining it because it has so much white to it. I'd love for this chemise design to be offered in more colors or even in an alternative print (different characters or even a theme). I'd buy multiples of this with even slight variations.
This content is the opinion of the submitting contributor and is not endorsed by EdenFantasys.com

Thank you for viewing
Naughty people chemise
review page!