Look at my cute chemise with naughty people on it.
The naughty chemise by coquette is a delightful gag gift, or something soft to sleep in. You can machine was it with like colors. It comes with a cute hanger that you can reuse. The chemise is extremely stretchy and fits any body size. You can pair it up with the matching undies, or something else. I love this chemise and highly recommend it to all women.
Published:
Pros
Extended sizes,Soft,Strechy,Can be machine washed, funny cartoon figures
Cons
Can be too form fitting for some.
I love this darn chemise, well I think of it more as a t-shirt. I had been watching this from the time EF posted it on the website, but was not able to order it. When it came up for order, I ordered it the first day. I was so excited, and now that I have it, I plan on ordering my sister in law one. This chemise is cute and perfect for any adult with a sense of humor.
The chemise comes in a plastic bag. It coming in the plastic bag is perfect, because if you have ordered other things with it you do not have to worry about the other items messing up your chemise. The plastic can be reused for safe storage. You can also toss it. I'd recommend that people with children that do not need it. Please toss it, because if a little one got a hold of it, it would not be a good situation.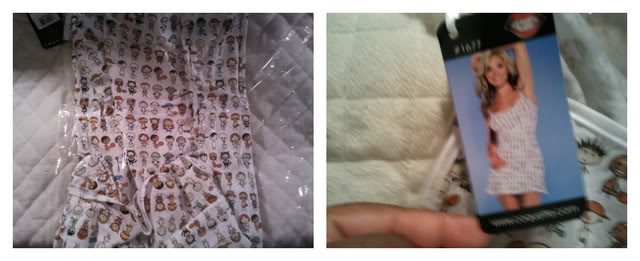 The chemise is hanging on a hanger. This is one this I LOVE about Coquette, there items come with hangers. This is the third item I've gotten something for them, and each of my items had hangers. Unlike the hanger, you get with the corsets, or some of the baby dolls. This does not have the padding and its clear hard plastic. The hanger does not have any real design, but the kissed lips that are in the center.

Now for the chemise, it is made of cotton, spandex, and satin. The entire chemise is made of cotton and feels amazingly soft when it is lying on your skin. Cotton is a breathable fabric, so you do not have to worry about overheating, or chaffing. The cotton does stretch and will not shrink when you place it into the washing machine. You do not have to worry about when tossing and turning in bed. You will not become tangled in your own clothing. I have quite a problem with that.
The bust area of the chemise does not have any padding, or wire. Your breasts are just there, this s something to expect from a t-shirt type item. If you are wearing it to bed you do not need any extra support.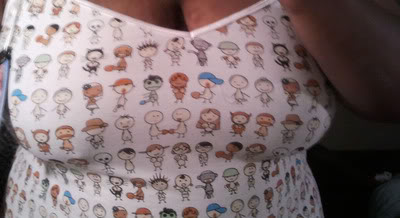 Around the v dipped neck line and round under the arms and shoulder straps. They are lined with a velvet satin material. It is super soft and silky feeling. The straps are also adjustable, so if you need to make the shoulder straps shorter you can do so by some small adjustments. The straps do feel a little thin, and cheaply made, but from my view, the straps are strong enough to last the life of the chemise. I would not recommend trying to rip this off, because you can rip the strap.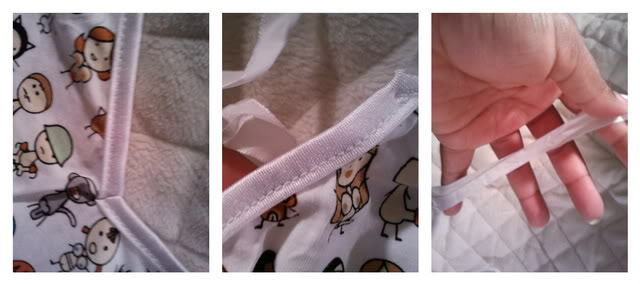 I'm about 5'5 ½ inches tall, so I'm about average height and this chemise comes all the way down to my knees. You do not have to pull it that far down, but if you want too you can. Wear it however you feel comfortable. Stretched to the max, this chemise is a little over 18inches long. You can pair it up with the matching undies. You can also just pair it up with some other undies, or sleeping shorts.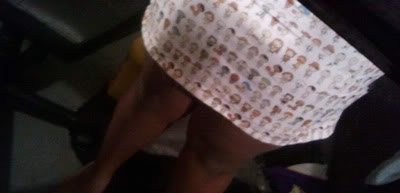 The very bottom of the chemise has an "x" type stitching. The stitching is elastic, so when you are wearing it, the elastic hugs your lower body. This keeps it from riding up when you do not want it too. This also helps it stretch to accommodate any body shape or size. The chemise is extremely form fitting and shows off every curve of your body.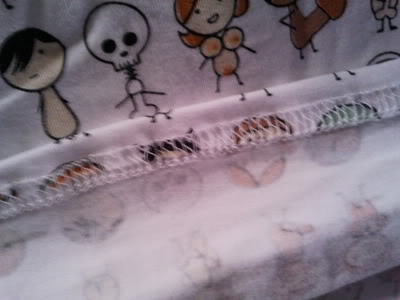 The pattern on the chemise is of naught little stick figures. It is quite funny. You have some cartoon sticks with huge boobs, or an oversized penis. You have about 7 different cartoon figures that are in a repeated pattern all over the chemise. This is perfect for any adult in an adult setting. You can gift it as a bridal gift, or pass around at a toy party. Any adult setting this would be perfect. I would not recommend wearing this outside. Although you would not notice the cartoon figures at first glance, but people who will take a second look may not be okay with it.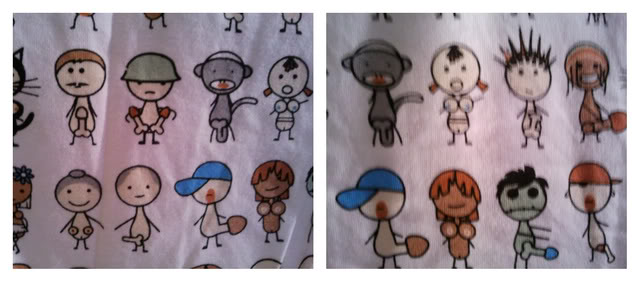 Experience
Like I stated before, I love the chemise. I would order another if something happened to my current one. I was a little off put at first when I tried it on. It is very form fitting, and it hugs your body. Some may like this and some may not. If you are wearing it around the house, the fitting should not bother you at all. The lack of bust support does not bother me because I plan not to wear it outside of my home. When having sex, this is easy to work with. You can just push up the chemise, and to get to your breast you can just pull down the top. They offer this in sizes small through 1x/2x.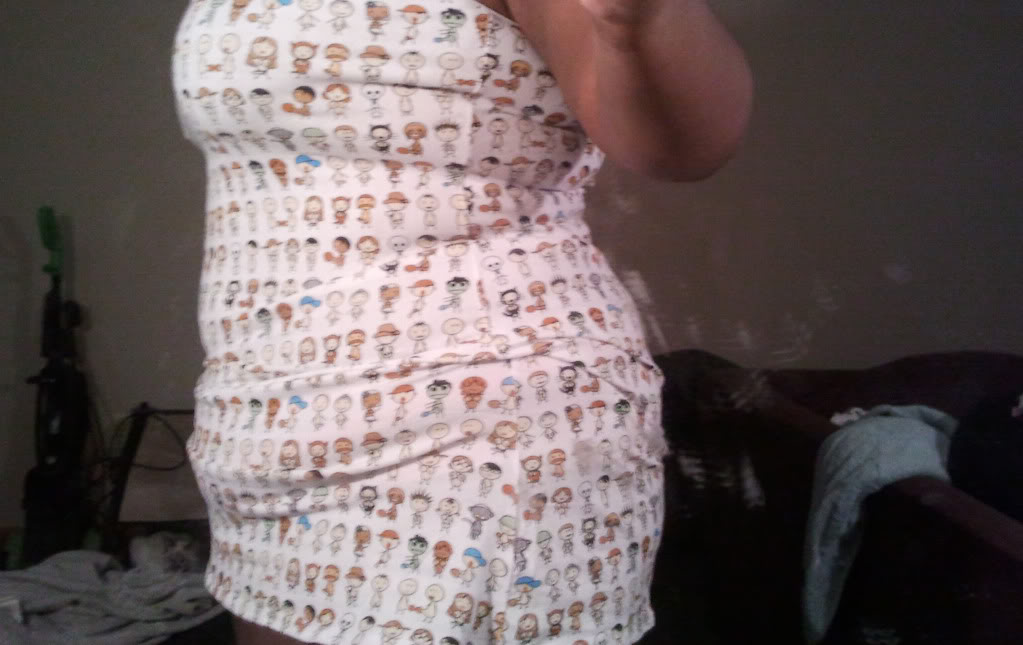 Follow-up commentary
5 months after original review
I'm still madly in love with this chemise. I've had it now for a few months and it's still holding up strong. It hasn't worn down or ripped. I do plan on ordering another one, and I'd also love to get the men and women under that match with this. I HIGHLY recommend this item.
This content is the opinion of the submitting contributor and is not endorsed by EdenFantasys.com
Thank you for viewing
Naughty people chemise
review page!