A sexy, classy dress with sparkly rhinestones too!
This is a fantastic dress! As simple as it may be, I feel that this dress that will flatter about any body type. It's comfortable, classy and sexy at the same time. Instead of highlighting the negative parts of my body, it highlights the areas that I like. It can be worn on days when you feel less than beautiful and perk up your mood. The rhinestones show off my love for all things sparkly!
Published:
Pros:
Lovely!
Flattering fit.
Well made.
Comfortable.
Cons:
Nothing!
The Pink Champagne Dress is a simple, lovely, comfortable dress for public wear or bedroom attire. With halter style ties, getting dressed is easy. The Polyester/Spandex material makes this perfect for warm weather and a dress that can be worn for long periods of time without discomfort. The bubble style dress flows over the body, perfectly highlighting my curves.
MATERIALS:
90% Polyester & 10% Spandex.
The dress is simple, but the ruching and hardware detail makes it classy and elegant. There are two metal pieces on each of the straps, right above the triangle cups. You can see them in the photos, but they're just two rhinestone encrusted circles overlapping each other, if this makes sense. I think they're lovely and they add a nice touch of class and femininity to the dress. They lie flat against my skin without irritating me.
The triangle shaped bust "cups" have piece of foam, the same stuff you see in swim suit tops. This doesn't add thickness to your breasts, which made me happy. They will conceal your nipples and possibly add some shape. Since I'm a 32 B and my left breast is an A, the foam and gathering of fabric conceals the size difference. I'm not one to make an effort to enhance my chest, whether with push up or padding, but I like that the chest is created so that I don't have to wear a bra. It still highlights my chest,something I'm not complaining about! The cups and halter ties are the only things that are pink on this dress. The upper back portion as well as the rest, is black.
Under the bust, there's a band. This is where the dresses fits the closest to my body. I love that! I'm petite and in my opinion, a tad bit love-handley. I wear a size 0 and am 5"2. This is short, but hit at the right spot on my short frame. It comes below my booty cheeks and about halfway down my thighs. It's a great length to show off my short legs and since it's short, but not overly revealing, I think my legs look fabulous in this! I've heard other owner's of this beauty say that it was shirt length on them. Thank God, that's not the case for me. However, I was fully prepared to break out the leggings because this is adorable! I have enough room to bend over without exposing myself. Now if I bent at the waist, not the hips, it's possible that some cheek would show, but I wouldn't ever be in that position in something this short anyways. The point is, as long as I'm not crawling around on the floor or doing a cartwheel, the dress keeps me covered.
The band is a 3" long band that conforms to the torso while the bubble skirt flows over the body, an "empire waist" sort of thing. I like the band there and usually opt for clothing with something like this or else dresses and babydolls will give the appearance that it's swallowing me up. This band doesn't continue around the back, but the mid-torso back there also conforms, creating a slimming look. When I reviewed the blue lace babydoll, I mentioned how the back didn't touch my back, but instead, flowed out and I didn't like that because it looks as if I have no shape. (Make sense?) Besides the chest, the underbust and mid-back area, the dress just flows rather than conforming to the body. I find this style so flattering! The middle section fits someone 28" around. It might fit someone larger, but may be uncomfortably tight. The waist and bottom portion is baggier and might fit up to a size 2-3.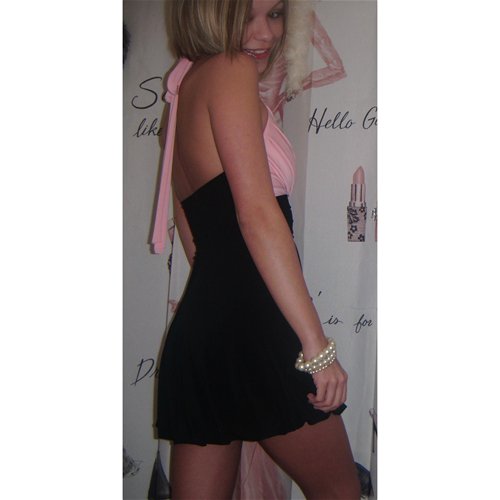 (See the length of ties)
The small fits perfect. The chest seems to have enough room to accomodate up to a C cup, using the halter ties to allow less or more room. Those halter ties were so long that they fell around the middle of my back. This means you have a lot of room to work with, but it also means that the excess ties hanging down looked less than classy. So out came my scissors and I chopped those babies! I haven't hemmed them back up yet because, well, I wanted to wear the dress today! They don't seem to be coming unravelled so I'll hem before washing. Back to the chest, it's low cut, but not so much that I'm exposed. Keep in mind it'll vary for different sizes! I'm small up there so there's not anything to hang out of the already roomy cups. It lies flat and doesn't fall away from my chest so there's no worries of any boob slippage.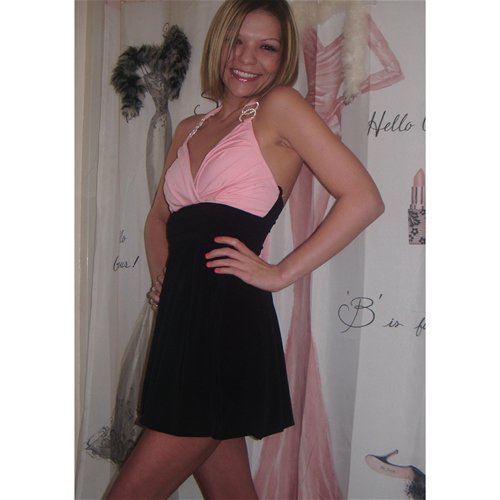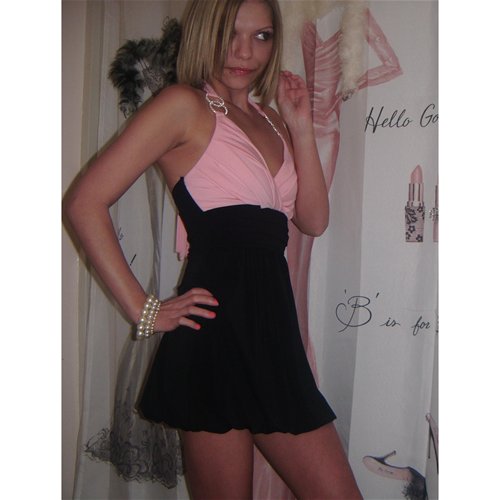 Experience
CARING FOR THIS CUTIE:
The dreadful handwashing is recommended for this. I have a similar bubble dress that's made of the same material only the bottom portion is cotton with zebra print. I wash it in the machine and it does fine so I might risk it with this. I'm not saying you should though! For now, I'm handwashing only as I don't want to ruin it. After that, it hangs in my shower to dry. The material dries pretty quickly, but since it's a bubble dress, there's more material than the average garment. Other than finding the time to hand wash it, it isn't too much of a hassle.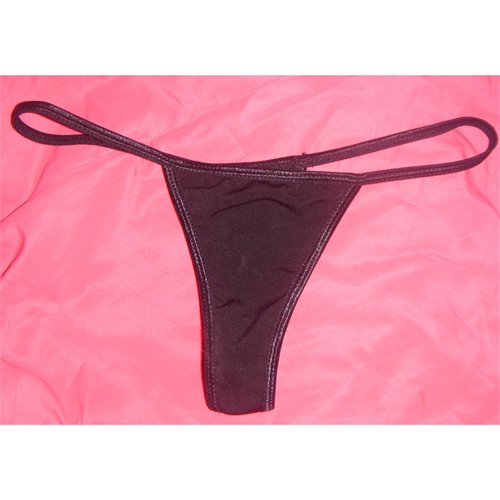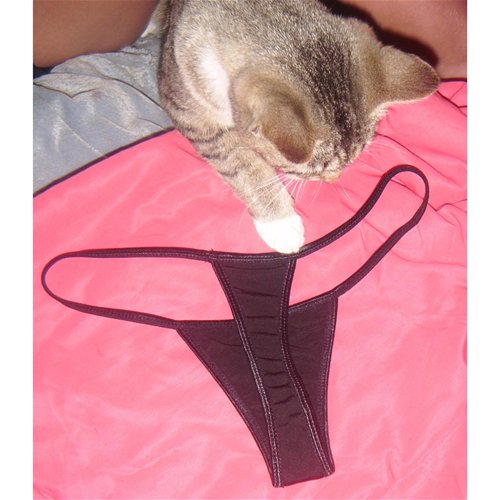 Included is a black, plastic hanger and black thong. I don't have room to put photos of the hanger, but it's the same one that comes with other Dream Girl items. The thong is the typical "I came with lingerie" thong. It actually fits decently though.
The middle section fits someone 28 inches around. It could possibly fit someone a bit larger there, but it could be uncomfortably tight.
MEASUREMENTS (laid flat):
-24" long from top of triangle cups to bottom of dress.
-11" under bust.
-12" Bust.
-15" Waist.
-19" Hip.
-20" Hem.
EXPERIENCE
I'd wanted this dress for a while, but I expected it to look cheap in person. I got it and put and feel fantastic in it! I'm wearing it right now! It's one of those dresses I can slip on and feel nice and pretty. I don't always like spending a long time getting ready so I tend to look for dresses that I can wear with little effort, plus I hate jeans! I bought this at the perfect time, as spring is here! It's something I'll wear often. My last Dream Girl purchase was the blue sequin dress and I adore that thing! I was happy to have had two good pieces from them in a row.
I did expect a cheap looking dress when I bought this, but it's well made and great quality! The only alterations needed was cutting the halter ties and that's nothing. I feel pretty and I actually feel like my body looks great in this dress! I tend to pick at myself over my love handles, but this is something I can wear even on those days where I'm at war with the handles! It doesn't highlight them or glue to my body. I love that it looks sexy, but conservative enough to wear out, rather than trashy. I like to look sexy without showing too much of myself and this is perfect. I can wear this on days when I'm so bloated that it shows. It doesn't highlight my mid-section. I also love the comfortability! Rather than having to wear sweat pants when I'm having stomach yuckies, I can wear this without it causing discomfort in that area.
Follow-up commentary
6 months after original review
It's not that I do not like this dress anymore, but something tragic has happened! You see, the very last time this lovely dress enveloped my body (sorry, am I beginning to sound like an erotica story?) was on Easter day. You know why? Well because on Easter day, this was the perfect little thing for our Easter party. Kidding, you really wanted to know why Easter was the last day I wore this, not why I wore it on Easter, right?

I washed it, done just as the instructions said on that fateful Easter night. Unfortunately, Dreamgirl didn't rinse the blasted black dye from the bottom portion of the dress, so guess what happens when DreamGirl is so forgetful? This girl ends up with the pink portion of her dress all stained and spotted with the excess black dye! Tragic, I tell you.

So to this day I've yet to be able to remove the horrid black dye all over the pink portion of this dress! Here we are entering the cold, awful winter months and I'm still in denial and wearing each of my Summery dresses once more for the season, yes even if it means I go well into winter still wearing my Summery dresses. I won't stop until each of them have been worn once more. But it looks as if this one isn't going to be able to be worn again.

I have thought and thought about what I could suggest as for avoiding this from happening, but I've came up with nothing. I'm a master at removing stains. I once spent 4 days removing icky yellow-colored stains from an old white lace dress (which was retailed at $99 and I managed to get it for half -- TJ MAXX, baby!) that had spent two years in my closet, and I succeeded! This dress has me stumped though. I do not know what will remove the black stains from the pink part of this. I suppose it's best to wash the bottom by hand and then wash the top by hand -- if that is at all possible. Or perhaps you should only plan on this being a one or two time thing. I am just glad I hate washing clothes so much that I got like 5 wears out of this before ever washing it! Ha. Being dirty can be useful!
This content is the opinion of the submitting contributor and is not endorsed by EdenFantasys.com

Thank you for viewing
Pink champagne dress
– mini dress review page!