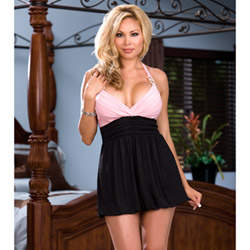 Pink champagne dress
Mini dress
by DreamGirl
Get Drunk in Your Sexuality
This dress is a gorgeous dress will work well with a variety of body types - even if you have a lot of problem areas to hide. It's beautiful, stretchy, and fun to wear. It looks sensual and is sure to make you feel just as sensual.
Published:
Pros
Flattering on larger bodies, hides a lot of problem areas, decent price.
Cons
Thong sucks, unsure about strength of DG gem pieces, few loose threads.
The Pink Champagne Dress from DreamGirl is a soft, lingerie outfit that comes in Small all the way up to 3X/4X. It's made from spandex and polyester and comes in just pink and black. The set comes with the dress itself and the thong. It's a halter-top dress that ties around the back of the neck. It didn't come in any special packaging - it just came wrapped in the pink tissue paper that EF likes to package some of their lingerie in. For review purposes, I own the 3X/4X version of this gorgeous thing.

To start off with: The cups. The breast/pink portion of this top is really nicely done. If you notice, there is extra fabric "laying" around where the cups of the breasts should be. This will make your breasts appear larger as well as works on helping give extra fabric for support of your breasts. This does not actually have any underwire in it, so any support is helpful. The halter strap also ties around the neck to help support the breasts lying in this top. If you notice, the outfit cinches in directly under the waist for more breast support, so they did the best they could for breast support without actually having underwire. That having been said, these cups are huge - (I will never understand why the 3X/4X outfit is modeled on this model that's maybe a large. Maybe.) You could easily put D or DD breasts in here with no problem. I'm concerned about how much that would hurt the back of your neck because of the weight, but the cups easily provide enough fabric to do it.

For me, with my B cup breasts, there was a lot of extra fabric. It kinda bunched up. Inside of the cups of the lingerie is little soft padding to help give your breasts a lift, and honestly, if you don't fill out the cups, it's a little obvious that those inserts exist since they show through the fabric. It didn't make me feel less attractive in the outfit though - just something I noticed. This outfit doesn't seem to really make your breasts feel smaller though it doesn't fit correctly for smaller breasts (what does?). It definitely provides a slight bit of support for what you have though.

Along with the cups, there is that gorgeous halter top. If you notice, on each side of the halter string there is a small interlocking metal piece that has gems set into it. I think it's supposed to be the DreamGirl "DG" without the little "-" line in the G. These connect the body of the lingerie to the straps. The halter straps just are little strips of the material from the outfit - nothing with elastic or anything though the material does stretch. I'm not sure why they chose to include that DG piece. It's pretty, but it also weakens the material a bit, and there's some strands of loose threads showing all around it from where the threads have gotten loose from their stitching around the DG. After a couple wears, it's not showing any danger of coming out completely, but if it did, it'd be really easy to sew back on.

Aside from the cups themselves, the material of the cups meets together in a small spot in the middle of the breasts where the material overlaps. This might seem a bit odd, but it works great. The extra material/pattern draws the eyes right towards the breasts and the neat "meeting" point. Much better to show off your cleavage! The backside of the dress does not have a bra closure at all - it's just some pieces of elastic sewn through the dress to make it stretch around larger bodies.

The dress portion itself works nicely. If you notice on the picture, the dress cinches in at the waist to help show your natural waist and give you the appearance of curves in your hips. It also helps support the breasts. This is a flattering look for pretty much anyone. The dress skirt itself actually drapes if you look at the picture. This means that there is a layer of fabric underneath the dress which there is. This layer of fabric underneath the dress pretty much clings tightly to your body like a swimsuit. It's stretchy and made to cling. This means that when the layer on top of it (which is the layer you see), hits the clingy layer underneath at the bottom of the dress, it will give a slight turned-in look which makes the dress look more sensual.
Experience
This outfit comes with a thong. To be completely honest, when I opened the packaging, I just left the thong on the floor; it was that unexciting. It's just your average black thong that comes with all of the lingerie. Trying it on later, it did not fit me comfortably nor did it really have a nice stretch to it - it was pretty unstretchy.

My Stats: I usually fit a 3X/4X/5X in most clothing. I weigh about 290 pounds, and my waist is 50 inches and my hips are 60. I wear a size 26 in women's tops and 28 in women's bottoms. I'm also five-seven in height.

The dress was interesting to wear. It was definitely comfortable - I'll give it that. It felt odd though - it was spandex, so it clung to me like a swimsuit without really being a swimsuit. It kept the dress from riding up or fluttering too far away from my body was nice. It was really easy to tie the halter top around my neck as well, so it does provide a bit of support to your breasts. The outfit itself is extra-comfy - I lounged around in it for a full day without ever feeling the urge to take it off - the only one thing that takes away a bit from that and is a slight annoyance is the halter top strap. It does end up pulling uncomfortably against your neck since it's supporting the weight of your breasts and just generally working with gravity. I'll say that it hit my body right beneath my butt - the boyfriend, who is six foot, can't wear DreamGirl lingerie because it's too short on him, so if you are any taller than 5'8'', I'd be concerned about it being too short.

Cleaning instructions say to dry clean, but who does that? I'll just be tossing mine in the wash in a lingerie bag. You could also hand wash if you are concerned.

So who is this dress best for? For one, plus-size women since it looks good on a larger body. The decent breast support as well as the cinched in waist make this look really nice. If you have a stomach you want to hide, this skirt is nice and flouncy and doesn't cling to curves, so it hides your stomach. If you have large breasts, this will put them up nicely compared to other lingerie. However, if your arms are your problem area, this doesn't do anything to cover those up, so you might want to add a nice little shoulder-scarf-thing. This does do well as hiding the thigh (even though it doesn't actually cover them) because the nice turn-in of the bottom of the skirt draws attention away. It's a well-made product with few "flyaway" threads that looks gorgeous on a larger body. Can't complain about that!
Follow-up commentary
3 months after original review
I still like this lingerie dress. I don't wear it as often as I should, but I do still wear it around quite a bit. It's just really cute. I've washed it a couple times in the washer (in the lingerie bag), and it has come out just fine. There are a couple stray threads here and there though, but they don't seem to be too horrible. It won't last forever, but it's holding up just fine for now.
This product was provided free of charge to the reviewer. This review is in compliance with the FTC guidelines.
Thank you for viewing
Pink champagne dress
– mini dress review page!