Pink Dream Dress
Although this is way too short on me to be considered a dress, it is still a great piece of lingerie that can double as a top for going out. It even offers surprisingly good bust support!
Published:
Pros:
Offers bust support, variety of sizes, can be worn out
Cons:
Decorative embellishments can be uncomfortable, suggested dry clean only
My dress arrived wrapped in EdenFantasys' hot pink tissue paper, with a tag attached to the dress. The sparkly, jeweled, embellishments were wrapped in plastic, probably to keep them from catching on the fabric.
Although DreamGirl calls this a dress, on me it is a shirt. I'm just shy of 5'11", so it will probably be longer on most people, but there's no way I could wear this out pantless. I'm sure the short length wouldn't be a problem in the bedroom, though!
One great thing about this is that it is available in a range of sizes, from Small through 3x/4x, and it will flatter almost any body type. I was going to order the 1X/2X, but it was out of stock so I went with the Large. I'm really glad that I did because it fits like a glove, even though it shouldn't. Let's compare the DreamGirl size chart for the Large with your friendly neighborhood reviewer (me).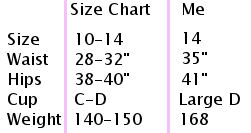 According to the chart, this totally shouldn't fit me, but it fits perfectly. It is tight enough to actually support my boobs without being clingy.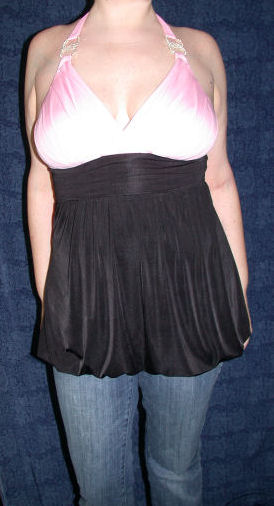 Pardon the glare from the flash. I like to pretend it is because my boobs glow with awesomeness.
As you can see, the dress is basically divided into the bust section (pink) and the "skirt" in black.
The pink bust area actually contains a sort of padded lining, almost like a very soft bra cup that helps to add shape and support. Although there is no underwire, the stripe of black fabric just below the bust fit me tight enough to offer support. The interior cup does sometimes seem a little too visible through the pink fabric, one of the few things I would change about this piece.
At the top of each side of the dress, where the cups connect to the straps, are jeweled, decorative, embellishments in the shape of interlocking rings. They are made of, what appears to be silver plastic, with fake diamonds embedded. These seem pretty sturdy, but I can imagine they may break after having the dress for a long time. If they do break, you could either sew the straps directly to the cups, or replace the rings with ribbon by looping it through both holes and tying a bow, or even with something like a silver metal key ring. There's plenty of room for creativity.
The straps themselves are the same stretchy pink fabric that covers the bust. I'm not a fan of halter style tops because I dislike the pressure on my neck, but these are actually decently comfortable, even if you tie the top fairly tight. The only problem I found with the design is that if I tie the halter straps too tight, the plastic rings dig into my collarbone a bit.
The skirt is done in the bubble skirt style that was really popular a few years ago, where instead of the fabric ending at the bottom, it loops back up to inside the waistline. So you sort of have a double layer. The fabric is gathered a bit at the waistline, so the little pleats create texture over your stomach, covering any bumps or roundness. But the volume created by the poofy fabric gives you a rounder appearance too, so it is kind of both flattering and unflattering to the body at the same time. Basically, you're not going to have a sleek, streamlined appearance in this, but you don't have to worry about sucking in either, because nobody can tell the difference.
One of the biggest perks, in my opinion, is that you can totally get away with wearing this out of the house. In fact, I think this might be the ONLY top I own that I would wear out without a bra, which I consider pretty high praise. I did try on a strapless bra under it, and found it was pretty much totally hidden: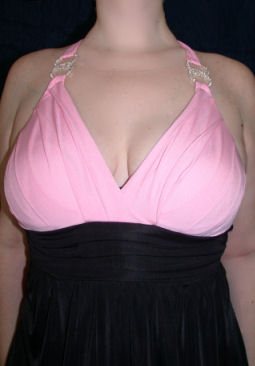 You can kind of see the padding in the cups here if you look carefully. (I can't believe I just suggested you stare at my boobs.) If the padding was a little larger, I think it would blend in with the top better, but at least it isn't super-obvious.
The support that I got from the dress itself is pretty much the same as I get with a strapless bra. So, at least in my case, there isn't a whole lot of point in wearing one, unless you are worried about the straps coming untied and flashing everyone.
Experience
The back of the dress is simple black and sits about halfway down my back, but you can pull it up enough to hide a bra if necessary. The fabric in the back isn't gathered/pleated like in the front, so it lies flat against you. The top edge of the dress' back is elasticized, a bit like the top of a swimsuit. So you don't have to worry about it staying up.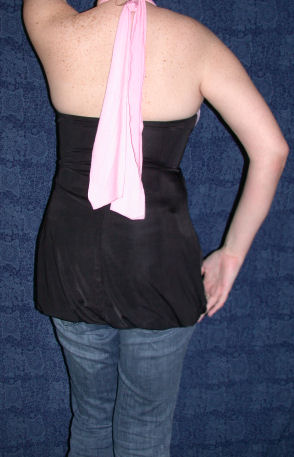 (My left arm is holding my hair out of the way here, by the way. I don't just have a weird shoulder hump for an appendage.)
The dress is made of 90% polyester, 10% spandex. One great thing about the material is that it is pretty impossible to wrinkle, so you can just toss this in your suitcase with no worries. The care tag says that this is dry clean only, boo hoo. I'm guessing that is because of the decorations on the straps, maybe? Either way, I plan to just hand wash it and hang it to dry, I'll report back on how it holds up.
The accompanying thong is a very basic black transparent mesh thong. I wish they had done something more interesting here - either some pink detail, or rhinestones to match the straps of the dress, or something other than a plain black thong. It does have a teeny tiny lining in the crotch, about 3" long. Laid out flat, the actual material part of the thong measures 12.5", and the waistband measures just over 15", but stretches to about 21". There is a big white tag inside the back of the thong that takes up almost the entire back. The tag suggests dry clean only, because nothing says fun like dropping your generic black thong off at the dry cleaner's. I think I'll pass on that and opt for hand washing, or maybe even tossing it in the wash on delicate, since I won't exactly cry if I lose this one. Should you find yourself trapped on a desert island with only this thong for entertainment, you may find your index finger fits perfectly inside the crotch liner, so the thong can double as a finger puppet. It is also possible I shouldn't write reviews on no sleep.
The thong fits me about as comfortably as your basic thong can, even though my hip measurement is an inch larger than the size chart. It is VERY low-rise on me. If I was buying it separately, I might get the next size up. It is about the equivalent of a size 7 thong.
Overall, this dress is almost perfect, and I like it a lot more than I expected to. It is comfy enough to sleep in if I loosen the neck ties a bit, but I'd be worried to actually sleep in it because of the strap decorations. I'm worried I would snap one in my sleep. I wish there was a longer version available that I could actually wear as a dress, I think that would get rid of the poofy stomach issue, plus it would just be a fun, easy dress to throw on and wear out. I would recommend this for pretty much anyone.
This content is the opinion of the submitting contributor and is not endorsed by EdenFantasys.com

Thank you for viewing
Pink champagne dress
– mini dress review page!