Champagne Wishes and Caviar Dreams
DreamGirl certainly got this one right! From the quality of materials and fine workmanship to the well thought out cut and design: this dress is a winner! The dress will make a dream girl out of you by enhancing your figure while covering figure flaws. I highly recommend this sexy and classy dress. Cheers!
Published:
Pros:
Quality and Class in every aspect
Covers a multitude of flaws
Draws attention
Cons:
Draws attention
The Pink Champagne Dress by DreamGirl is quite a gem! I've been fretting and debating about this purchase for months in terms of size, length and whether or not I would or could wear it in public. Its sheer beauty and class finally reeled me in and I'm fantastically happy with the results!
Made of 90% Polyester and 10% Spandex, it is wonderfully wrinkle resistant, durable, easy to care for and stretchy.
I really wanted this piece as a dress, not as a top
at all
. Noting the reviews of others here on Eden about how short the length of the dress was, I decided to buy a size 1X/2X in hopes that it would be long enough and not too baggy looking. I was also concerned that my 42C breasts would be swallowed in the cups. Turns out that I made the right decision! Ladies, definitely order up a size or two unless you are incredibly thin (which I am not).
Pink Champagne is a halter style dress. Where the ties meet the cups of the dress it is embellished with interlocking circles of rhinestones. The bust of the dress is a pretty pink color, and the skirt is black.
There is no under-wire in the cups, but isn't entirely without breast support because a number of factors help you out in this area. The cups are slightly padded, the ties can be tightened for support, and directly under the cups is a cummerbund of sorts that not only helps with breast support but has a slimming effect on the waist. I decided to wear a pink strapless bra underneath, and it solved the problem of both support and the cups swallowing my breasts. A black bra would also look stunning.
It has an empire waist, which together with the cummerbund hides a multitude of flaws. My main problem area is the stomach and the cut/style of this dress really helped me out! The skirt is completely lined and the bubble hem flutters around your legs as you walk in a totally sexy way. Everything about the design/construction of this dress is well thought out to enhance and flatter the female form no matter what size you are or imperfections you may have!
DreamGirl designed this dress perfectly in my opinion. The fine stitching and quality of both construction and materials come together to make this dress a classic!
According to the DreamGirl size chart, the 1X/2/X should fit a size 16-18, a 40"-48" D to DD cup, 36"-40" waist, and a 42"-48" hip. I wear a 14-16, have a 42C bust size, a 36" waist, and a 43" hip measurement. So in all honesty, I fall within all ranges except the usual dress size and the bust size. The cups on this dress are huge! The dress fit me comfortably, and although I do not fill the cups, I am excited to say
it fits me like a mini dress
! I am 5'6" tall.
The length of the entire dress starting at right below the rhinestone embellishment is 30", from under the bust line to the hem is 20" and will stretch down to 24" without riding up.
The included black thong is pretty standard with elastic waist and sides. It fit perfectly and has an open sided panty liner! I'm most excited about that as you can insert a bullet there and
I love it!
DreamGirl recommends hand washing with a mild soap. Hang dry. The hang loops inside the dress make this easy and convenient.
I was somewhat reluctant to model the dress, but my best friend and photographer kept at me, almost to the point of harassment to do so. He said the dress would be totally wasted on Miss Pillow and that I looked too good in it not to. After I saw the photos I finally decided to go for it.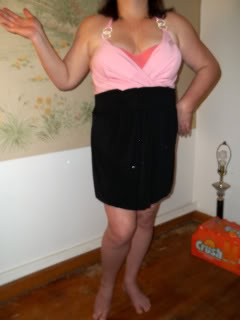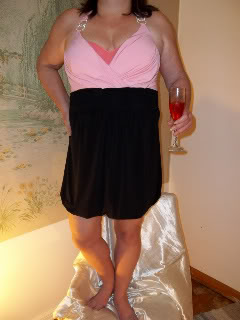 You may remember my friend from the Bongo review [https://www.edenfantasys.com/sex-toy-reviews/male-sextoys/get-it-on-bang-a-gong] I wrote a few months ago. He has been at me to help in some way on a sex toy review, so we had a photo session. He even volunteered to take me out to my favorite Japanese restaurant if I would wear the dress out in public. I couldn't very well turn that offer down!
Ladies, if you want some attention---wear this dress out in public! If not...wear something else.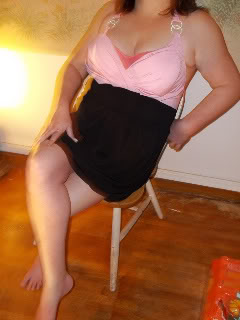 That is actually the end of the review, but this dress brought me such a unique experience that I had to share it with you!
Experience
In the restaurant we were seated with 3 other couples at the hibachi table. The looks I got! Oh my, I was really self conscious.
There were a few glares from the "ladies" as their mates were giving me sideways glances and practically drooling over me in this dress. One lady, I noticed, kicked her mate under the table! This made me unhappy, but also a little tiny bit proud of myself. I haven't been out with so much cleavage since my wild and naked salad days, so I was feeling kinda queasy at all this unwanted speculation.
Well, everyone finally calmed down and we all had some laughs, so the embarrassment I had felt before went away. One of the ladies actually complimented me and the dress while we were eating our salads. All was well! Or so I thought...
The chef was smiling politely and sweetly at me while he fried up the rice. He cracked some eggs. I will never ever forget the next few moments if I live to be 100 and have dementia. I looked up and in seemingly slowed down motion, where the world just stopped, almost like in a dream...the chef whipped up one of the whole eggs he had left, spun it around on his spatula in a spectacular show. He suddenly stopped, looked at me like a basketball hoop and flipped that egg right into the cups of my dress!
There was a second of silence while my blood pressure rose to boiling and I knew my face was beet red! Then time came back to normal and everyone at the table clapped heartily and smiled. I started to stand up and run! My "friend" stopped me with a touch to my arm. He quickly told me that he had tipped the chef $20 to do the stunt. I looked around the table and everyone was enjoying their food and conversation. I relaxed as I realized I wasn't being laughed at; just the victim of a harmless prankster who wants me to loosen up and forget about my insecurities and wants me to be confident in my beauty (he says). He smiled at me so sweetly I couldn't help but believe him. The chef winked at me and continued his cooking and performed several more tricks (thankfully I wasn't a part of them). My friend ordered some Saki and we had a wonderful evening. This time, we parted with a hug and a plea from him to let him help with an actual sex
toy
review. I said, "I'll let you know"
Subjected to a Japanese egg dunk!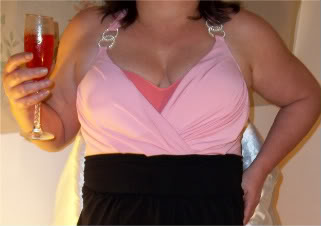 Moral of the story? Something as frivolous as a sexy piece of lingerie can make you a more noticeable, beautiful, and more confident woman. It certainly gave ME a night to remember! I feel I'm fortunate to have this dress and a wonderful friend to boost my morale.
So, have Miss Pillow's days as a lingerie fashion model come to an end? Will the egg break next time this trick is performed? Will a dress make a Dream girl out of
you
? Will wetone start having sex with her best friend? For the answers to these questions and more, you'll have to tune in next time for "As the wetone turns"...
Follow-up commentary
4 months after original review
I still love this dress! It is amazing to me how many compliments I get wearing it. I've been wearing it with a black jacket and heels or as a top with jeans or black pants since it has turned cold. Extremely versatile and sexy!

The design of this dress effectively hides my belly so it's a favorite of mine. I really need to lose that belly or find more dresses with this design in different colors! This dress really compliments most woman's figures, and I highly recommend it.

I've been washing it by hand and it has no signs of wear and tear yet. I have to be careful with the rhinestone detail though. It's worth it! I put a dab of clear nail polish over the rhinestones to keep them firmly in place. That gets the job done!
This content is the opinion of the submitting contributor and is not endorsed by EdenFantasys.com

Thank you for viewing
Pink champagne dress
– mini dress review page!