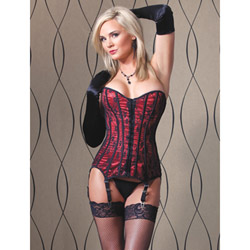 Piped lace and satin corset
Corset
by Coquette
Good quality corset but we found some flaws.
If you know your way around a corset and you can get the size correct, you may want to try this one from Coquette. There were just too many issues for us to give this one the thumbs up.
Published:
Pros:
Great price for a corset, nice cut and color.
Cons:
Fit,No panel in the rear, belts are not well made or thought out, we didn't like the lacing size.
If you want a sultry Victorian look, for a price that's fractions of what a "real" corset would cost, look no further. This over-bust corset seemed terrific and sexy and it looks just as it does on the product page. You will however have to deal with a number of "variables" .
Our Corset arrived wrapped in paper and rolled up, EF does a great job getting things to us quickly and in good condition, and this was no different. We have read other reviews that state this comes on a padded hanger, but we didn't see one. The optional shoulder straps(2) and garter belts(6)are attached in zip-lock bags.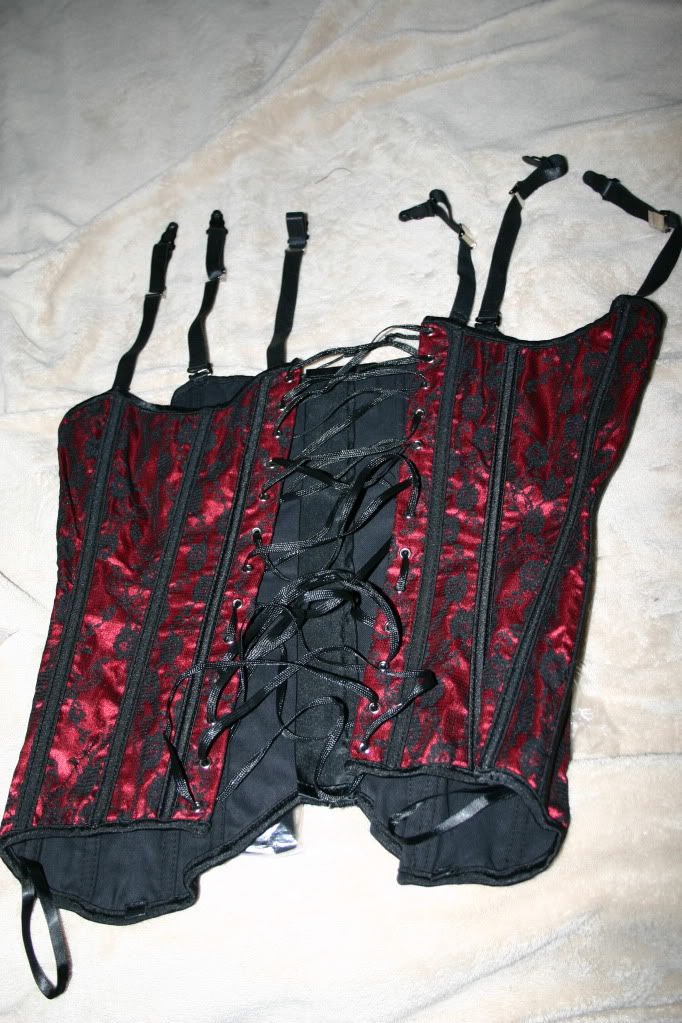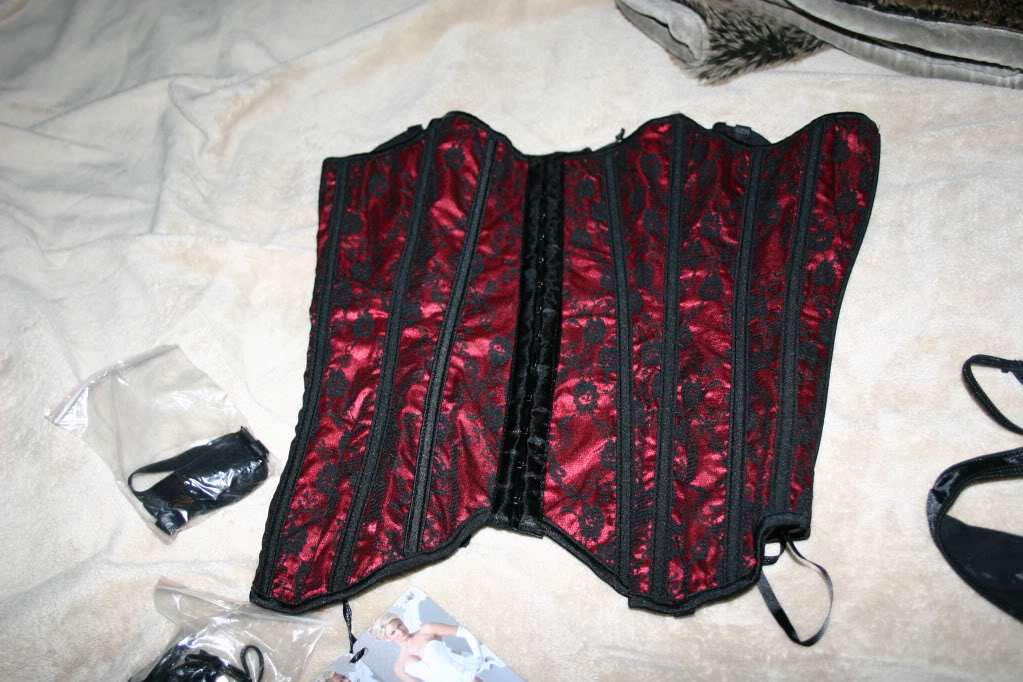 The true purpose of a corset is waist cinching, this product does accomplish that with a couple of caveats. First the plastic boning will only provide mild to moderate support in the waist, second; the cups will only boost the breast if they are close to the top. The beast may tend to be pushed downward depending on where they fall in the corset. That being said sizing is very important to get the correct fit and look.
Sizing
We ordered a medium despite the Cup disparity, we typically order medium from Coquette
As per the product page
Coquette
Cup Bust (in) Waist (in) Hip (in)
Small 4 - 6 B 34 - 36 26 - 28 36 - 38
Sm/Med 6 - 10 B 34 - 38 26 - 30 36 - 40
Medium 8 - 10 B 36 - 38 26 - 30 38 - 40
Med/Lg 10 - 12 C 36 - 40 28 - 32 38 - 42
Large 14 - 12 C 38 - 40 30 - 32 40 - 42
X Large 14 - 16 D 42 - 44 34 - 36 44 - 46
One Size 4 - 14 B 34 - 40 26 - 32 36 - 42
1X/2X 18 - 22 D 46 - 50 38 - 42 46 - 52
3X/4X 24 - 28 D 52 - 56 44 - 48 54 - 58
Queen OS 18 - 26 D 46 - 54 38 - 46 48 - 56
My size is 34 D with a size 6. I weigh 140 and am 5'8". The measurement at my hips are 40" which places us in the small/med for size, but in the XL for cup size. Figuring the breast should push up some we went with a medium.
Design
There are several different styles of corsets, we have some experience with cup-less corsets and under-bust corsets. This was our first experience with a traditional over-bust corset. The pattern is a lovely black floral print(very Victorian looking)over a shiny red polyester. There are 14 bones making up 16 panels(the lacing begging and ending the remaining panels. This also comes in white for those newly weds or sacrificial virgins.
The corset has a plunging neck line in the front to accentuate the cleavage and dips in the back to show a bit more skin. The difference in height is 2.5". The lacing ties in the middle after the corsets been tightened from the top and bottom. There's a plethora of eyelets for garter belt positioning if you choose to wear them. There's two in the front, one on the side and another two in the rear. These allow the user to position the belts where they look best. The garter belts are adjustable via buckle which is nice little plus. The belts attach at the points between scalloped cut outs.
Experience
Well it had been a while since we had a corset to wear or review, it didn't seem like such a task last time. After about 15 minutes of figuring this one out and getting the garters right we were both in a less sexy mood. The corset had to be unbuttoned put on as opposed to slipping it up over the hips. That's not to say it was too small. The sizing was actually right on, the breast fit well and were pushed up nicely and there was plenty of cinching in the waist. There was however a gap in the back where it's laced up. That leads me to believe we could of used a larger size but that may have fit incorrectly elsewhere. Lacing was a little difficult and confusing for him, we eventually figured it out. We did not care for the way the back came together, add to it a lack of a panel(her back skin tended to crease), and we didn't care for the way this looked from the back at all. The lacing in the back was thin and flimsy and was difficult to tie.
We thought the cut and color looked really nice on her, and the fabric inside was similar to the inside of a suit jacket. It was very binding as expected but did not uncomfortable.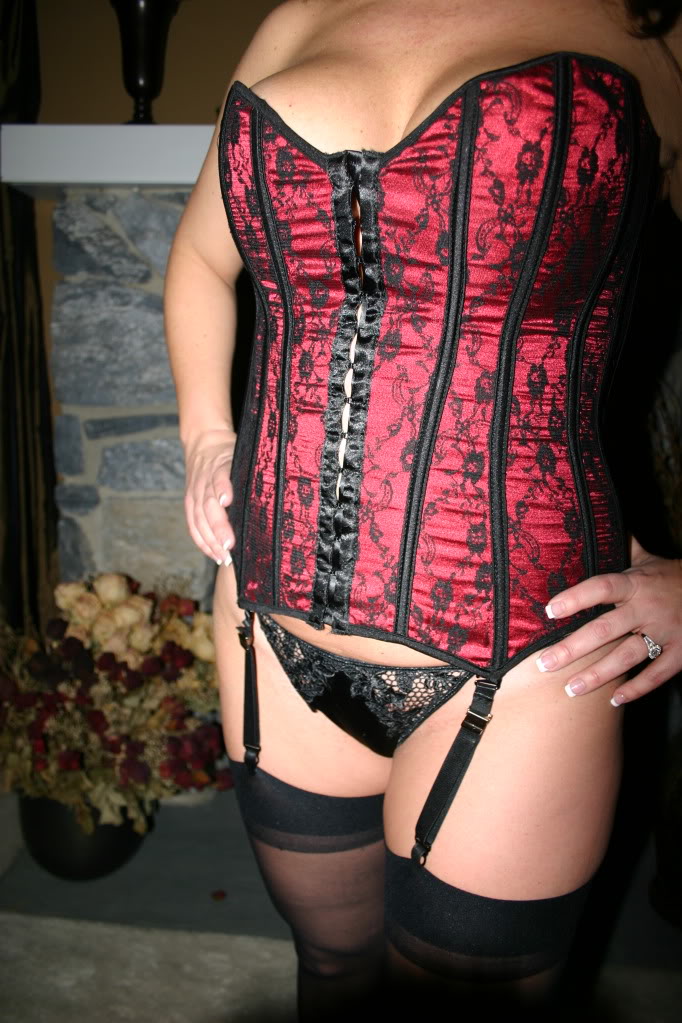 The garter belts were a disappointment as well, we were excited that they were the buckle type but they did not fit properly(too long) and one of them were broken.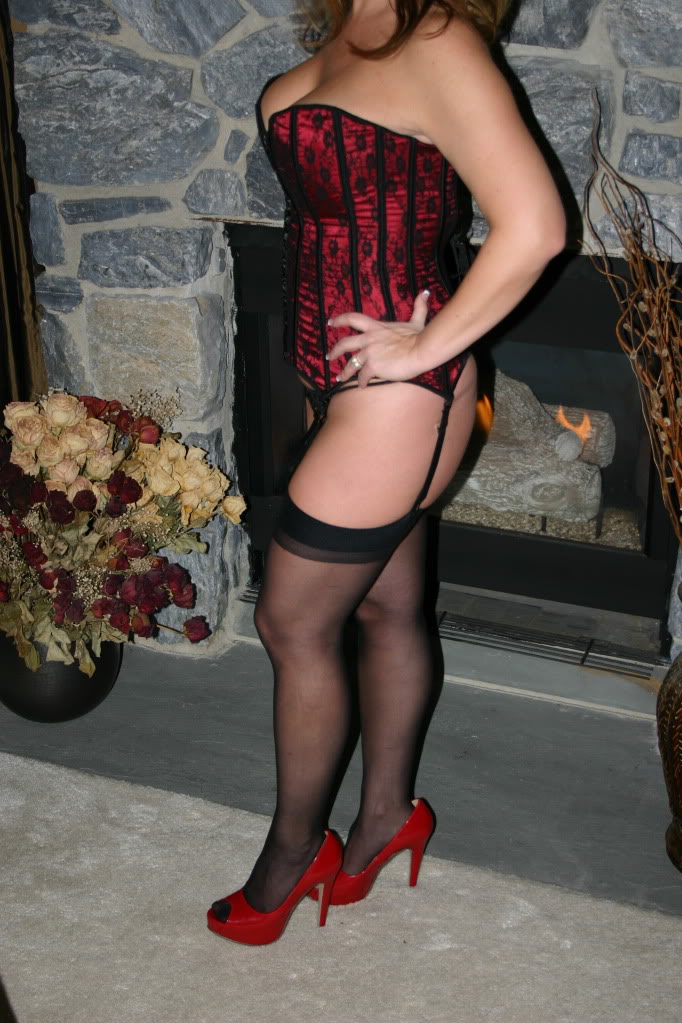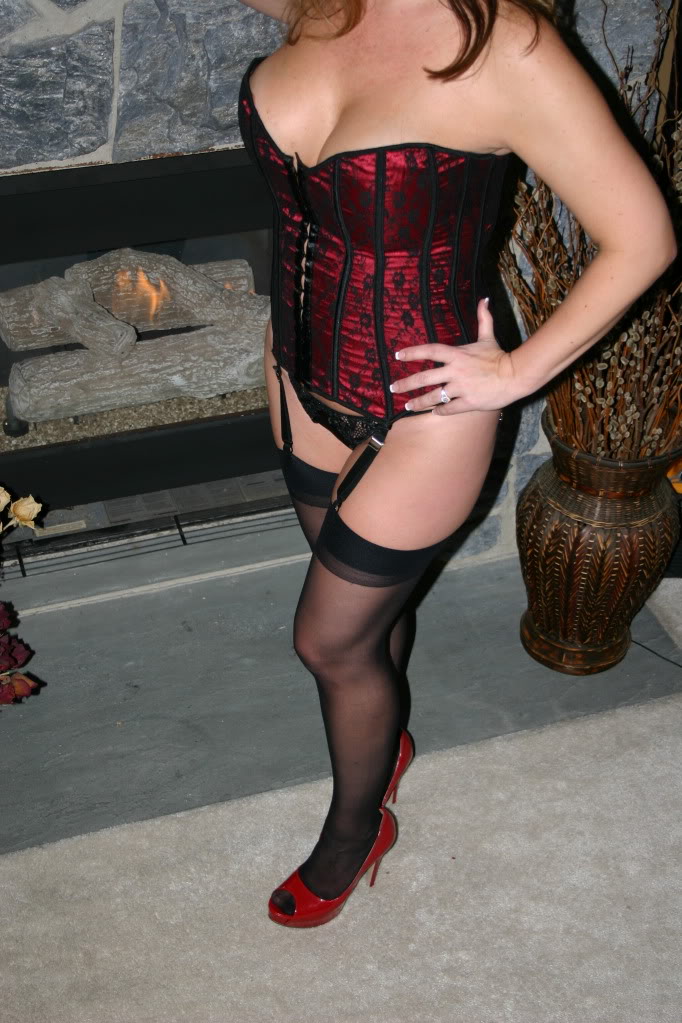 Overall this was a sexy though that just didn't work out the way we wanted to. We could live with the corset and not use the belts, but the lack of a rear panel does not make her feel sexy. The fit in the back just didn't seem to come together properly and what was left was not flattering. For some this could be a 5 stars, but for us 3 star rating will have to do.
Follow-up commentary
1 month after original review
We tried this on again, unfortunately without some alteration to add a privacy panel, it's just not sexy from the back. The lacing could be changed as well to make this one more user friendly.
This product was provided at a discounted price in exchange for an unbiased review. This review is in compliance with the FTC guidelines.
Thank you for viewing
Piped lace and satin corset
review page!