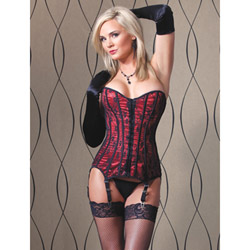 Piped lace and satin corset
Corset
by Coquette
Sexy Satin
Coquette's fully boned satin and lace corset will fit and enhance a wide range of sizes and figures. Although there's no underwire, the boobs stay where they belong. Adjusting can be tricky, though, and this isn't the most comfy of lingerie.
Published:
Pros:
Lace-up back, beautiful to wear in and out of the bedroom, gives great shape, supports large busts.
Cons:
Hard to adjust lacing, not comfortable for extended wear, boning may get bent out of shape easily.
There are few things I get more excited about than new lingerie, so when EF got like 60 new items recently, it was almost impossible to pick! This corset jumped to the top of my wishlist, though, because I've been waiting for an awesome new one that actually laces up the back instead of doing the hook-and-eye thing like most corsets from Coquette do! This actually reminds me a little bit of the
Coquette Satin and Lace Bustier!
What I found interesting is that in addition to lacing up the back, this corset also has a hook and eye closure in the front, so once you get the laces adjusted to the right fit, you can just hook it up the front each time- handy!
This corset is constructed of 100% polyester, and the material used is nice quality. The care tag suggests hand washing and hanging to dry, and I have to agree- with all the boning, lace and ribbon, you would not want to toss this in a washer. Unless you're wearing it for extended periods, you could probably get away with just spot cleaning with a damp cloth if it gets dirty. I was a little bummed to notice several loose or frayed threads on this otherwise really nicely constructed garment. The most noticeable spot is right at the top of the bust area, which looked like it had been snagged on something. Seeing flaws like that when the item is brand new makes me worry a little about how it will hold up over time.
There are 14 pieces of plastic boning sewn in to help give you shape and support. There is no underwire or built-in bust support, but as long as you have this laced pretty tight it should hold up the girls on its own. This was actually a good thing for me, since my boobs fitting into the cups is one of the main problems I have with lingerie fit! Eliminating the cups really increases the range of bust sizes this will fit.
There are 5 sizes available, ranging from Small to 3x/4x. I always have trouble choosing lingerie sizes because my boobs fall into a larger category on the size chart than the rest of me. With this, I chose to go with the Large since it laces up the back and I figured that would give me some room for error. (I ordered Coquette's new Satin Bustier a few weeks ago in XL and it was quite baggy, so I worried that if I got this in XL, it would be much too large, too.) I really wish Coquette made more corsets and bustiers with the lace-up backs, since being able to adjust the laces gives you WAY more room to adjust the fit than the inch or so you can adjust a hook and eye closure! If you bought your own extra-long ribbon, you could easily leave like 8" open in the back if necessary.
Size comparison:
Large on Coquette size chart: Size 12-14 / C cup / 38-40" bust /30-32" waist /40-42" hips
Me: Size 11/12, 38D, 33" waist, 41" hips, 155-160 lbs, 5'11
For me, the Large was an exact fit- if I'd been more than a couple of inches larger all together, it would have been too small. I was pleasantly surprised that my boobs fit, since the size chart recommends this for a C and I'm a pretty solid D. I do wish the ribbon that laces up the back was just a *little* longer, because I'm pretty sure that if I gained 5 lbs this would become too small.
The easiest way I've found to put this corset on is to loosen the strings in the back, hook up the front and then start adjusting the fit of the laces. This can be a little tricky to do by yourself, but isn't impossible, especially if you're used to adjusting lingerie.
Instead of a classic shoelace-style lace pattern, this is put together a little differently, and I have to admit I found it a little confusing. When it arrived, the corset laces were tied in a big bow in the center of the back, not at the top or bottom. I assumed that they had designed this with two sets of laces so you could adjust from the top down and bottom up, tying each in the middle, but after untying the bow I discovered that it is all one long lace with the ends fused together at the bottom. Huh! The ribbon is a bit sturdier than what has come with other Coquette and Dream Girl lingerie I've ordered, it has a woven texture similar to a shoelace but much thinner, and seems like it would hold up pretty well over time.
Experience
The corset measures 15" tall at the front and back closures, 28-29" wide if you lay it flat with the laces tightened all the way.
Removable garters and bra straps are included, with 3 spots to hook garters on each side instead of 2. Interesting! I didn't find the bra straps to be necessary, since the tightness holds this up quite well.
I found the boning in this to be quite a bit stiffer than all of my other corsets, even though it's plastic. With most of my others, I can sort of flip up the bottom if I need to pull on pants underneath, but this one is too rigid. Tip- if you're wearing pants with this, put them on FIRST!
Although I love the hook and eye/lace-up back combo, I'm not a fan of the ribbon being all one pice instead of being able to fully untie it at the bottom to making putting it on easier. You can pull out the slack and tie that in a bow, but that only helps with fit and is a little harder to adjust. I'm tempted to find a similar ribbon at a craft store and replace this.
The satin and lace bustier that I linked to up top from Coquette had a lace-up back and hidden zipper at the side and I think I preferred that in terms of ease of use. If you need to take this off quickly, you're kind of out of luck, since there are 14 hooks to undo!
I did find that the first time I sat down in this for a few minutes, the boning on the sides bent in a bit, exaggerating the hourglass shape in a weird way. I was able to straighten it out again, but you might need to be careful if you plan to wear this while sitting for a long time.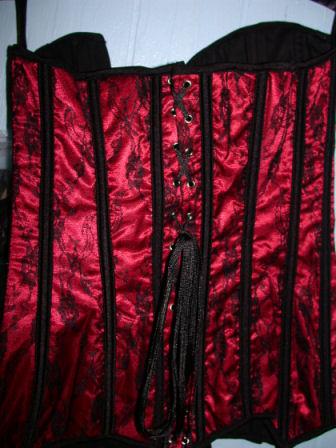 Fresh out of the package, a pic of how the laces are done up.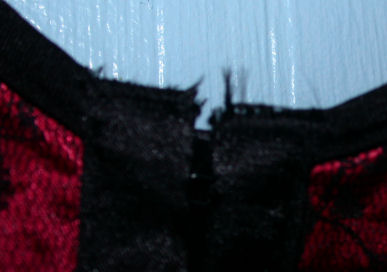 Unfortunate fraying front and center on the bustline.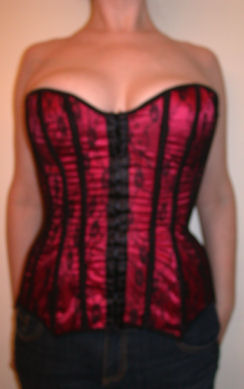 Pardon the blurryness, my camera is losing the will to live! This is with the lacing not tightened at all. I found that even though it was already tight, with some work I could pull it in enough that there were about 6-8" of slack. This created a MAJOR hourglass shape, but was so very not comfortable!
The corset comes with a lovely padded black hanger, or you can easily store it in a drawer by folding it lenghtwise (you obviously wouldn't want to fold it against the boning!).
Overall, I'm giving this 4 stars. It's a great corset, and technically much more of a traditional "corset" than most of the others available from Coquette. The down side of that is that it is much less comfortable, so although this would look great worn out to a club or concert, I don't think I'd be able to deal with it for hours at a time. My main reasons keeping it from being 5 stars other than the comfort are the weird lacing situation and boning's possible tendency to become misshapen (You can sort of see the weird angle it creates on the right side of the above pic). Even with the problems, I think this is beautiful and totally worth getting!
This product was provided at a discounted price in exchange for an unbiased review. This review is in compliance with the FTC guidelines.
Thank you for viewing
Piped lace and satin corset
review page!