Great as sleepwear (s)
This is a great chemise for sleeping or for seduction if you and your partner prefer more conservative pieces. I bought this for sleeping and it has served that purpose well. I removed the rhinestone and think it dramatically improved the piece, making it a bit classier. Coquette delivered on this one. It also never wrinkles!
Published:
Pros:
opaque and conservative, nice ribbon detail, good quality, adjustable, covers butt
Cons:
too clingy
I love this chemise and am so glad I bought it. I have been trying to acquire nicer looking sleepwear that is still comfortable, but is also nice for nights when I want to look nice or feel like I'm pampering myself through my pajamas. In this search, I search for things that are either opaque or at least made of comfortable, non-itchy materials, and are not super tight, but still maintain a form-fitting style that flatters my figure. This definitely met my standards. It's even conservative enough to be worn around people other than partners, such as kids or roommates, because it is opaque and covers everything except some cleavage and the part of the back that is open just like many formal dresses on the market, though of course it is also shorter than a typical dress. I wouldn't purposefully try to be seen by kids or roommates, but if it happened by mistake, it would definitely not be a major issue like some lingerie could be.
This chemise is solid black microfiber with red trim on the bottom, in the corset detailing on the cups, and the bow between the cups. The cups are very lightly padded, have underwire, are shaped (so cup size matters more in fitting) and have a pinstripe pattern. They give a lot of support as long as yours fit into the cups. I imagine that if you didn't fit into the cups, you would have a lot of spill over and not feel supported. The cups have a more cottony feel, whereas the rest of the chemise feels really soft like microfiber usually does. There is a large rhinestone between the cups that I removed. I have a picture of before and after removal. I like it much better without it, because I think it looked cheap and tacky. The back of the chemise has a 3-hook closure like a standard bra. The straps are also adjustable just like standard bras.
I purchased a size small and this fits me perfectly! I really like the length, which is short but still covers everything, so if someone sees me that isn't supposed to, it's not a huge deal.
This chemise is made by Coquette and came with the Coquette black satin hanger, which was a nice touch. Its tag indicates that it is made of 100% polyester exclusive of trim, made in China, and hand wash only. It is to hang dry. These washing instructions are really typical of lingerie and I have only ever hand washed lingerie, and I have never had a problem when I follow that instruction. Since this doesn't have any lace, I think it would be easy to get away with putting it on a gentle cycle on the washing machine but I wouldn't do it myself.
Measurements of myself:
26" waist
32C bra
Size 0-2 dress/pant
5'3"
Measurements of the chemise:
Width underneath the cups - 12" unstretched, 16" stretched
Width of each cup at its widest - 6.5"
Height of cup at tallest - 4.25"
Cups spaced about .5" apart
length from middle of the cups to the bottom - 22.75"
Width of the bottom of the skirt - 20"
Length of back cutout - 7.75"
Length from cutout to bottom of chemise - 10.75"
Corset detailing width - about 1.5" (bit smaller at the bottom, bit larger at the top)
Pictures: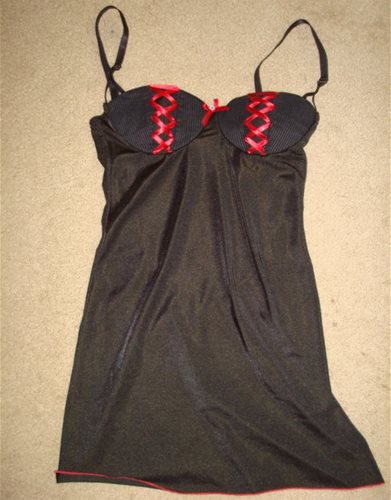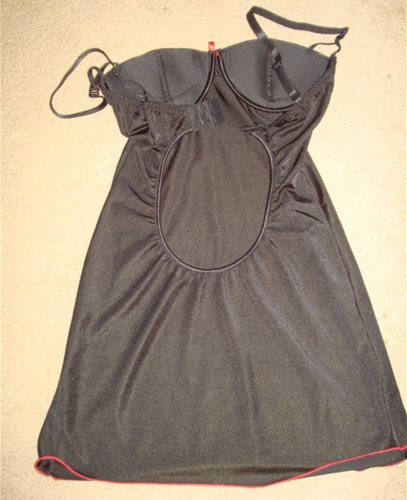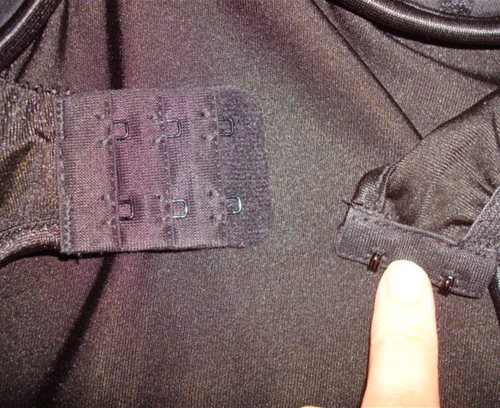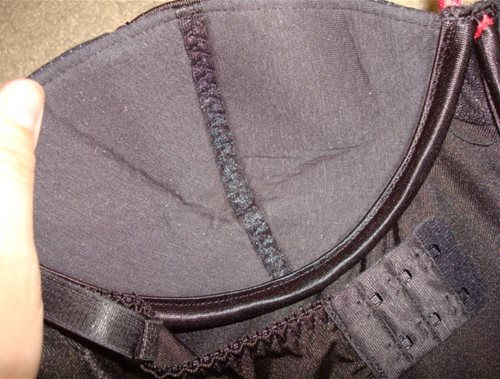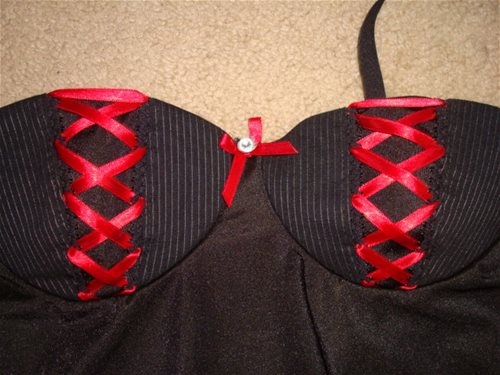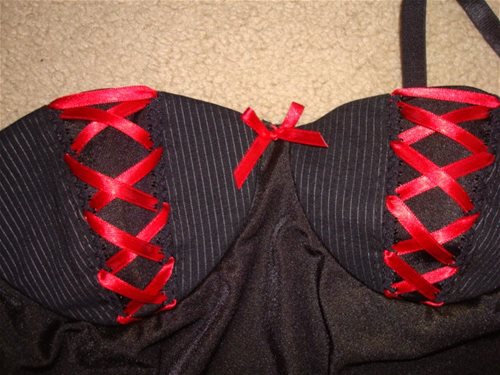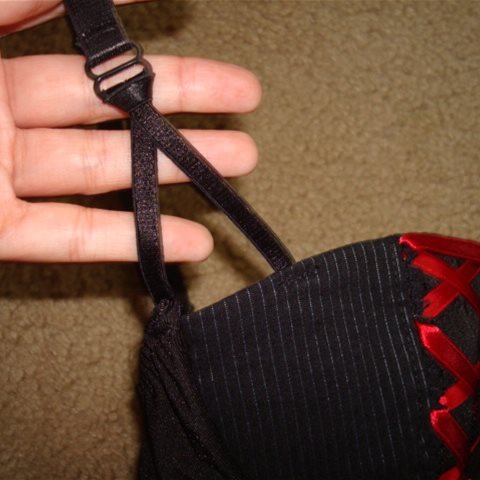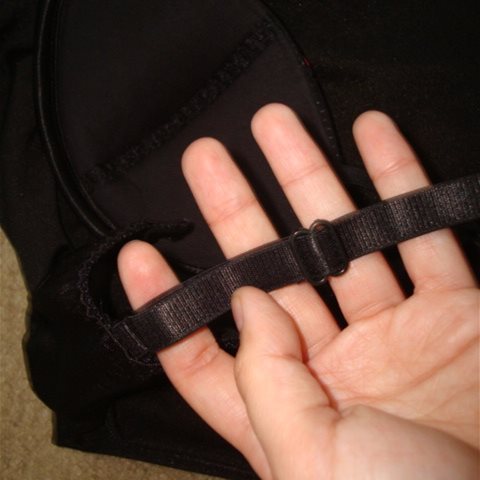 Experience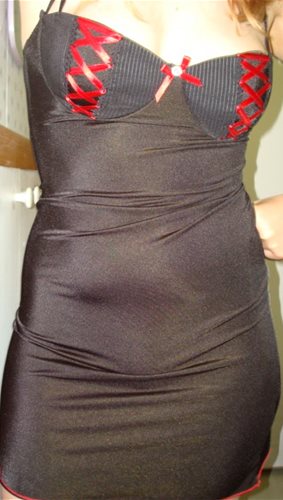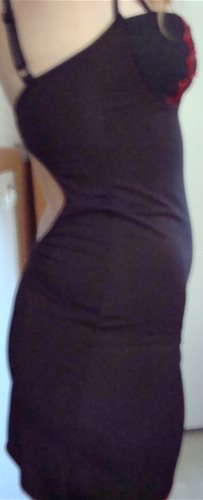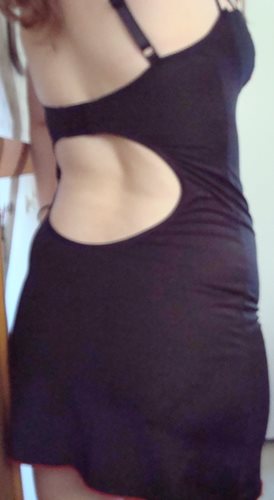 I really like this chemise. On some days, it's too tight for me and I feel like my body is too exposed since you can see literally everything, even more so with a camera flash. However, I do really like it, and I find it comfortable to sleep in. If I did have one complaint, it would be that it is too clingy, and I think a lot of people will hate that, so I'll knock off one star for that, as well as because occasionally the back trim is a little itchy. However, overall, this is a great piece, and I have enjoyed it a lot.
I move and travel a lot, being a student and now a recent graduate, so this has been stuffed in suitcases and drawers many times and has never gotten wrinkled, which is a big plus for travelers.
This product was provided at a discounted price in exchange for an unbiased review. This review is in compliance with the FTC guidelines.

Forum
| Discussion | Posts | Last Update |
| --- | --- | --- |
| Cups? | 8 | |
Thank you for viewing
Pinstripe woven chemise
review page!