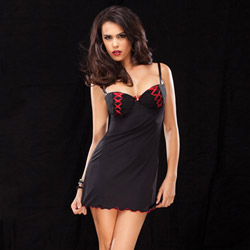 Pinstripe woven chemise
Chemise
by Coquette
Pretty and Flattering, Just a Few Design Flaws
This chemise is a nice mix of sexy and easy to wear. The fabric is soft and body flattering, and there is even some bust support. A few changes to the design of the bust area would have made this a 5 star item!
Published:
Pros:
Soft, great length, some bust support, doesn't wrinkle.
Cons:
Bust area could be a little better designed, runs a little small, not *super* comfortable.
I love pinstripes, I love Coquette, I love comfy lingerie that's also sexy... this should be good!

This sexy litte number is made mostly of microfiber, which means it's stretchy, soft against the skin and breathes well. The fabric is made of 100% polyester and you should hand wash it and hang it to dry, according to the care tag. One thing I love about this type of fabric is that it doesn't wrinkle, so while this would be best stored on a hanger or neatly folded in a drawer, you can also toss it across the room and it will still look just as cute when you pick it up from the crumpled heap of clothes two days later. Not that I speak from experience or anything.

The chemise is almost entirely plain black except for red stitching at the bottom hem, the red laces at the bust, the red bow between the cups and the pinstriped fabric on the bra cups. The pinstriped fabric is different from the microfiber that makes up the dress- it's a bit thicker and rougher, and stretches horizontally but not vertically. There's also a clear jewel attached to the bow that sits between your breasts. For me, the jewel (which is almost 1/2 inch wide) on top of the bow is a little bit too much, so I'll probably end up snipping it off. I've noticed in the comments on different products that a few people really hate red, and if that applies to you, I have good news! You can easily snip off the red bow AND the red laces without harming the chemise. The ribbons are laced through an eyelet trim on the pinstripe fabric, so you only have to snip where it's anchored at the bottom, and then you can just pull the ribbon out.

The chemise's design is pretty simple, it is made to be fitted around the bust and then skim down the rest of your body. The straps are adjustable and stretchy, just like bra straps. You just slip this on over your head like a shirt or dress, but there is a bra clasp in the back. There are three settings for the clasp, so you have about an inch and a half of leeway in fit here. There's also a stretchy elastic band that runs around the top back of the chemise to help it fit to your body. Below the bra hooks is an oval-shaped cutout about the size of my hand with fingers spread. It shows off a nice bit of your back without leaving you super exposed.

The bust area of this chemise is nicely lined (but not padded) and is equipped with underwires for support. I'm on the large side of a D cup, and this did offer some support, better than most chemises, but not on par with an actual bra. I was thrilled that the underwires are actually wide enough for my boobs, as many Coquette items have had wires that were way too narrow.

I alternate between Large and XL in Coquette items, since unfortunately the fit seems to change from item to item. For this one, I picked the XL, since lingerie being too small in the bust is my #1 problem, and I'd rather err on the side of the chemise fitting a little loosely than being skin tight and too clingy. The size chart suggests XL for size 14-16, D cup, 42-44" bust, 34-36" waist and 44-46" hips. I'm size 10/12, 38D, 33" waist, 39" hips, around 155 lbs, 5'11". This ended up fitting me almost perfectly, so I'd suggest ordering up a size if you're on the line.

Here are a few measurements for the XL:
24" across bottom hem when laid flat, will stretch comfortably to about 26"
16" across just below the bra cups, stretches comfortably to about "18
26" from the dip between the cups down to the bottom
34" from the top of the straps (adjusted to a medium setting) down to the hem

The set arrived wrapped in the pink tissue paper EdenFantasies uses to protect lingerie from the scary outside world. There was a tag attached via tiny safety pin, but no other packaging. I really love the padded black hangers that come with some Coquette lingerie, I wish they would include them with everything!
Experience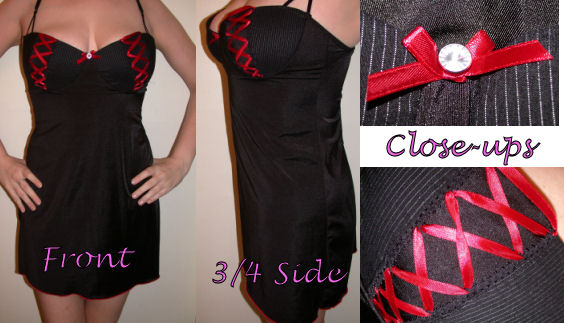 (Continued)
I love the length of this! Since I'm pretty tall, most gowns and chemises end up not even covering my ass, but this does! It comes down to my fingertips if I have my hands at my side, which is pretty much the perfect length. The fit throughout the chemise is pretty good in general. It does cling to my stomach pudgyness a little more than I'd like, but the rest skims the outline of my body well enough to show my shape, but not clingy enough to be unflattering. The fabric is a little see-through, but not much. If you hold this up to the light, you can see right through with ease, but when worn it's opaque enough to be fairly modest.
The main design flaw here is that although the back is made to *look* like a bra band, the stretchyness and overall design just don't offer the support that an actual band does, so the weight of your breasts instead falls on the shoulder straps for support. This probably won't matter for an A or B cup (lucky!), but if you have heavier breasts, it can get uncomfortable.
While this isn't my favorite chemise, it is one that I will actually wear. It is comfortable enough to sleep in, but not so comfortable that you feel like you have nothing on as some of my favorites are. It does also have a tendency to get all bunched up under my boobs when I wear it while laying down, and if I roll on my side, my top boob sometimes pops out. The wide underwires that are great when I'm standing or sitting also get a little annoying when laying on my side, since they migrate towards my underarm, which is not fond of being poked.
Although there are no panties included with this chemise, it will go perfectly with the
full back panty with heart cut out
from the same collection (I have them, they're great! The fabric on the front of the panties matches the pinstriped fabric on the chemise's bust exactly!), or if you're feeling a bit saucier, the
Pinstripe Woven Panty
.
This product was provided at a discounted price in exchange for an unbiased review. This review is in compliance with the FTC guidelines.
Forum
| Discussion | Posts | Last Update |
| --- | --- | --- |
| Cups? | 8 | |
Thank you for viewing
Pinstripe woven chemise
review page!