Pure Sex Appeal
The Pinstripe Chemise is decidedly stunning. The simple design of the black chemise with the red cup detailing oozes sex appeal. The open cut out back adds to it so that the back looks as amazing as the front. The sizing chart proves to be accurate and this fits me like a glove. The fabric is stretchy and a little clingy, so order up if you're concerned about the material hugging a little too tightly to your curves.
Published:
Pros:
Underwire, Accurate size chart, Hugs curves, Sexy design
Cons:
Cups may not work for those under C size bust
Since Coquette's
Glitter Chemise
fit me as if someone had sewn it onto me, I decided I needed to have more Coquette lingerie in my collection. This particular piece appealed to me since red and black happen to be one of my favorite color combos and the lace up detail seemed very sexy. My husband also had put this on his approved list.
PACKAGING
There is no packaging on this piece. It comes wrapped in Eden's hot pink tissue paper. I actually like this over the boxes. It makes it seem like you got it from a boutique or something.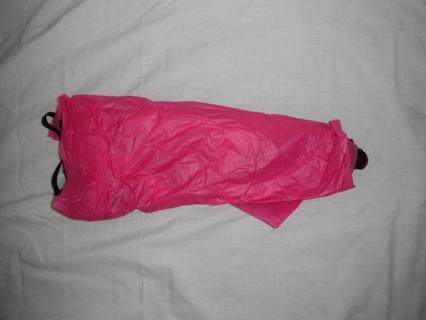 SIZING
Coquette's size chart always throws me off a little because I fit the medium as per the measurements but not as per the dress size. For a medium, I should be a size 8-10, have a bust measurement of 36-38 with a B cup, a waist of 26-30, and a hip measurement of 38-40. Most of my clothes are a size 6 with a few random size 4 and size 8 pants and dresses in there. My waist is 28". My hips are 39". I wear a 34DD or 36D bra. Generally I buy the size that fits my waist or hip measurements and hope for the best with the bust, so I went with the medium. I also knew the Glitter Chemise fit my bust perfectly despite Coquette's B cup size chart.
For the medium chemise, the total length is 24.5". Under the bust is 13.5" wide. The waist is 14". The widest part at the bottom is 18.5". Each cup is 4.75" wide and 5" long. They are underwire cups, so be sure that you get the sizing correct on the bust size. The straps are adjustable and the back has an adjustable hook.
Much like my Glitter Chemise, the Pinstripe Chemise fits like a glove. It clings a little more due to the material, but still looks like someone made it just for me. My breasts don't spill out of the cups like crazy. They do display nicely in a sexy way, but not to the point where nipple is coming out and there's boob out on the side. It form fits, basically.
I would say the sizing chart is accurate, but that if you are close to the end of the sizing chart you may want to order up due to the clingy material. Also, those will breast size under a C cup may not be able to fill this out entirely.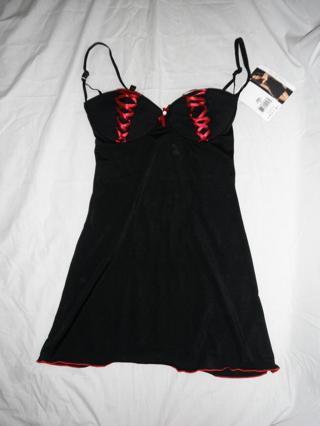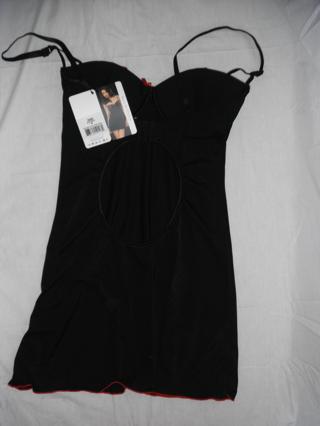 MATERIAL
The Pinstripe Chemise is made of 100% polyester. The material is stretchy, but not as stretchy as spandex. This means that it will cling but not
too
much. It will hug your curves, but won't show every lump and bump as bad as a spandex material will do. I'm very funny about too stretchy of a material getting near my hips because they're a bit on the wider side. This didn't make my hips stick out.
The material feels somewhat like a softer bathing suit material. It's fairly thick, but not plushy. You cannot see through it. It's not itchy when worn, even for extended periods of time. I was able to comfortably sleep in this. That's really saying something because I'm material touch sensitive. If there's even a slight amount of itch to something, I can't wear it very long.
The cups feel like they are made of something else. They are less shiny than the main chemise. They feel more like a standard fabric. They are the part of the chemise that is done in pinstripe. It feels almost like a pant material.
DESIGN
The design of this chemise is simple yet bold. The back is has a cutout design, which I don't have pictures of because I have a terrible time with the timer on my camera. You can somewhat see it where the piece is laying down. It's circular and comes down into the lower back.
The front is all black except for the cups and the very bottom of the chemise. The cups are made of a pinstripe material which is then laced up in the middle with a red ribbon in a corset style fashion. Where the ribbon is attached there is a jagged trim that holds it in place. It gives a nice edge to the piece.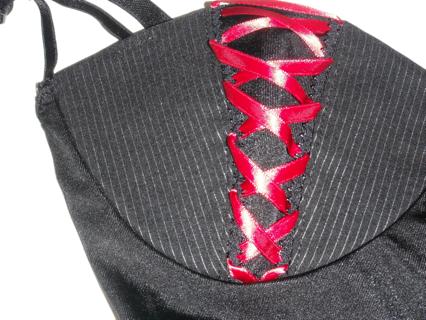 In the middle of the cups, there is a small red bow with a crystal embellishment. I can't seem to get mine to stay straight. This is a little irritating, but it looks nice when I can get it to face the right direction.
At the bottom of the piece, the hem is done in red. It's just a simple red to give a pop to the bottom.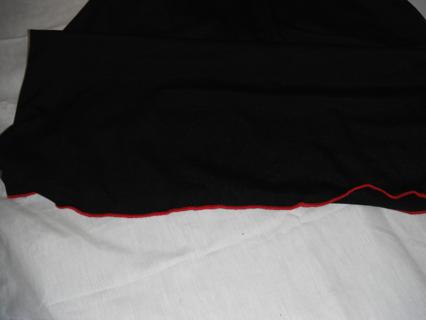 Experience
QUALITY
I have yet to find a misplaced stitch on the piece. There is not a fray, even after a few uses (which include rough uses at that). The seaming is done perfectly. Where seams meet up, they come together the way they should. I'm no seamstress, but I honestly can't find a thing wrong with this.
CARE
You should hand wash this. It should not go in the dryer, but rather be line dried. You should not iron it.
EXPERIENCE
Coquette has become my go to line for lingerie. I don't think I've gotten a piece from them that I haven't liked. The sizing fits me perfectly and everything has come with amazing quality seaming and material.
I really love this chemise. In fact, now I can't quite decide which I love more out of this and my Glitter Chemise. I think the Glitter Chemise, simply because of the sparkle factor. The pure sex appeal of this one is hard to deny though. My husband also is a huge fan of this, always an extra plus for any piece. I love everything from the fit to the look of this. I'm really grateful for the underwire in the bust. As a larger chested girl, anything to keep my breasts where they're supposed to be is much appreciated from me.
Pictures, so you can see why I'm in love with this chemise: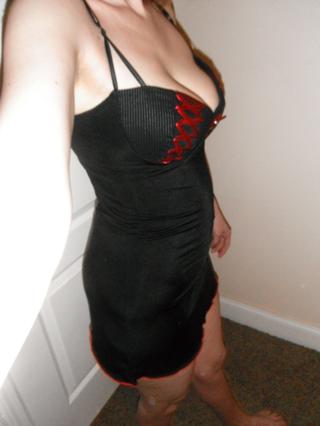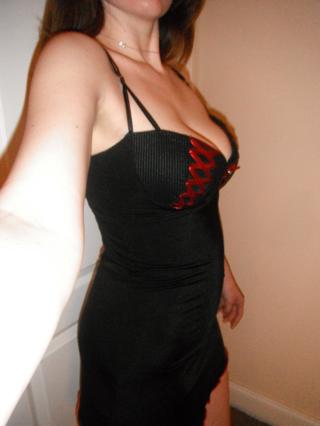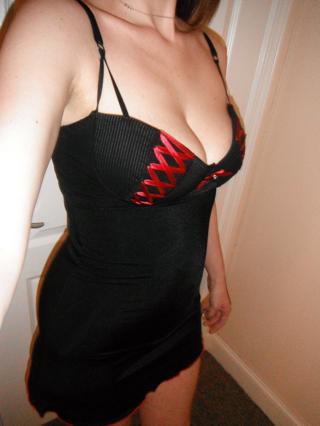 So much love for this!
This content is the opinion of the submitting contributor and is not endorsed by EdenFantasys.com

Forum
| Discussion | Posts | Last Update |
| --- | --- | --- |
| Cups? | 8 | |
Thank you for viewing
Pinstripe woven chemise
review page!