Sultry and Sexy
This little number is a double-wammy: sexy enough to seduce and comfortable enough to fall asleep in afterward. It's long enough to feel covered, hugs your every curve, and definitely exposes the breasts. It's also very well-made (for once). If I could get the cups to fit properly, this would be 5-stars. In the meantime, I'll be pouting at the swimming my boobs do in the deep-end of these cups.
Published:
Pros:
soft, wrinkle-free, long enough, comfortable, well-made
Cons:
either the cups are odd-shaped or too big...
Presentation
When I saw this on the site, I instantly thought of the version that EF used to carry in gray. It was discontinued just as I was ready to buy it. When I saw this, I instantly hated that we only brought it back with the red accents... Folks, I hate red. I'm a redhead and I think I look overwhelming and bad in it. Stick me in any other color, and I pull it off with ease... But red? Not rocking it.
However, since these are only accents, I decided to take the plunge and get this.
It arrived in plastic, hanging on a plush black hanger from Coquette.
Design and Craftsmanship
This chemise is flawless, actually. The stitching is perfectly done, the ribbons that crisscross up the cup are without fray. There are no awkward seams or rips.
This chemise is easily thrown on over the head, but there are adjustable hooks and eyes for the bra-clasp portion above the back cut-out. The straps are stretchy and easily adjustable, and they make a triangle just before the cups. I think the triangle will look sexy on those with amble bosom.
For the red portions, there is a red lining along the bottom seam of the chemise (which is softly waved up and down). The cups are detailed with criss-crossing red ribbon. There is also a small red bow in the center of the breast with a small circular rhinestone centered upon it.
The cups are also pinstriped with soft silver thread.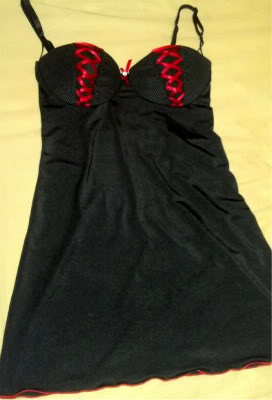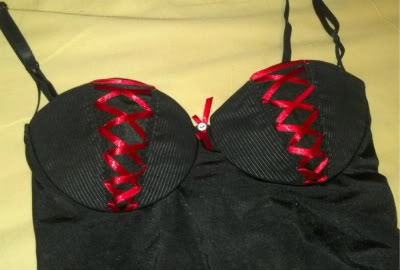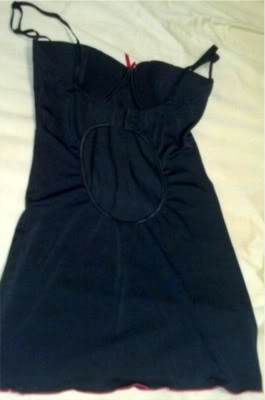 Materials
I don't know why EF is listing this as "Microfiber," trying to sound fancy?
This piece is 100% polyester, exclusive of trim. It is incredibly soft and silky feeling, in fact it feels nice when it rides up over my hips. I almost don't even mind it because of how soft it feels.
The cups are lightly lined with soft fabric (that Coquette lines every corset/bustier and chemise with). There is an under wire.
Experience
Care
Coquette tells you to hand wash this only and then hang to dry.
I would probably do just that, mainly due to the ribbons.
HOWEVER... I looked it up and since this is 100% polyester, you could put this in a lingerie bag (or pillowcase) and put it in the washer on cold, and then into the dryer on a low setting.
You shouldn't need to iron this, since it doesn't wrinkle, but if you feel the need, only iron on warm and not a full hot setting.
Thanks to this interesting blog~
details on different fabrics and how to take care of them
.
Fit
I got this in large.
Coquette lists a size large as: sizes 12-14, cup C, bust 38-40", waist 30-32", hips 40-42".
I am personally sizes 8-12, wear 36C (under bust is 32", bust is 39"), waist 30", hips 39" butt 44".
It's nearly true to size! But it makes me wish I had full D-cups. Boob fairy, please choose me to bless this Christmas with an unexpected growth spurt!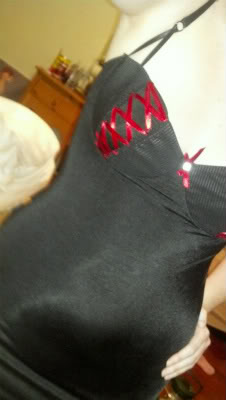 Garment:
Under bust is 28", stretched 38"
Waist is about 30"
Hip is 38", easily stretches 44"
The bottom hem is 44"
The length from the bottom of the cup is 21".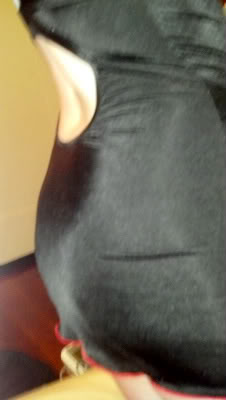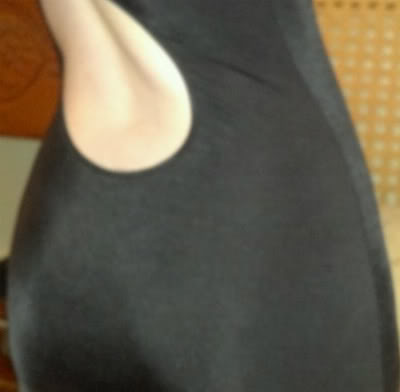 The cups measure 8" across, 6" length. Over top my American Eagle 36C, and these cups are slightly wider. They seem to line up, but for whatever reason when I wear this... my breasts swim! The wires don't seem to lie down on my chest. If anyone has any suggestions to remedy this issue, let me know. My breasts will thank you.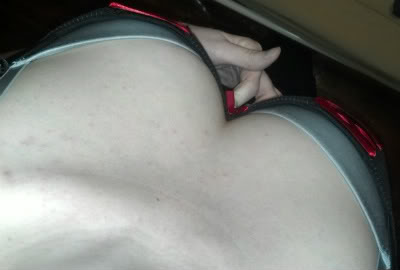 How I would like it to look. One finger solution will not last long enough.
Performance
Overall, I'm really pleased with this. If I could get the cups to sit right, it'd easily be 5 stars for sexy. The length is really good for me, and standing up or walking to the bedroom from down the hall, it stays down enough.
It's so comfortable, I actually slept in it one night. It didn't have a chance of staying down around my butt all night, and the cups floated up too... But it wasn't uncomfortable enough for me to even notice in my sleep!
Overall, this is a great set, and those with larger breasts will probably find these cups to be a blessing with their extra room for ample cleavage.
Follow-up commentary
2 months after original review
While I still like this piece, I don't wear it nearly as much as I would if I could fix a few things on it. If I could make the bust lay flat against my chest, I would feel more sexy in this piece. If I could also get the material to stay DOWN, I would actually wear it ten times more as a sexy nightie.

Unfortunately, the material slides up my hips very easily. This is somewhat annoying when I go to sit or lie down anywhere. It gives the appearance that the outfit is too small, when it is actually decent in sizing. Perhaps it s more of a length issue for me, since I am rather tall.

I would still definitely recommend this to others, including those women who have a bit more chest than I do!
This product was provided at a discounted price in exchange for an unbiased review. This review is in compliance with the FTC guidelines.

Forum
| Discussion | Posts | Last Update |
| --- | --- | --- |
| Cups? | 8 | |
Thank you for viewing
Pinstripe woven chemise
review page!