Don't Even Bother
I imagine the "vroom" and "bee" levels would be different if you can convince it to function, but I eventually determined that the toy was not worth the effort it took to get it working.
Published:
Pros:
It was free
Cons:
It was useless
I have to admit: I'm kind of impressed by how unrelentingly terrible the design is. There is really no reason to pay for this thing, and if you were considering getting it for your free gift with an order, you'd be better off getting some toy cleaner wipes.
It should be clear at first glance what kind of quality you're dealing with. The packaging is your typical thick plastic casing that most cheap electronics come with, and for some reason it even has a small loop at the top as though it's actually hanging on display somewhere. (I do hope this thing is NOT hanging on display somewhere, as I feel that would be very unfortunate for both the hypothetical store in question and its customers.) What's noteworthy is the packaging's description of the toy: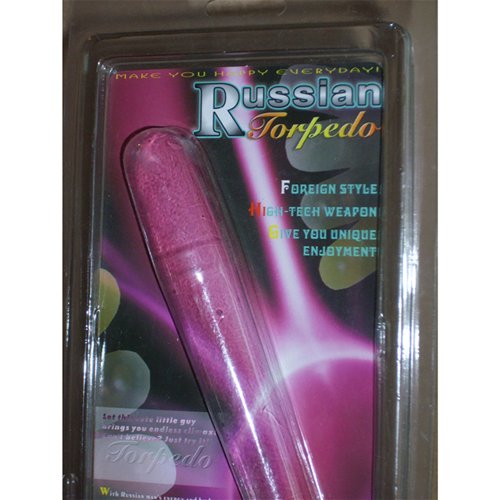 In this photo, you can see that the toy has already been removed. At the top, it says: "Make you happy everyday! Russian Torpedo". (Interesting that EdenFantasys did not choose to use this title for marketing, although I suppose I can't blame them for that.) The text continues:
"Foreign style
High-tech weapon
Give you unique enjoyment"
If Russia's high-tech weapons in the fifties had been in any way comparable to this toy, no one would have been worried about any Cold War nuclear strikes.
There is additional text in the lower left-hand corner of the packaging. I apologize if it's difficult to read in the photograph, but it's actually small enough that it's difficult to read when I'm holding it in my hand, so this is the best I can do: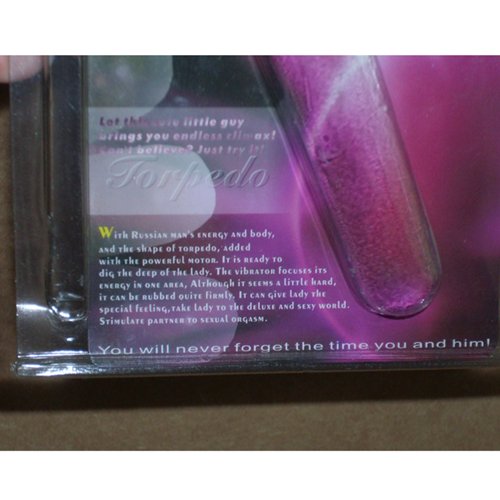 It reads: "Let this cute little guy brings you endless climax! Can't believe? Just try it!"
(I wonder, is this product actually foreign-made, or is the broken English supposed to be funny gimmick to go along with the "Russian Torpedo" schtick?)
"With Russian man's energy and body, and the shape of a torpedo, added with the powerful motor." (This makes me worry about Russian men. If this is what their energy and bodies are like, are they alright? Is there something going on over there that the packaging isn't telling us?) "It is ready to dig the deep of the lady." (I have always thought that women are severely lacking in good phrases to describe masturbation - "jerking off" does not describe what I'm doing at all - but I don't think that "digging the deep of me" is much of an improvement.) "The vibrator focuses its energy in one area, although it seems a little hard, it can be rubbed quite firmly. It can give the lady the special feeling, take the lady to the deluxe and sexy world. Stimulate partner to sexual orgasm." (It did not give me the special feeling, much less take me to any other world. You can forget about stimulating a partner to orgasm with this thing.)
As for the toy itself, well...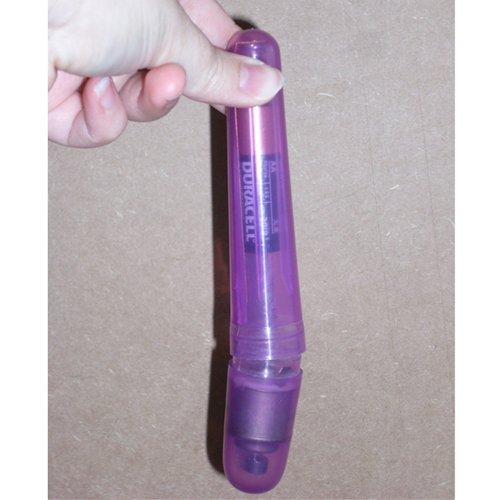 What the hell am I supposed to do with this shit?
Experience
Here's what happened.

I pried open the packaging and took the toy out and tried to open up the battery case. I failed. I tried again. I tried twisting the cap, yanking on it, wiggling it off, etc. The cap remained exactly where it had started. Then I tried looking over some of the EdenFantasys reviews for the Russian Torpedo, and I came to the conclusion that the one and only way to get it open was through perseverance. It took me about twenty minutes, but I finally managed to pry the damn thing open.

Once I'd managed that, I slid the batteries inside (2 AAs) and tried to replace the cap. I failed. Realizing that getting the cap back on again would likely take me another twenty minutes of elbow grease, I decided that the effort was not even remotely worth the payoff of getting a cheap piece of plastic crap to vibrate. So I gave up - and that's when I realized that the bottommost battery was stuck. Having given up on the toy, I just wanted my damn battery back, but the Russian Torpedo had decided to keep it; that battery is stuck tight, and no amount of upside-down shaking or wiggling with a pen has made any difference.

To put it simply, I gained nothing from this toy, but I did lose forty minutes and one battery.
This content is the opinion of the submitting contributor and is not endorsed by EdenFantasys.com

Thank you for viewing
Pocket wand
– pocket rocket review page!