Dual Intensity!
This is a great toy for the price. Each end has a different texture and a different vibration intensity, it can be used in the tub and shower, and it's quiet and discreet for travel or roommate situations. Its shape is good for muscle massage as well. Its vibrations are not extremely powerful, but also not too "buzzy"--they're on the deeper side. If you're looking for a good, simple waterproof vibe, the Enchanted Crystals vibe should be in your toybox!
Published:
Pros:
Unique design; Variable speeds; Two textures; Discreet; Waterproof; Nonporous.
Cons:
Too weak for some; Not silicone.
I found myself unexpectedly enchanted by this simple vibrator from Evolved. It came free with my order, and I didn't really give it a second thought. However, I was pleasantly surprised by this cute, versatile toy! It can be used for teasing and foreplay with your partner, for teasing and pleasing yourself, or for various muscle massage uses. You can even convert it into a safe anal toy--see below. I believe all sexes and genders could enjoy this well-made, discreet little vibrator.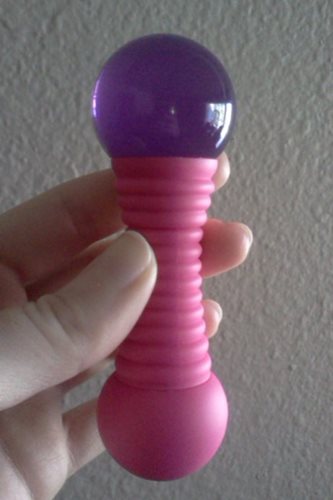 The Look and Feel
I received the "Purple Sapphire" Enchanted Crystals, which has a bright pink velvety plastic body and is topped by a weighty "crystal" in a translucent amethyst color. I can't find any information on this material, but my guess is acrylic, especially at its low price point. It's seamless and perfectly smooth, and looks and feels much like glass. The pink part of the toy feels like hard rubber with a soft, velvety texture, but the package reads "body safe ABS".
The Technical Details
This vibe is about 4 1/4" long. The "crystal ball" at one end is about 1 3/8" in diameter, and the other rounded end is about 1 1/4" across. The narrow center is about 3/4" in thickness, and the ribbed section is 2 1/8" long. It uses one AAA battery, and the motor's power is average for a one-AAA-battery vibrator. "ABS" stands for acrylonitrile butadiene styrene; based on my online research, it's a better-quality, nonporous hard plastic. As such, it can be cleaned using toy cleaner, or by wiping down with isopropyl alcohol.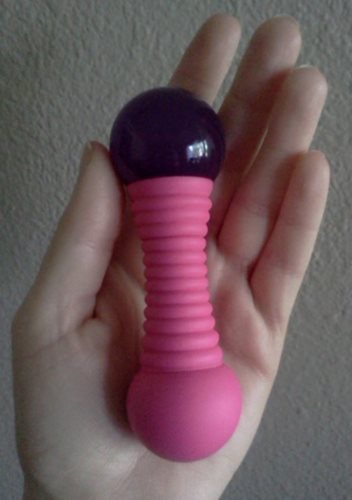 The Functions
To insert the battery, grasp the crystal end of the vibe and turn it counter-clockwise; this will unscrew that end, and you'll see the battery compartment inside. This compartment contains a flexible plastic sleeve, into which the battery fits snugly, undoubtedly helping to keep the decibels down. Install your battery, positive-side down, screw the top back on and turn the crystal clockwise to power it up. Continue turning for faster vibration speeds. The vibrating mechanism is located in the velvety plastic end, so the vibrations are felt more strongly there; if you enjoy more subtle vibrations, try using the crystal end instead! The vibrations can be clearly felt there, just at a softer level.
The Presentation
The packaging is some of the best I've seen. This vibe comes in a clear, hard plastic domed cylinder that fits the toy perfectly and has a little handle on top. The brand and product name are on the front, with product information and instructions on back. It also says that it has a one-year warranty and can be cleaned with Evolved Smart Cleaner (though any toy cleaner, gentle soap, or alcohol can be used). This little case is excellent for storage or gifting, especially since this toy is discreetly shaped and could easily be passed off as "just" a rolling back/neck massager.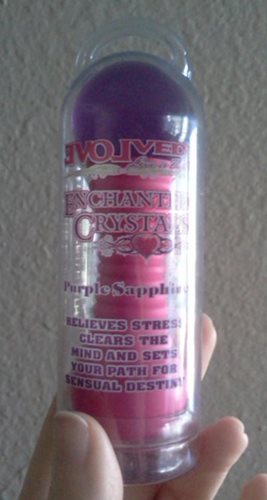 The Possibilities
Enchanted Crystals vibes can be enjoyed in a number of ways. Primarily, this is an external-stimulation toy, due to its short length (not great for vaginal penetration and G-spot contact) and its lack of a real base (not safe for anal play). However, it is an excellent teaser for any erogenous zone, with its two smooth, round ends, and for more sensitive people (such as myself) it is more than just a teaser. It is waterproof, so it can join you in the bath or shower for even more fun. It makes a very good muscle massager as well--try rolling it up and down the middle of your partner's back, and the spherical ends will press nicely into those muscles along the spine; roll it around on other large muscle groups, such as the glutes, laterals, and deltoids; use it on your own or your partner's neck; and you can even massage your own feet with it by placing it on a carpeted or towel-covered floor, and moving your foot over it so that it rolls up and down.
To add even more versatility, unscrew the crystal end to separate the toy's two parts, and add one of Evolved's silicone
Vibrator Enhancers
in order to create a safe anal toy. I think the Medium size works best (shown below), although this vibe can also be squeezed into the Thin size--it just depends on where you want the enhancer to sit on the vibe, more centrally (Thin size) or more toward one end (Medium size). I would recommend inserting only the matte plastic end, not the crystal end, should you choose to use the toy this way, as the plastic end is seamless and is much easier to clean without the risk of damaging the motor. If anyone tries this, I hope you'll comment and let us know how well it works!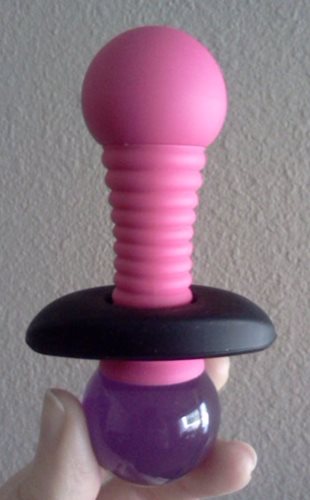 Experience
I decided to give this toy a spin this morning, when I couldn't decide between my usual two hard plastic vibes. I was still in bed and couldn't hear a thing through the covers when I turned it on. I began with the lowest setting, and used the crystal end for very light teasing and arousal. The spherical shape was great for transmitting the vibrations to a wide area all at once. I'm very sensitive, and sometimes purposely insert used batteries in my toys for less-powerful vibrations, so I was quite pleased with the range of speeds offered by this toy. The lowest speed is pretty low, and can be made even lower by using the crystal end; the highest speed is moderate, a little too much for me--unless I'm wearing jeans! In addition, the vibrations are on the deeper, less-buzzy side. So, this morning, I only needed to turn it up to the medium setting when I was ready for a lovely orgasm to start my day.

The clear gasket, which is covered by the "female end" of the toy when screwed together, worked very well when I tested the waterproof feature of the vibe. (I'll be using it in the bath in the near future.) In addition, it feels wonderful rolled up and down my spine, or on either side of my neck, or on my feet, with or without vibration.

This toy isn't life-changing, but it's much better than I expected for a basic small vibrator! I will be getting a lot of use out of the Enchanted Crystals vibe, both alone and with my partner.
Follow-up commentary
29 days after original review
I've used this Enchanted Crystals vibe several times now, and it stays in my top nightstand drawer within convenient reach. It's easy to store, easy to use, and easy to clean. I still love the two contrasting textures--one smooth and velvety, one slick and glassy--and their two different vibration intensity levels. When I want a simple, relaxed, no-frills orgasm, this vibe is second only to my
Water Missile Pinpoint Massager
. In fact, I'm off to take a bath with the Enchanted Crystals now...
This content is the opinion of the submitting contributor and is not endorsed by EdenFantasys.com

Thank you for viewing
Enchanted crystals
– sex toy review page!