Spinning, rotating, vibrating. Oh my!
I love this set! The pearls feel amazing when they are moving around, especially when you combine them with the other great functions this toy has.
The quality of this rabbit is top notch, even though I cannot say much for the remote control that comes with the set that controls the vibrator and the bullet(it is sort of chinky).

I would give this whole set a rating of 4 ½ stars if I could. But sadly I have to round down to 4 stars since half stars are not available.
Published:
Pros:
1. Great power.
2. Comes with rabbit, vibrator and bullet.
3. The pearls feel great!
Cons:
1. Requires batteries.
2. May be able to hear through thin doors.
3. Collects small particles.
I was making an order through Edenfantasys.com when I saw(LOOK AT THAT) a free toy with any qualifying purchase($70+). I had never had a rabbit before and quite honestly I had never been interested in getting one, but I figured "Its free right?" so I gave it a try.
My first impression when it got here was (WOW that is large) I have to admit I was a little intimidated by it at first.
Though the insertable length of the rabbit is only 6 ¼" inches. There is about an inch that is not insertable(not counting the base) which is approximately 2 ½" inches long. Which brings this toy to ALMOST 10 inches long (now do you guys see why I was intimidated?)
Circumference: 3 3/4" / 4 3/4"
Diameter: 1 1/2" / 1 1/4"
As you all can see there is a butterfly attachment that's on the rabbit. The butterfly actually does an AMAZING job with clitoral stimulation.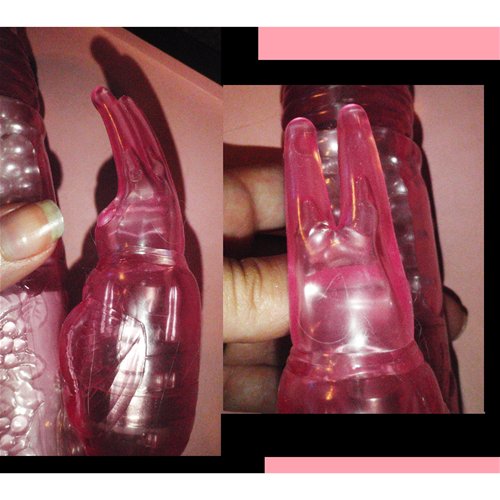 This rabbit is GREAT. I have personally never had a toy like it! It has multiple setting and great power. It definitely brought me to my "happy place" without ANY problems at all - and I think that all of us ladies know how great that is-
Me and this toy have played frequently, and now I am sad that I have been missing out on such a great toy for so long! Thank you Eden for your amazing promotions!
There is an "On/Off" button located at the very top of the control base that you can use to turn on(or off) the rotating head. Right below that, is where you find the rotation button. If you click it once it will start rotating in the opposite direction of where it started. Click it again and it will go back to spinning the same way it started.
Underneath the rotation button (to the left) you find another On/Off button, this one is for the butterfly attachment. Right besides the On/Off button for the butterfly attachment you find a High/Low button, this is also for the butterfly attachment. If you click high the attachment gives you VERY strong vibrations, if you click the low, it will go back to its normal medium speed.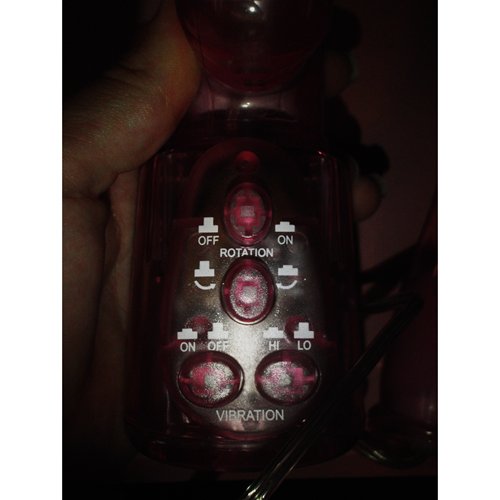 A great thing about this rabbit and its attachment is the fact that it save where you left off. Say you had the head rotating to the right and you had the butterfly attachment on high before you turned off your toy. Well next time you turn it on, it will be rotating to the right and that attachment will be on high speed!
I would give the over all power of the rabbit a 3 ½ out of 5 since the head only rotates and does not vibrate.
I would give the over all power of the attachment a 4 out of 5, it is very powerful.
The rabbit takes 4 double A batteries. Which where NOT included with the rabbit when it got to my house.
When I added this toy to my order I did not know it came with a regular vibrator and a bullet(I was so happy to see this) Especially since I wanted to work my way up to the rabbit.
Both the bullet and the vibe have a cord that plugs into a remote base(don't worry the remote is included)
The length of the cords are both about 28" inches long(which is plenty for me)
The power of the vibe I would say is about a 4. I was surprised to see how strong it was. The bullet is about the same at 3 ½ out of 5 as far as the power level goes. It wasn't quite as powerful as the vibe. But it is nonetheless very satisfying.
This set comes packaged in a very simple clear/ silver wrap that says Edenfantasys and orgasmic foreplay kit on it. There are no images on the packaging. The packaging cannot really be kept unless you open it carefully.
Experience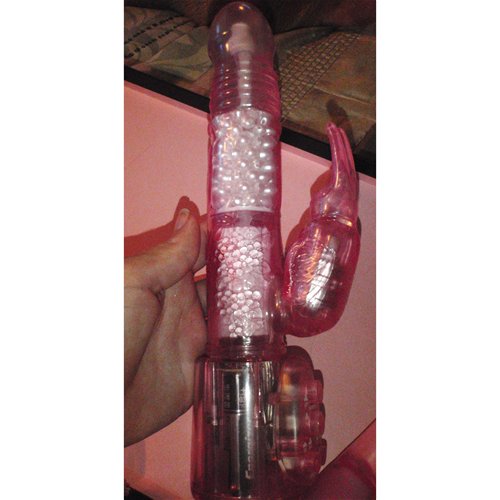 My experience with this set has been amazing! When I first got it I made sure to use it
that same night! I went on Skype with my fiancé and of course he wanted me to start using it right away. It took some convincing to get him to agree to letting me start with the bullet and work my way up to the rabbit.
Once I finally got to the rabbit I was like "Wow, we are definitely having some alone time later"
I could hardly believe how good it felt. I mean it was almost as good as sex with my man
(not quite of course) Nothing is that good. But this set does come pretty close!
At first I was a little skeptical about using this set since I have heard so many people say that they don't like jelly. And I guess I can see that since it collects dust and small particles such as animal fur easily. But I find if you keep it clean by using say "Eden wipes?" or by using a damp wash cloth to wipe it down, it stays nice and is very fun to use.
I would definitely recommend this to any woman who wants to experience pleasure like never before. It is one of the most powerful things in my toy chest and if I had it to do over again, I would add this to my cart whether it was free or not.
This content is the opinion of the submitting contributor and is not endorsed by EdenFantasys.com

Thank you for viewing
Orgasmic foreplay kit 1
– vibrator kit review page!