Tiny but Mighty
This small, yet powerful, vibrator will make an excellent addition to your toy collection. Above all else, it's fun and easy to use. The slight flexibility of the head also allows you to hit those spots you've always wanted to, and do so easily. Try it, you won't be disappointed!
Published:
Pros:
Soft, hygienic, easy to clean, strong, slightly flexible, multiple features.
Cons:
Silicone does melt/react to a lesser quality silicone product.
*THE PLEASUREPILLER*
This is the Inside cover of box and the vibe. It's no bigger than my hand, has a slightly flexible neck, made of silicone, and takes one AA battery.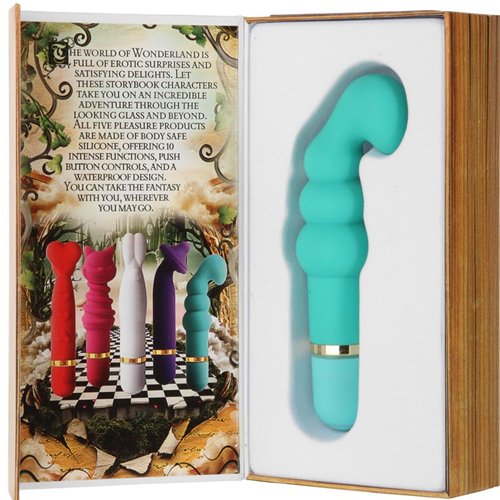 The multiple features allow for a combination of experiences and endless amounts of fun for you and your mate. There are ten different features, which are accessed by pressing the button on the end. Some features include steady vibe, pulse, heartbeat, and fade. The sound feedback is rather soft and moderately discreet (meaning it does buzz a bit, but it's still on the quiet side), and the strength of the vibrations is pretty powerful for the size. The Pleasurepiller is waterproof allowing you to use it almost anywhere.
My favorite feature would definitely be the material. Silicone is safe, hygienic, and most importantly soft. Though the multi-vibe feature does run a close second for favorite.
*EXPERIENCE*
I picked this vibe, honestly, because of my love for Alice in Wonderland. Normally I don't pick G-spot vibes as I have sensitive skin and muscles. For only requiring one battery it's pretty powerful, and sadly it did leave my muscles very sensitive and a tad sore for a while. The unique 'hook' to the tip also allows for you to put it in a spot you like and keep it there, focusing the vibrations, and it made for quite the fun experience and sensation when playing with my clit. I did use this with my partner and I think he had more fun with it than I did.
*MATERIAL*
Made of strong durable silicone, this toy was a pleasure (if you pardon the pun) to use. Silicone is one of my favorite materials available for sex toys. It feels like silk to the touch, glides across your skin like oil on water, and cleans easily.
Being silicone it is very import that you use a water-based lube with it. If you use a silicone lube, I stress doing a test spot on the base of the vibe. Silicone tends to melt when exposed to a lower quality silicone product. I also recommend you store either in a plastic bag or in the box in comes in. Keeping it away from accidental exposure to other silicone products. Universal lubes (either silicone toy safe or the half water and half silicone lubes) should be safe to use, but again, do a test spot to make sure.
*RECOMMENDATIONS*
I would recommend this toy:
-For anyone wanting to add more spice to their sex life
-Couples looking to increase their intimacy
-You, if you're looking for a new toy to hit or find those sensitive sexy spots
-If you enjoy G-spot orgasms
-If you're looking to find the, and/or try having a G-spot orgasm
Follow-up commentary
2 months after original review
This is seriously a great toy. The battery has lasted me forever, which is great, considering all the features of the toy and the intensity of the vibe. It takes seconds to clean with toy cleaners, which is something I look for in toys. The flexible head is able to hit my clit with intensity and stand up the the pre-orgasm wiggles to stick to that spot you want. It's a great toy, and I highly recommend it for anyone looking for a good, travel friendly, compact vibe.
This product was provided at a discounted price in exchange for an unbiased review. This review is in compliance with the FTC guidelines.

Thank you for viewing
Wonderland - The pleasurepillar
– sex toy review page!