Here Danny opens up for the Man Project to talk about male bisexual stigma in porn, explore what is missing about the male experience when we discuss porn and how women just might be changing the face of porn forever.
One of the reasons the Man Project started was because in sex positivity, women's voices really seem to reign. Does this play out in porn too?
The first director I ever worked for was a woman. It was a BDSM scenario. And I don't think it was marketed as "sex positive," but it was a very positive experience for me. Since then, I've worked for directors such as Madison Young, Tristan Taormino, and Carol Queen — all of whom seem to make porn that can be categorized as feminist and/or sex positive.
In my opinion, most porn is not based on degradation. But historically speaking, it seems to be an industry dominated by men. So for the sake of equal representation, which I believe is a fundamental aspect of feminism (and therefore suggests "positivity"), I think it's entirely necessary that this brand of porn exist.
What is missing from the discussion about male sexuality in porn?
There has been so much discussion over how women are treated, or how women feel when they perform in pornographic scenes. But heterosexual men seem to have been left out of this discussion. Maybe even gay men too.
"How do male performers feel about performing in sex scenes?" It's not a question often asked. I think it's just assumed we want to fuck anything that's put in front of us. I assure you that's not the case.
There are a lot of girl-on-girl scenes in the straight porn world, but not guy-on-guy. A lot of straight porn doesn't even let the lens linger on the guy...why is this?
Obviously, female bisexuality is widely embraced in porn. Most female performers are willing to perform in "lesbian" scenes whether or not they're actually attracted to women. I think because it's a fantasy that's acceptable to the average heterosexual male, it's not threatening.
Homophobia (in regards to gay men) is still very prevalent in our society, and especially in the straight porn industry. Anyone who followed the aftermath of our last HIV "outbreak' knows how many in the straight porn industry view men who engage in homosexual activity. It's not in a positive light.
So where are the other hot guys in porn?
I actually think there are quite a few attractive guys in porn these days. The past few weeks, I've been on set with Kris Slater, Rocco Reed, Xander Corvus, Mick Blue, Wolf Hudson, James Deen, and Mickey Mod. And although I haven't been on set with Chad Alva recently, we hang out on a semi-frequent basis. So, that's at least eight guys off the top of my head that are working in the business right now. I think all of them are considered very attractive men.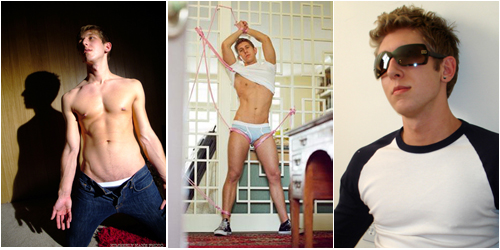 Left: Photo by Kimberly Kane, Middle: Photo by Dave Naz
So, if we aren't watching "sex positive" porn I think there remains a fear that maybe this porn is "degrading" to performers.
It is my opinion, based on my experiences and the information I've gathered from others, that most porn is produced without coercion and/or inflicted harm on the performers. But there are always exceptions. And given the capacity for most any amateur videographer to shoot people having sex, there is much room for exploitation on the amateur level. There can be a steep learning curve when trying to differentiate a legitimate production from some guy with a camera in his apartment.
I am not, by any means, trying to say that all, or even most, amateur porn is bad or exploitative. But if you are buying from an established company, chances are the performers are being filtered through a system that requires them to have a very firm understanding of what is about to happen. Basically, there's more paperwork, more waiting around on set, and more money at stake. If someone doesn't want to be there, there are many opportunities to leave.
Can you be sex positive without liking "sex positive" porn?
I think one of my hottest scenes is in a Tristan Taormino film. But many of my favorite scenes have been in porn films that make no effort to come across as feminist or sex-positive. The director may just say, "Give me four positions and thirty minutes," and allow us to go at it. To me, that's often more fulfilling than being on a set with very well intentioned people who keep stopping the sex scene to implement very specific actions. I think when you start viewing pornography as something political, feminist, queer, etc... it's easy to start thinking like, "This is the way performers
have
to have sex in this movie, because it needs to be different than mainstream porn."
So yes, I think it can be both sex-positive and feminist to watch or perform in porn that does not necessarily carry those labels.
Are more women watching porn?
I actually have heard a lot from straight, female fans. One of the most fascinating things to me is how young some of them are. I think it's actually pretty cool that younger women are able to feel so comfortable these days consuming porn.
I think some cultural barriers are just starting to fall. It's a shame it's taken this long, but porn is finally becoming "cool," or at least acceptable, for women to watch — at least in some portion of the population. It probably has a lot to do with positive female sexual role models in porn. Women are sexual beings. They have just as much a right as men to express themselves. Porn should be an outlet in which to do that.