Business owners and gym goers in Lehigh Valley, Pa. pulled together this year to raise money for a local domestic violence organization. Trainer AJ Davis, supported by Jarrett and Sarah Schaffer, owners of Northampton Coin & Jewelry, decided to make
Strength is Sexy
,
a calender which features (mostly) women who've been touched by domestic violence
, and are now leading happy, healthy lives.
It's no secret that victims of domestic violence often find themselves in such a deep depression that they can't take care of themselves. For that reason, when women come to Heidi Markow. After losing her sister to an abusive husband, Markow founded the Beginning Over Foundation to help domestic violence victims rebuild their lives. One thing she tries to focus on is fitness.
"Heidi really pushes fitness as part of the recovery process and it seemed like a perfect fit," say the Schaffers.
Donations to the project included the complete covering of costs by the Schaffers, hair and makeup by J. Morgan Salon in Easton and Platinum Shears Salon & Barber Shop in Allentown, and, of course, photography by Peter Gourniak, a photographer featured in
Maxim
. Thanks to these folks, all of the proceeds ($12,000 on the first day of sales!) are going towards Beginning Over's empowerment classes, salon services, exercise counseling, transitional housing, makeovers and legal assistance.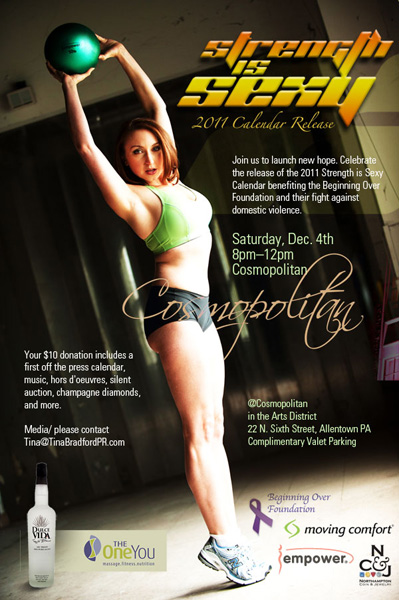 Calendar available at beginningover.org