A positive self-image is an incredibly important aspect of feeling sexy. Our self image is formed in many ways: by what we see in the mirror, how we feel in our bodies and our health, the images we see in the media, and feedback we receive from our friends, family and lovers. And sometimes the way we "view" ourselves is skewed by negative self-talk and lack of external validation, and we our blinded to our own beauty and sex appeal. We are told that if we buy more makeup, expensive clothes, or go on a diet, we will finally be beautiful. While it's important to pamper yourself, feeling sexy doesn't come from shopping. It comes from self-acceptance and learning to love yourself.
It can be hard to feel good about yourself when you don't see much diversity in the body types and appearances of people deemed "sexy" by the mainstream media. So I decided to take matters into my own hands by working with several talented photographers to create my own sexy photos!
Being photographed can be a very important tool for developing a positive self image, and inspiring others to love themselves by sharing your beautiful images. I know that it's easier for me to feel comfortable in my own skin when I see images of fat women looking sexy and beautiful, and I hope my photos can be inspirational to other women who look like me. Photos can teach us what we really look like (instead of the sometimes distorted image in our heads), foster self-acceptance, and help us discover our true potential for beauty and sex appeal that isn't defined by the media.
Part of my decision to take these photos stemmed from a desire to move past the body dysmorphia I felt after rapidly gaining 25 pounds (due to stress) about a year ago. My doctor berated me for this weight gain, telling me how unhealthy I was even though I had gotten back on track with my eating and exercise, and my tests showed I was, in fact, in excellent health.
My favorite pants no longer fit, and I felt ashamed, as if I'd lost control of my body. I obsessed about my weight constantly, trying various strategies to (unsuccessfully) re-lose the weight. After months of struggling, I realized that I needed to learn to accept this change it if I wanted to get my sexy groove back. I decided that doing some playful photo shoots might help me re-conceptualize my bigger body in a positive way. This led me to collaborate with four very talented photographers to create sexy images that reflected my unique and unconventional beauty. I'd like to share some of these photos with
SexIs
readers to inspire you to create your own images!
Mim Weisburd
is one of the most talented artists and inspiring human beings I know. I call her my "Sister from Another Mister," and we have been collaborating on art projects for over 15 years now.
On my last trip to my hometown of Berkeley, California, we brainstormed a photo project together. My childhood home is just a few blocks from miles of train tracks and old abandoned factories, and I used to go walking there when I wanted to be alone with my thoughts. We decided it would be the perfect setting for a shoot. I dressed steampunk style, in a frilly black dress, a tiny top hat, and carried a parasol as I strolled along the train tracks on a bright sunny day. At one point, I stripped down to nothing but black lace lingerie and a fur coat, and Mim took photos of me vamping while a train zoomed by in the background (I'm sure I gave the conductor a hell of a show!) You can see
more of these photos on Mim's Blog
, accompanied by a prose essay I wrote about the experience.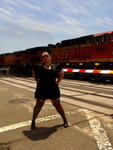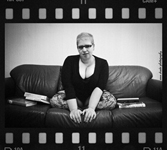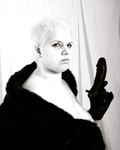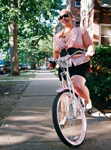 Around this time, I restarted
my blog
, and was starting to build a career as a sexuality educator and writer. The train tracks shoot had inspired me, and I wanted to take more photos for use on my blog. A close friend was dating a photographer named Erik Wheeler, who specialized in beautiful black and white kink-themed photography. I wanted a photo shoot that would highlight both the masculine and feminine sides of my personality. Erik brought his professional equipment to my apartment, where we shot against a plain white background. I wore my favorite lingerie with my knee high black leather motorcycle boots and nerd glasses for some unconventional pin up girl photos, as well as some photos of me wearing my favorite black leather jaguar strap-on while smoking a giant cigar. I also shot a tribute to my favorite photo of Grace Jones from the James Bond Movie "A View to a Kill"- only instead of holding a gun, I'm wielding Vixen's Johnny dildo!
A few months later, I connected with Daniel Butler, a 23 year old photographer who specializes in stark but beautiful urban landscape photos. He was looking to branch into portrait photography, so we did a spur of the moment photo shoot in front of my apartment, using only the natural late afternoon light filtering through the trees. At this time I was experimenting with a kinky cougar alter-ego named Bev Mangino (you can read more about her here:
It Happened to Me: I Became a Cougar
), so I decided to channel Bev for this photo shoot, rocking a giant blinged-out leopard head pendant and a frilly pale pink top that matched my Schwinn cruiser bike. This shoot proves that sometimes throwing things together at the last minute with what's available can be the best strategy for inspiring images.
My most recent shoot was with
Zaana of Ann Drake Photography
. Zaana is only 21 years old, but has already made a big splash in the Chicago kink community with her incredible portraits of people in our scene. Zaana intuitively uses lighting, framing and photo angles to best capture the spirit of her subjects, and I was very excited to work with her.
I was working on a paper for an academic conference at that time, and was up to my ears in books. I decided to make the most of it and create a shoot on the theme of the famous John Waters quote: "If you go home with somebody, and they don't have books, don't fuck 'em!" I dressed in a comfy sweater, glasses, and gartered lace stockings, and posed with my books. I'd had about 3 hours of sleep (I figured the dark circles under my eyes fit the theme), and it was a dark, rainy day with little natural light, but Zaana made the most of the situation and we emerged with some great shots that truly captured my inner "sex nerd." Zaana also pushed me to use my face differently- I generally prefer to smile for photos because I feel "prettier" that way, but she coached me to relax my face for a more natural and "academic" look.
I cherish these photos and have enjoyed using them to illustrate various articles and essays I have published. I think everyone should have some recent photos of themselves that they truly love. I am lucky to live in an urban area with many talented photographers eager to work with unconventional models, but you can just as easily collaborate with an open-minded friend or lover with a digital camera, or even use a self-timer or "photo booth" program on a computer.
Taking photos of yourself can be incredibly empowering once you get the hang of it, because nobody has to see them but you (and you can delete all the ones you don't like!) Digital cameras have made it possible to take hundreds of shots in one session, which means you can experiment until you get a few perfect shots. And once you have your sexy photos? You can share them with friends and lovers or keep them all to yourself! You'll truly be able to see yourself as others do – sexy, beautiful, and most importantly, a real person with no airbrushing.
We'd love to hear what you have to say as well! Leave it in comments, or write a post of your very own!

Yes, that's right. We want YOU to write something for SexIs! See this post for details!