Clone That Anaconda!
Add the glow powder and stir. Stir for 2 minutes. Pour the mixture in the mold, fill to about 1 inch below the top. Use cardboard and push the vibrator in until only the cap sticks out one end. Insert into your mold. Let it go in until it hits the tube. Make sure that the battery cover is not inserted into the rubber. You must insert the vibrator to fill it. Let it set for 24 hours, check to make sure that it is fully cured. Remove from the mold, Remove the cardboard and cut any bumps off.
Published:
Pros:
Exact replica, fun to make
Cons:
Needed more rubber compound for larger sized men
I didn't know what I was in for when I first ordered the Clone-a-Willy - ( glow in the dark kit) I thought this to be more of a gag gift but we definitely got our money's worth with this product.
It arrived in a basic box and it was placed in the box with packing paper around. Upon opening the box, there was a large tube around 12 inches inside that all of the ingredients were in.
After it was complete, It still seemed to come out smaller in diameter than what he is but oh well. It's his penis made over, from the veins to the head. Now to see if it will make me squirt just like the real thing! I am using a XL rubber with this because some have said that the rubber has caused problems. I am not taking any chances. The finished product does have a strong odor.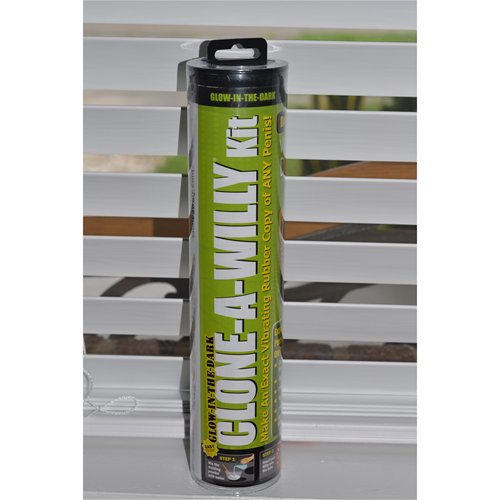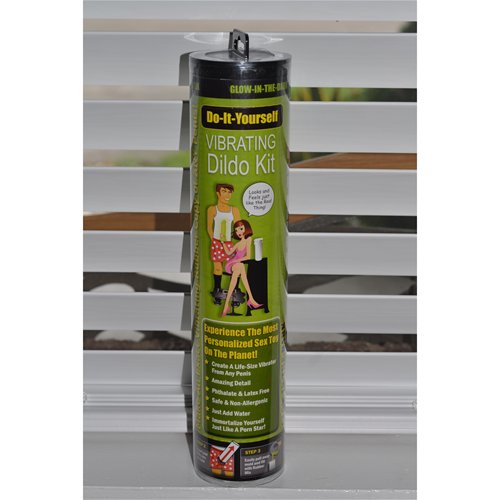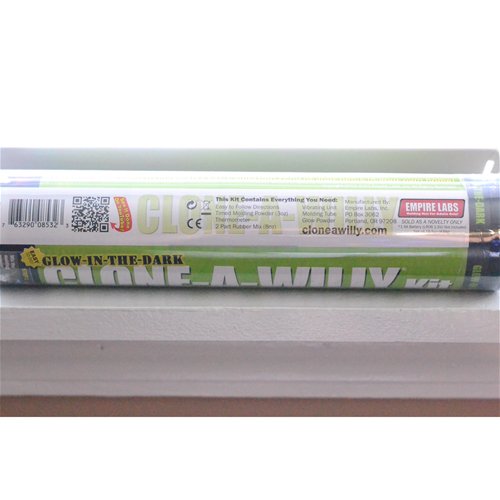 I couldn't wait to open up the kit because I have been wanting to clone my very well endowed man for a very long time. He is 6'5", so if that gives you a hint. I wanted his beautiful cock to keep forever. We had been contemplating how we were gonna double team and make sure that this worked out perfectly for days before we received it. My suggestion to everyone is to
study
those directions as if you are having a test on it. You must remember every step and leave none out. We read through the directions several times that day to brush up before the big night came to use the kit.
On the big night, I wanted everything perfect. I had a sexy movie ready to go in the living room on USB to pop into the TV, just in case. I lit some candles around to set the mood, I grabbed a cock ring that is easy to use. I also placed some garbage bags on my kitchen floor where he would be standing and I put a few towels nearby. ( It gets messy) so please do not clone on the carpet or rugs, it will not be pretty. I chose a very sexy lingerie that my man favors and had it ready to put on after we measured the tube. (I will get to that for you) All of these things will definitely
help
the process along.
I grabbed the tube and put everything out on my kitchen counter neatly and in order that I would be using it.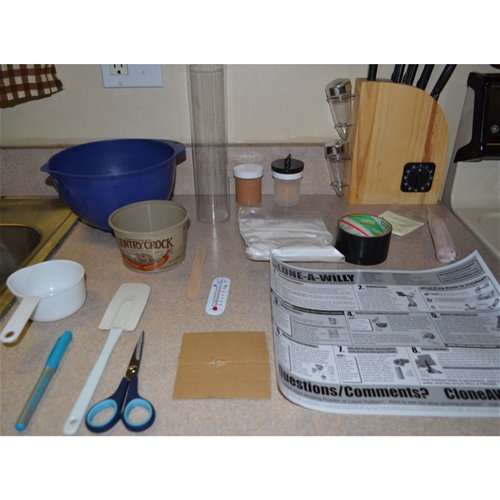 The kit includes The Molding tube- This is the tube that it comes shipped in. It is clear and plastic.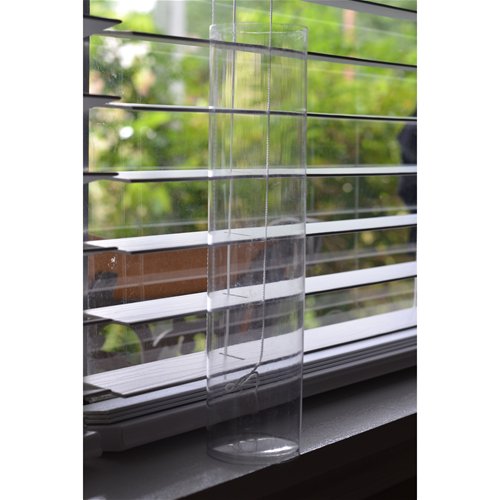 It is about 12 inches tall, the diameter is a little less than 2.5 inches across. Next, we have the bag of molding powder (Plaster). You will need to cut this open with scissors.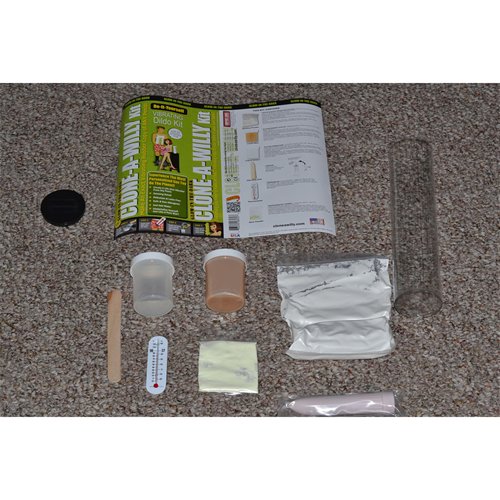 The thermometer is 3.5 inches long.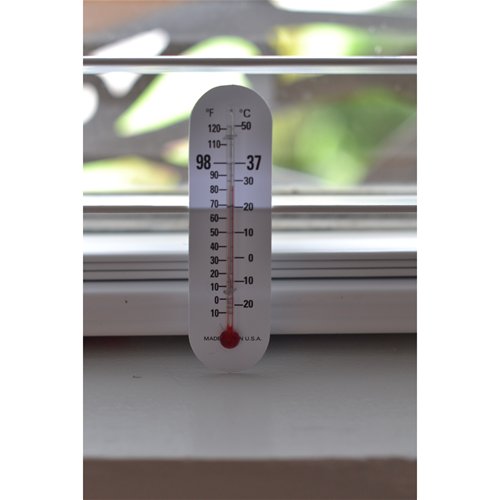 There is a small package of the glow in the dark powder. The vibrator included is 5 inches in length.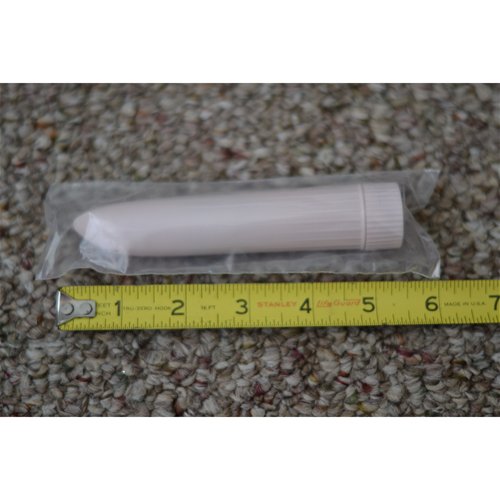 The next two items are the compounds that make the cloned dildo. One is a clear rubber compound and the other is flesh tone liquid skin.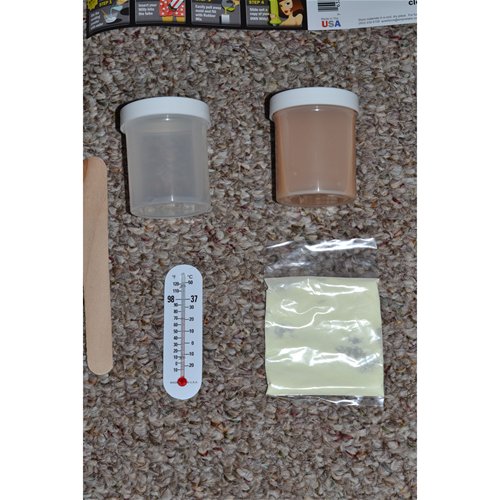 There is also a mixing stick which looks like a cheap tongue depressor and of course the directions. As the instructions state, you must have a measuring cup, scissors and pen, about 8 " (20cm) of duct tape, a large mixing bowl, a timer or clock with a second hand, a wooden spoon or a spatula and a small piece of cardboard, that is cut to 4x4 inches (10cm) and cut a small cross area directly in the middle of the cardboard. I also had a small bowl to use to mix the rubber compounds in. I just used an old, small butter bowl. I luckily had all of these things handy.
This is a process in which there is no margin for error and the clock is working against you. I can't stress enough to read these directions over and over so you don't just throw your money out the window because it can happen. Before I purchased this kit, I read about the many failed attempts on here but I did not let that change my mind and I am glad that I didn't. It is definitely better with two people but it can be done with just one if you know what you are doing. If you/your man is/are very large, there may not be enough rubber to fill in the mold. I was very worried about this. The main mistake that most people make is waiting too long to place the erect penis into the mold. You only have
TWO
minutes to mix the molding gel and insert the penis.
Experience
The first step that we did was to measure the tube. Your guy must stand up with an erect penis and place the solid end of the tube right up next to his penis against his skin. You then mark off where his penis ends and this mark will be where you cut the tube to fit your guy. I was worried that we would not have enough mold because he is very large, so I cut the tube just a little shorter. I then took the duct tape and placed all along and around the edge that I just cut. I didn't want him to cut himself since this is the edge that will be against his body while he is inside the molding gel. After you cut the tube, allow him to relax and go flaccid. This is the time that I was fine tuning everything. I went in to put on my lingerie, lit some more candles and put the porn on. I cut open the molding powder and then I went over to give my man some oral to get him going before I had to go and get the water temperature to 98 degrees. The water
MUST
be 98 degrees exactly. Luckily, the water reached that temperature pretty quickly from my faucet. I went back and gave him a little more oral to get his penis very hard and then I ran over to mix the water and the molding gel. As I was mixing, he was rubbing my vagina so he would stay turned on. After all, it isn't very hot watching me mix some pancake batter looking gel... I didn't mix it a ton because it does not have to be mixed well. It can still be lumpy. Just don't over mix. I mixed slowly and thoroughly so no air bubbles would form in the mold itself. I got it mixed to where it was still lumpy and then I quickly went over to him to make sure that he was very hard and then he stuffed his penis into the tube and then pushed it onto himself. This is the tricky part and another important part to follow. Make sure that you offer much stimulation at this point so the penis does not become flaccid. You must keep the penis in the gel for 2-3 minutes. It's alright if it's not erect for the full time but for the first 30-60 seconds, it MUST be. It must be firm enough to shape the mold. Check the mixture with a finger to test that it is gelled. DO NOT remove yourself until it has. If that part went correctly, you need to mix the rubber and the liquid skin, carefully pour them into an 8 ounce container and use the enclosed stick to scrape every bit out.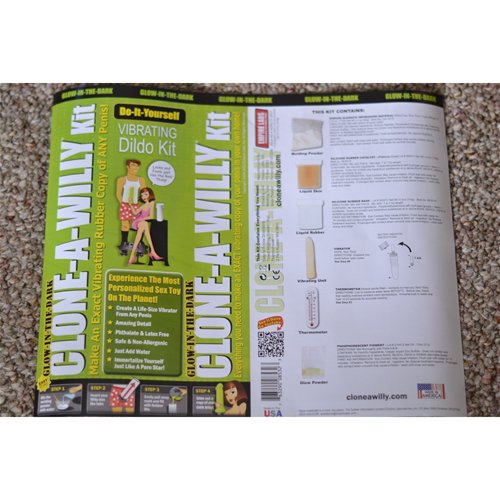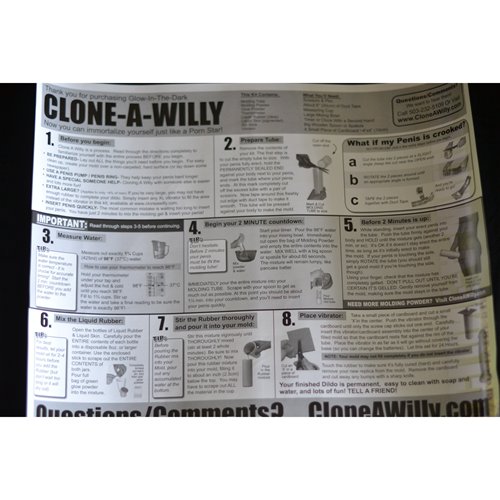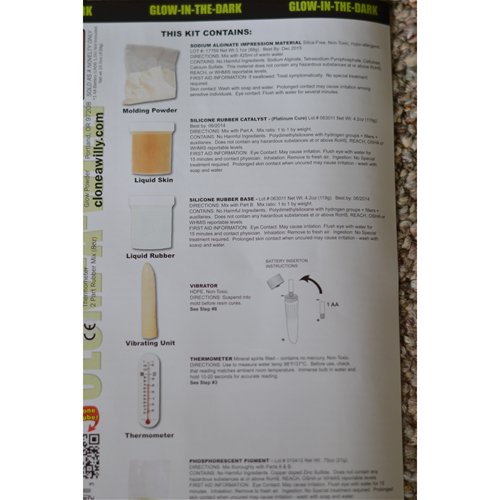 (Continued)
** Update** Photos of the Finished Product below- The dildo is shorter because I cut the tube shorter because he is very well endowed and I was very afraid of running out of the rubber compound since this was one of the main issues for people who were very large.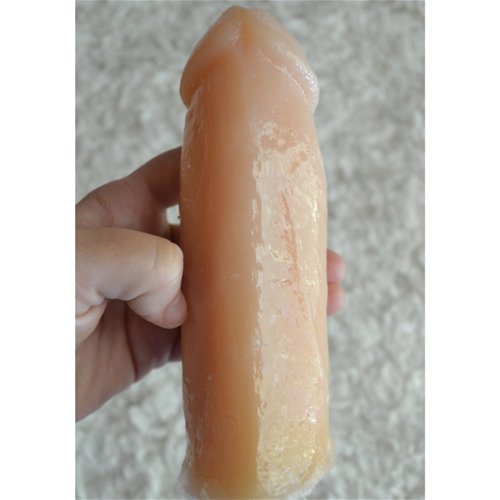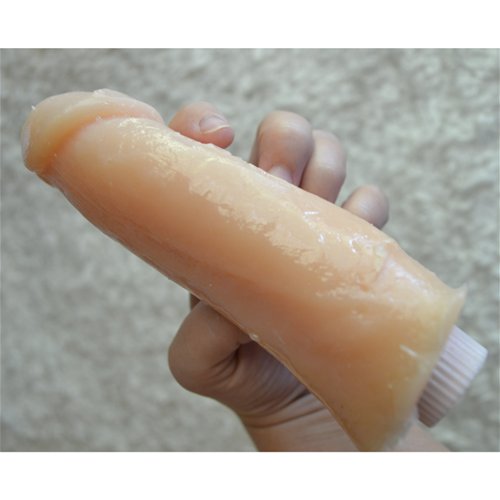 Follow-up commentary
5 days after original review
The finished product is great! I have always wanted an exact replica of my partner's penis and this product delivered! Please don't discontinue this Clone A Willy kit!
This content is the opinion of the submitting contributor and is not endorsed by EdenFantasys.com

Thank you for viewing
Clone-a-willy glow in the dark kit
– molding kit review page!