Best Deal For Beginners!
These are a wonderful set for beginners who are starting to explore the darker side. It is inexpensive so if you decide that it's not for you, you are not out much money. They are easily inserted, comfortable, non intimidating, especially to the man who has never had anything up his bum. They do have some issues with not staying in.
Published:
Pros:
Silicone
Comfortable Shape
Inexpensive
Cons:
Not good for long term wear
Beginner Anal kit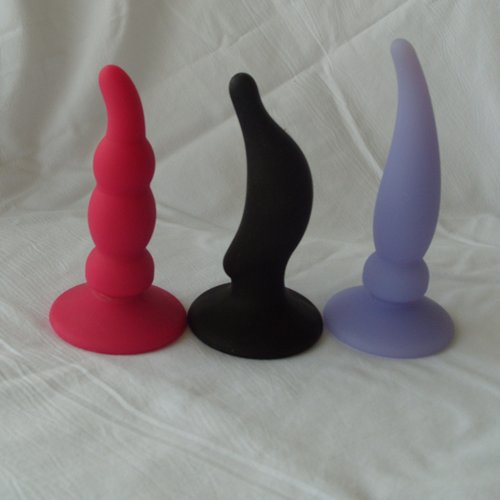 Use
Well this is pretty much explained by the name. It's a fairly inexpensive anal kit containing 3 easily insertable anal plugs. These are for use by male or female. I have used these also for solo play as well as wearing them while having vaginal intercourse. My husband has also worn them for his very first anal experience and the first touch of his prostate. These do not disappoint. They are non intimidating and very comfortable. They have a wide suction cup type of base which prevents them from going missing.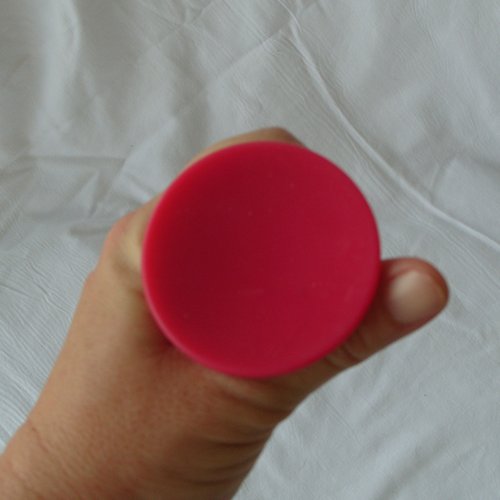 Material/Texture
They are made of silicone. A 10 on the Eden safety scale. They are made from food grade material, hypoallergenic. They are non porous, latex and phthalates free. They don't have any smell or taste to them. They have a soft finish to them. There is a very faint seam down the middle of the probes but it is barely felt with your finger tips. These really don't collect any lint or hair. They do have a slight drag to them but since you will be using lube with them that isn't an issue. Use only water based lubes with these as any other lube can ruin their finish.
Shape/Size/Design
The black probe is smooth and curved slightly. It is a total of 3 1/2 inches long, It's max diameter is 1 inch. The flared base is 2 inches across.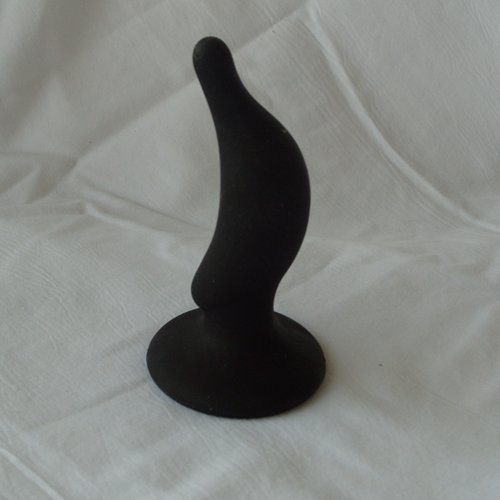 The purple probe is the largest with 4 inches in length. It's max diameter is 1 inch. It is smooth and has the 1 bump near the base. The flared base is 2 inches across.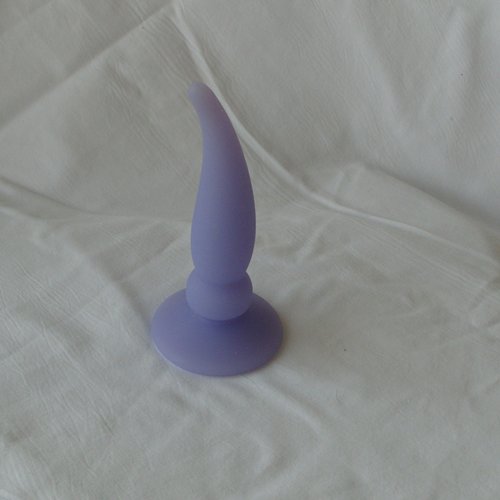 The red or it appears to be more pink is smooth with 3 bulges. It's total length is 3 ½ inches long with a max diameter of 1 inch. It too has the 2 inch across flared base.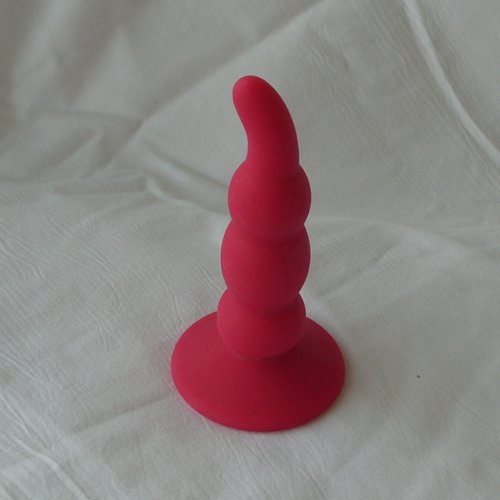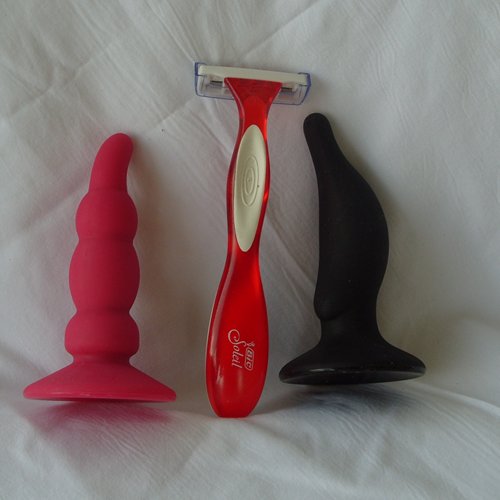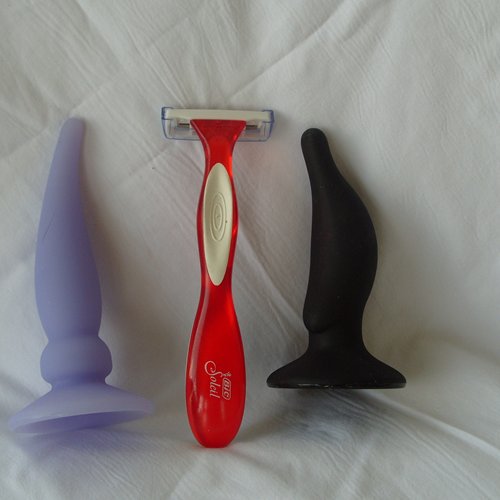 All three probes do suction cup, I found this out while cleaning them in the sink. All three of them do have somewhat of a pointy type tip but this hasn't been an issue for myself or my husband. They are all quite flexible and don't cause any pain with insertion. All three of them do have issues with staying in place. The very first time I ever used one of these while having intercourse I was so blown away. It was not the sensation that I expected. I loved it. It felt good! Even though I have other anal and prostate toys that we are using, we will still dig these out and use them frequently.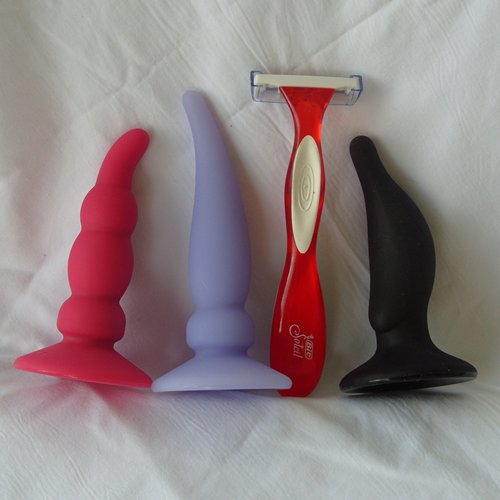 Care/Maintenance
These are easy to care for, you can wash them with anti bacterial soaps and water, toy sprays, Eden wipes. You can clean them up with rubbing alcohol, a 10% bleach solution. You can boil them or throw them on the top shelve of the dishwasher. You can easily share these since they can be sterilized. I have no issue sharing them with my husband of 16 years as we have shared everything else including germs and secretions. Use only water based lubes with these so you don't hurt them and store away from other silicone toys so they don't go a mating and ruin each other's finishes.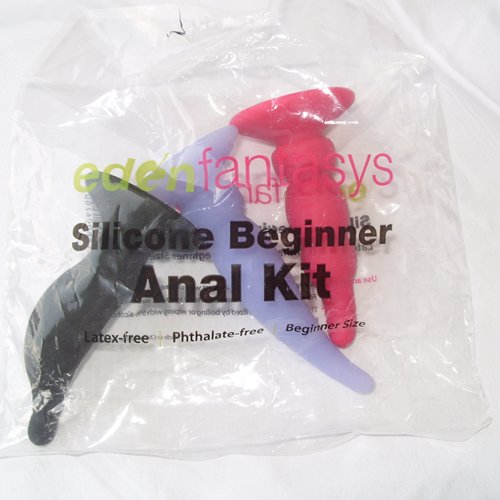 Packaging
They come from Eden in a clear plastic bag all together. Nothing special about the packaging. I keep them in snack sized baggies in my husbands nightstand.
These would be travel friendly, I don't think that they look like obvious sex toys. I would keep them out of children's reach as they may think they are pretty and play with them.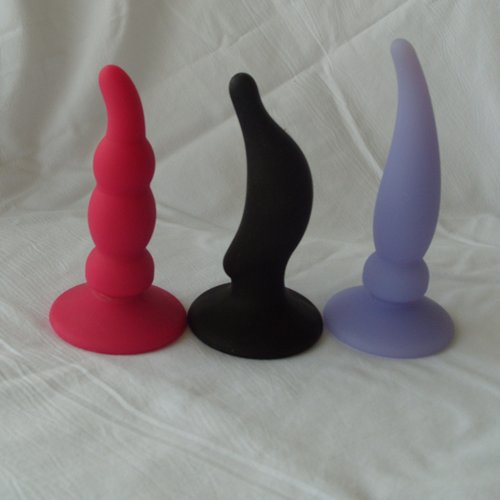 Experience
This is a great set for any beginners. Both my husband and myself have used these and we are very happy with them. You can't go wrong. They are flexible and the tips are slightly pointed but they don't cause any issues. As my husband had said, he has had "larger turds than that". Sorry, that's a quote! Honestly, I don't see anyone who is interested in anal play being disappointed in this set. But, don't think that just because you can handle these that you are ready to move up to a large glass plug, trust me!
Follow-up commentary
4 months after original review
I would suggest this one for any and all. You get the best bang for your buck! They are comfortable and they are completely sterilizable. Both myself and my husband use them. They do have some issues with staying in but it's really not that bad of a drawback.
This content is the opinion of the submitting contributor and is not endorsed by EdenFantasys.com

Thank you for viewing
Beginner silicone anal kit
– anal exploration kit review page!