My ass loves this Ryde(r)
This is the best feeling plug bar none, IMO. Super smooth silicone makes for easy insert-ability and makes for a very comfortable Ryde. The colors are just awesome and you will love the base for long term wear. If all the reviews do not convince you I do not know what will.
Published:
Pros:
Gorgeous colored silicone, excellent and comfortable base and can be totally sanitized for sharing.
Cons:
NOT!
OK, so there are 30 something reviews for this plug. Why? Well if you are in to anal play and silicone, I believe that this one is the best there is. This is my third plug, the first was glass, and the second was TPR and now the Tantus silicone. The first two did not have a big enough base and as such I really did not feel totally relaxed. Sure they were fun but the thought in the back of my head was always there.

NOT with this TOTALLY-AWESOME-WISH-I-HAD-BOUGHT-IT-FIRST plug from Tantus. This plug is by far the best silicone I have felt, it is squishy but still firm enough to be easily inserted, and the color (mine is copper but it comes in purple and black)and smooth texture makes my ass throb in anticipation to have it put in. If you are into anal play, just grab hold of it and you to will be a believer like me.

Still not sure? How about the fact that this ultra-premium, platinum silicone is totally nonporous. It can be fully sanitized by boiling it for 3 minutes or by throwing it into the top rack of your dishwasher (no soap). Plus it is hypoallergenic and Phthalate free.

My Ryder came in at 4" long with 3 3/4" insertable, and has a 4 3/4' circumference (1 1/2" diameter). The neck is 7/8" wide and 3/4" long, the base is 1" X 2 3/8", so no worries about the base.

Speaking about the base, this is by far the most comfortable base that has been between my butt cheeks. The combination of narrow sides and the pliable material makes for long term wear comfort. My first time wearing it I had it in for an hour strait and if it wasn't for the awesome internal stimulation, I would not have known it was there.

Another added bonus about the Ryder is the stay-in power of the design, this plug stays in. No matter what position I was in, there was no hint that it would come out even when climaxing, yet it will come out with little effort when you are ready, grab the base and relax your sphincter muscles and it will slide right out.

This plug comes in plastic box with the company name, information on the material and body safeness. Inside is a clam shell type insert that houses the Ryder. Because it is clear it is by no means discreet.

The insert will come in handy for storage or you can use a toy bag or old sock. The box will work too but I found it to be hard to open and kind of bulky. (I need a Toi box) I recommend something for storage due to the silicone, it will attract every hair and dust bunny in your storage area. Not really a big deal, a quick wash will take care of that.

No silicone lube with this one, only water or oil (for anal) based for this plug
Experience
When I first pulled out the Ryder's box I was taken aback with the size, it looks smaller on the site. Sure I knew the size from reading all those reviews but it still caught me off guard.
My glass plug has the same diameter as the Ryder and I must say the Ryder felt smaller. This is due to the unforgiving nature of glass and the somewhat mushy nature of this silicone. So if you can take something in the 1 1/4" to 1 1/2" range this plug will fit with no problems, Just don't forget the lube, might I recommend Maximus.
See the beautiful color of mine,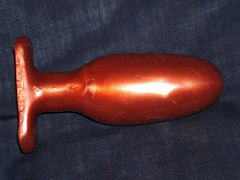 You can also see what a few seconds being out of the box can do as far as collecting dog hair and what-not
Follow-up commentary
3 months after original review
Hell Ya, I still love the ryde this Ryder gives. Still looks like new and the silicone is so nice, I have started to use it as a stress ball also. The thing is, after fondling it for a bit, my ass starts to get jealous and wants to play with it too. :)

Still the best butt plug I have used!
This content is the opinion of the submitting contributor and is not endorsed by EdenFantasys.com

Thank you for viewing
Ryder
– sex toy review page!