The buttplug of my dreams!
The Ryder is the buttplug of my dreams. It is the perfect size, with a comfortable neck and narrow base to keep it out of your way. It had a bad habit of retaining butt-sex smells, however, even after soap and boiling.
Published:
Pros:
Good size, superior materials, can be sterilized, narrow base
Cons:
Retains butt-smells, can collect lint
Recently, the Boyfriend and I have been getting into anal play. After a long struggle to get on top (heeyuk!) of the notion, we had finally managed to have enjoyable anal sex. It kind of sparked the fiend in me, and I had become obsessed with anal play. My toy box was sorely lacking in good toys. I had one silicone butt plug, the Tantus Lil' Flirt, which is approximately the size of Boyfriend's finger. I needed something bigger in my life (and butt.) After looking around, the Ryder seemed the perfect fit. Its girth is nearly the same as Boyfriend's penis, so I figure it would make for good training. I swiftly ordered it along with some water-based Maximums gel lubricant.
When I got it, I was pleased with it's modest size. It's amazing how much bigger and intimidating toys seem on the internet when you plan on sticking them in your behind. I pulled it out of the package and was just as pleased with the heft. The plug measures in at reasonable 4.75" circumference and the insertable length is just shy of four inches. What I appreciated most was the base, which is narrow and tucks away easily between one's butt cheeks.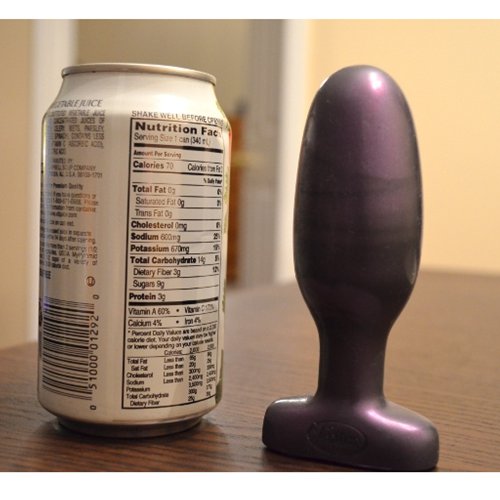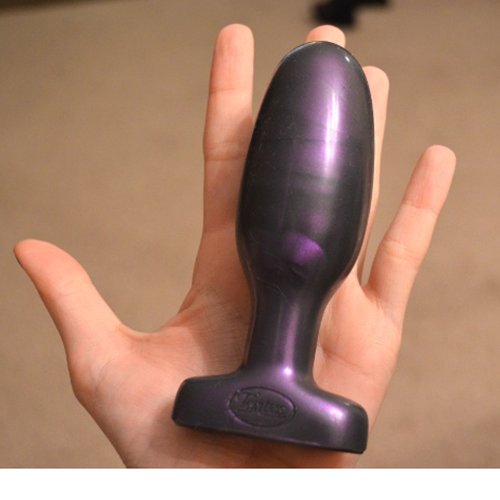 I decided to lube it up and pop it in. I slathered it in silicone-safe, water based gel lube, and after appropriately lubing myself up, gently eased it in.
The Ryder is a smooth operator. I'm not entirely used to anal play yet, so relaxing is a little difficult. This slid right in with minimal discomfort, which was resolved by a little more lube. It settled in nicely, and left me with a pleasant sensation of being filled up. I walked around in it for a bit. It was erotic and was certainly turning me on. Then I did something crazy: I took a nap with it in. THAT is how comfortable this plug is. I napped with it in. It stayed put nicely. I have a cold right now with a forceful, hacking cough, and not even my hacking pushed it out of place. No worried about "spitting" this one across the room on accident.
The second test was sex. It passed with flying colors, and the base stayed out of the way during sex, not at all interfering with vaginal intercourse, and the added stimulation during peen-in-vee sex made for screaming orgasms. We have a winner!
Washing up was also very easy. It washed clean with some soap and water, but I did encounter a problem. The Ryder retains butt smells. Three washings with anti-bacterial soap, and it still made my bathroom smell like ass. I was not worried about sterility issues, because silicone is inert and bacteria cannot thrive on it, but the smell was very off putting. Boiling is next.
Butt-smells aside, this has turned out to be my favorite toy, for short term and extended term use, and I am very happy with my purchase.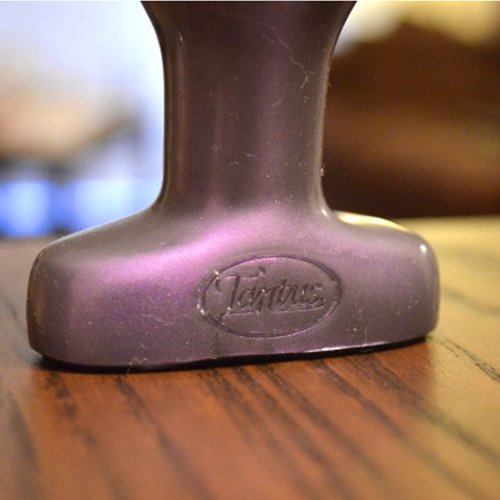 Follow-up commentary
4 months after original review
I wrote some time ago that I adored the Tantus Ryder, and despite some of its detractions, I recommended it to others. I, unfortunately, have to revoke that recommendation.

I wrote in my review about the Ryder's unfortunate habit of retaining butt-smells. I washed the plug multiple times with different varieties of soap. I let it sit for six hours in a 10% bleach solution. I boiled it for three hours. The Ryder still smells.

I contacted Tantus about it, and they replaced it with a new one, saying it could have been a manufacturing defect. I was given a new one of my choosing, so I chose black. When I got it, I tried it out and wore it for about fifteen minutes. I pulled it out, washed it up with soap and water, and... it's retaining butt-smells as well. I was so disappointed.

This tiff with silicone has caused me to abandon the material for anal play for good. Tantus is still an amazing company, and if I were to play with the Ryder again in the future, I'd use a condom over it. I don't think I should have to, since I'm the only person who uses it, and silicone is supposedly a superior material.

I've decided to move on to steel plugs from now on, to avoid the smell issue.
This product was provided at a discounted price in exchange for an unbiased review. This review is in compliance with the FTC guidelines.

Thank you for viewing
Ryder
– butt plug review page!