Small, smooth plug.. perhaps too small and smooth.
This is a great plug that would be perfect if the design were just slightly different. Though small and ultra-smooth, the size ratio of the bulb to the neck is not great enough to keep this toy from popping out.
Published:
Pros:
Small, smooth, silicone, barely requires lubricant.
Cons:
Doesn't stay in like it should.
When I first became very interested in anal stimulation, I began searching for the perfect first butt plug. I hemmed and hawed and mulled and surfed, and came upon this plug, and its larger counterpart. It seemed a perfect match for me. Small. Cute. 100% Silicone. Looks like silk. Non-porous.
I liked the pull-ring, the name, and that it wasn't intimidating. My idea was to have something small to be worn during vaginal intercourse, and/or vaginal stimulation. Everything about this plug seemed perfect. However, I have since discovered that it is perhaps not as perfect as I imagined.
This plug is small. The entire thing, pull-ring included, is just longer and wider than a standard size tube of lipstick. Here you can see my Plug of Lust alongside several common objects for size comparison. A compact disc, a wrapped condom, a tube of lipstick, a AA battery, and a bottle cap. The entire insertable part (other than the pull-ring) can be enclosed in my fist.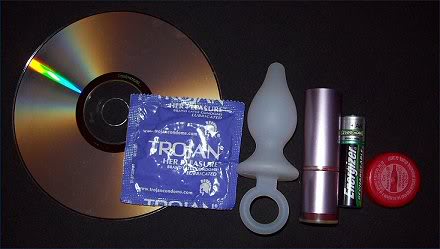 The material is very smooth, with flexibility and a slight give. It is white, and is slightly transparent. There is a slight seam that runs all the way around the long side of the toy, and is a bit "rough" in a couple of spots, but given that the silicone is very, very smooth in general, this seam is barely noticeable.
I think the main problem with the plug is that the difference in size between the bulb and the neck is just not enough. This plug has trouble staying in. When wearing it, I feel like it's constantly about to squeeze itself out if I don't clench on it. I feel like if the neck were slightly smaller in relation to the widest part of the bulb (just above the neck), it would stay put. The large size Plug of Lust wouldn't help either, as it seems to have a larger neck to go along with its larger bulb. The ratio appears to be the same.
Clean-up is easy. I use soap and water, though this toy can also be boiled to sterilize. I'll also reiterate that this toy is very, very smooth. If I'm relaxed enough, I don't even need to use any lubricant (you're safe with water-based lube, for other lubricants, do a spot check first) to get it in. I haven't used this toy terribly often, but it has so far not retained any smells or stains. I keep it in a plush velour toy pouch though, and it does collect fibers. Keep that in mind.
Experience
The plug feels great inside me, I just wish it would stay there! I have tried to wear this plug in a variety of sexual positions, but it has popped out in pretty much all of them. I have found that I really only like to use it when I'm sitting down in a chair, that way it can't really get out. In any other position, I'm too aware of the feeling that the plug is about to fly the coop to relax and enjoy myself. However, one great experience I did have with it occurred during doggie-style sex when my boyfriend surprised me by grabbing it and sticking it in for a bit of double-penetration action. With him holding onto it/thrusting it a little, I was able to stop worrying and enjoy the ride.
This content is the opinion of the submitting contributor and is not endorsed by EdenFantasys.com

Thank you for viewing
Plug of lust small
– sex toy review page!