Worthy Buy; Not Magic
The Fun Wand addresses multiple specific needs excellently, and its versatility gives room for lots of experimentation. Just don't expect this beauty to provide similar thrusting possibilities and filling sensations as nearly every other dildo on the market. It's a specialized tool--not magic--even if it is a wand.
Published:
Pros:
Reaches any targeted spot
Ideal for temperature play
Unique positioning options
Cons:
Small girth
Not suited to deep thrusting
No travel-friendly storage bag
The Fun Wand was actually my first dildo. Its main advantages over other dildos are: targeting any spot with precision; unyielding pressure; and hot or cold temperature as preferred; and these are the reasons I chose it. Since it's solid metal, it also conducts "energy" in contrast to other materials; for example, massage therapists consider this factor as they select their tables. When I compare the Fun Wand with my glass dildo I do sense a difference, but as another reviewer put it, the indescribable quality is that it "just seems better". Tricky to articulate, but there you go.
Lube: For those unaccustomed to stainless steel or glass toys, let me just mention that while you can safely use any lube with these materials, chances are good you won't need it! The incredibly smooth surface really makes that big a difference. If you're one who gets wet easily then I'd recommend trying it without lube.
My main disappointment with the Fun Wand is that the pointy ends prevent me from using it for
deep thrusting. My cervix simply doesn't appreciate a point plunging into it, even a relatively blunt one. I experimented a lot, before accepting that it just doesn't work for me to use the Fun Wand in this manner. Some people attribute this discomfort to the unyielding material, but I've found that's not the case--I also use a glass dildo with rounded ends and there's no issue.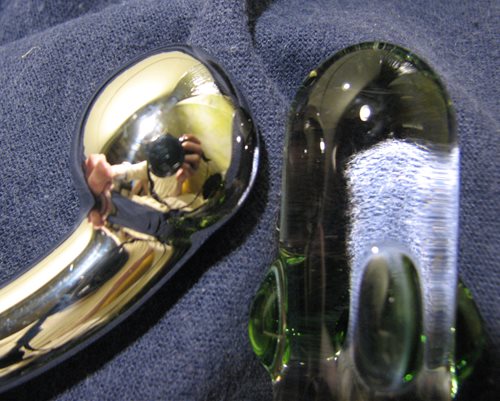 Large end of Fun Wand (left) is uncomfortable for me compared with (right) rounded tip glass dildo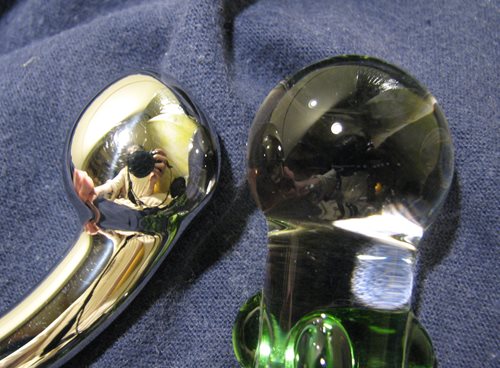 Large end of fun wand (left) compared with a rounded tip I find most comfortable (right)
The other thing that might bring a frown is the girth, or lack thereof.
This is not the sort of dildo that provides you with a filling sensation.
If it was, you wouldn't have as much precision to play with! Those who feel it's important to have an inch or more of girth throughout a dildo will probably not find satisfaction solely with the Fun Wand, and would be best served by looking at similar products with girthier dimensions.
Using the large end, I'd love to have the end bulb deep inside me cozying up against the anterior fornix zone while the next bulb stimulates the vaginal opening and urethral sponge. Unfortunately, my vagina isn't quite deep enough. But if you can swallow more than 6 inches, this method might be a possibility for you. As for me, I've found another way of finding satisfaction with this end of the wand (read below).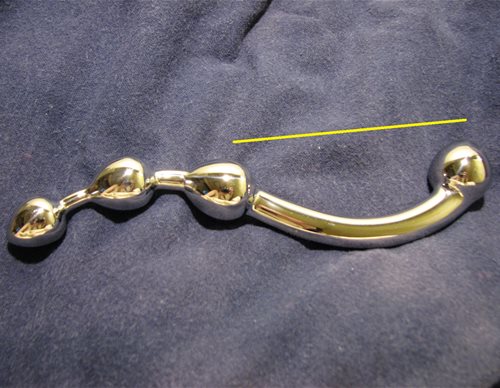 Yellow line indicates bulbs slightly too far apart for my size
Though the small end is advertised for anal play, I actually prefer it for thrusting across my G-spot and urethral sponge area. It took me awhile to get the hang of it, though. The minimal girth means that I have to apply anterior pressure (towards the pubic bone) to make it work. This end is also nice for penetration before being fully warmed up, if you're into that.
Be forewarned that rolling over with the Fun Wand inside you is uncomfortable or even painful due to multiple factors--the S-curve, the unyielding material, and the weight. If you have glass toys, note that metal is heavier. If you're into mixing pain with pleasure, then this little trick can be an advantage, but if not, just remove the toy before changing position.
You'll definitely notice the dildo's temperature during the first several minutes of insertion. Unless warmed beforehand, it will feel cold, much more so than glass dildos. Some people appreciate it, but I personally don't like cold things inside me, so I always preheat it with a heating pad which takes perhaps 10 minutes. You'll want to test the temperature on the inside of your wrist before insertion to avoid burns. After it's been inside me for a few minutes it tends to adjust to match my internal temperature, which means it feels neither hot nor cold. One fun trick is to use it deep inside and then pull it out to glide over external areas with the resulting luxurious heat.
I travel a lot and have found the lovely wooden storage box to be too bulky, so I keep the Fun Wand in a plain silk bag instead. This storage solution is also discreet. Be aware that using it with bed sheets that have metal fibers, e.g. earthing materials, woven into the fabric can create barely discernible scratches on the Fun Wand. While they cannot be felt, the slight damage may affect its visual appeal.
Bottom line: I'm definitely glad I got the Fun Wand.
Experience
For hands-free solo use: use the "doggie" position with the pelvis propped up. Insert the large end into the vagina, then set the toy down on the bed and move your hips. Two things that I find work especially well are rocking back and forth, and also pulling up while clenching the pelvic floor. The weight of this toy and the S-curve is what makes these motions happen wonderfully, and I can't imagine any other design of toy working similarly.

The Fun Wand + a clitoral vibrator = bliss. I've found that just placing the wand inside me can provide a nice presence there while I use a clitoral vibrator for the main stimulation. This results in a vaginal orgasm for me, even without moving the wand.

Non-sexual use:

Regarding Kegels, I discovered something fun: if I lay on my back with all three bulbs of the small end inserted vaginally and my hands off it, and then clench internally, it causes the toy to rotate 90 degrees. It rotates back as soon as I release, because of its weight. I can't provide any scientific proof of the efficacy of this method over others, but it gets points for the amusement factor.

As a massage tool, the Fun Wand gets deep into quads beautifully. Sit in a chair or something and "hook" the large bulb around your thigh, and then pull it upwards or use it as a lever to apply pressure. The large bulb will sink deep into those muscles. I can't count how many times I've been sore there and unable to find any DIY relief. Now that I've found this--honestly, I'd keep it around for that reason alone.

The outermost bulb on the small end is super good for massaging specific points. Within minutes of opening the Fun Wand from its packaging I was digging that point into my hands, finding sore spots I didn't even know I had, and it was just lovely. The tip has precisely the right amount of sharpness so that, despite getting an amazing pinpoint sensation from it, I can't apply it too hard as it just mellows out to a nice blunt pressure beyond that.
This content is the opinion of the submitting contributor and is not endorsed by EdenFantasys.com

Thank you for viewing
Fun wand
– contoured double ended dildo review page!