Sleek, sexy, and curved in just the right way
The Fun Wand, like all of njoy's products, is a cold, hard piece of metal. This is not a supple, soft, silicon like toy. This a a firm as hell, cold as steel (obviously), pleasure "instrument". But when you want to experience something that is more than just vibrations and tickling, step right up to the Fun Wand. It's truly an experience in sexual sensory.
Published:
Pros:
Smooth & polished steel, fantastic curve w/ a combination of "heads" at either end, nice weight
Cons:
Length and shape can be a little awkward for solo use
Where to begin?? I was originally in search of the Pure Wand as a holiday gift, but being out stock I had to settle with the Fun Wand instead. How lucky we were to have to "settle". The Fun Wand has been an amazing object to play with.
As you may or may not know, we're BIG fans of Lelo products. Among the many reasons is the high quality packaging, which often doubles as a great storage container. Well, the njoy Fun Wand is right up there with quality! The box comes wrapped in a simple, white wrapper. Slide the black box out, and sitting in front of you is the appearance of quality and luxury in a deviant little package.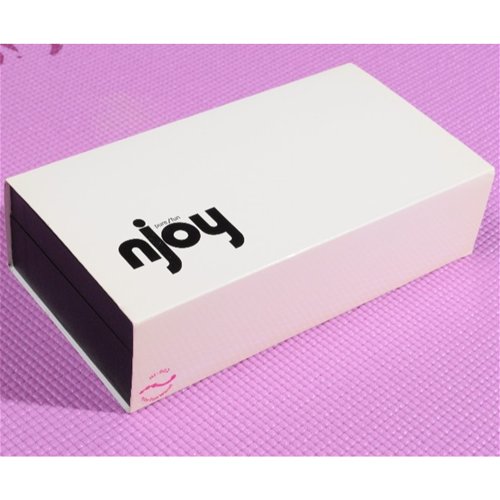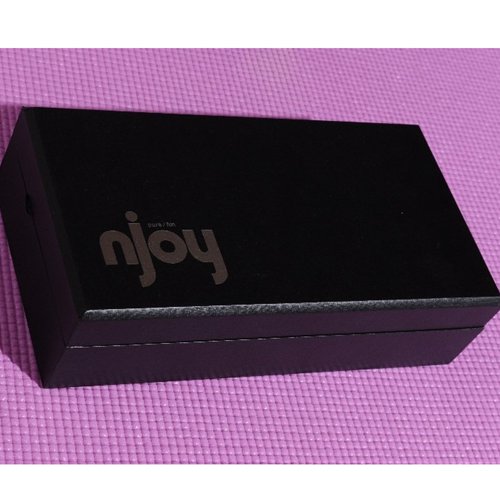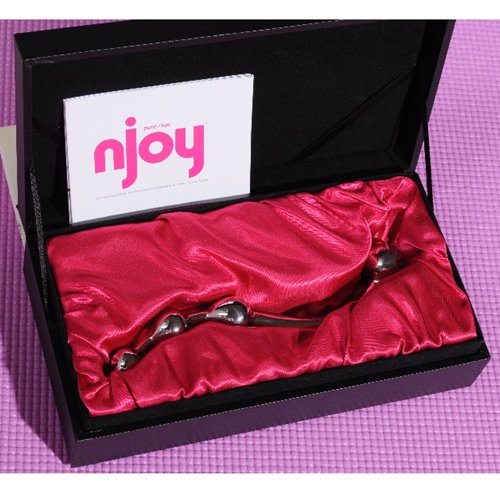 Being stainless steel, the Fun Wand is of course easy to clean (it's non-porous, can be washed/boiled/steamed/etc.) and very easy to use. It's not a traditional plug or vibe, but instead an S-shaped tool for inserting and massaging where it really counts (namely the G- and P-spots). And the feeling of solid steel, combined with the single or clustered heads, feels amazing!!!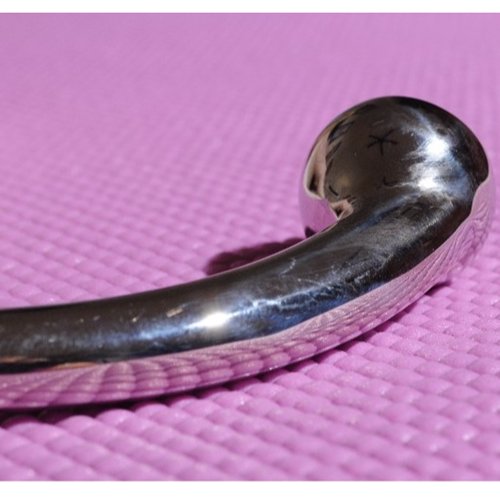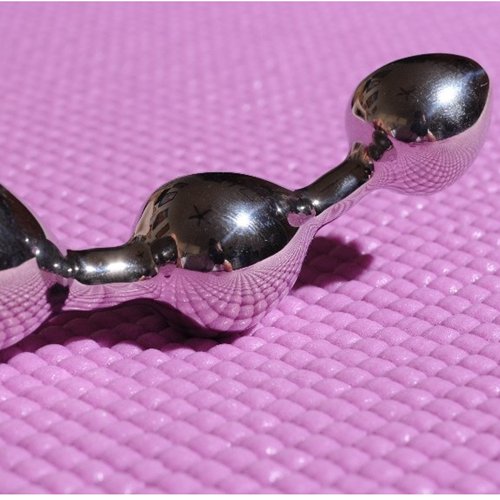 One great trait of the steel, is that it retains both heat and cold very well, and as such transfers these feelings deep within, to wherever you're trying to stimulate. This add to the experience, since you normally don't have a warm or cold object to stimulate your target. BUT BE CAREFUL! If you overheat or over cool the wand, wherever it's headed can easily be burnt or frost bitten faster than you realize! (I realize this seems obvious, but in the heat of the moment, no pun intended, you can lose track of the temperature the wand has reached) And while the wand being forged of steel isn't easily broken, it can become scratched or dinged if dropped on to a hard surface. This would not make for something comfortable to insert later on, so treat the wand with at least a little care.
Experience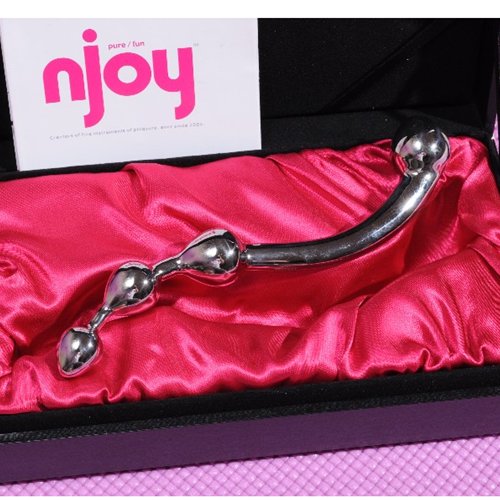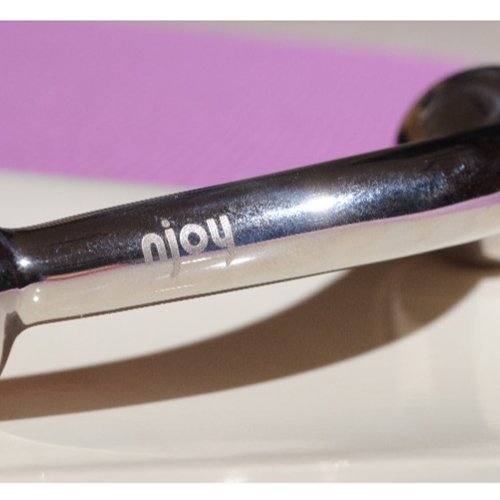 When it first comes out of the box, naturally it's a little awe inspiring. The absolutely gorgeous finish, etched njoy lettering, and the amazing shape were just very cool to look at. Steel against skin feels amazing. It started out somewhat cool, but playing with it in your hands, the wand quickly warms to your body temperature. After some massaging, we thought it was time to begin inserting the wand. The combination of the single bulbed end, and the series of stepped bulbs on the opposite end, really made this a fun wand to use all over. While it lacks any sort of vibration, the smooth and very hard feel of the steel can be felt pressing anywhere it comes in to contact, or anywhere you press it against.
The size (mostly the length) is great when playing with a partner, but alone it can tend to be cumbersome. We had the most fun while one was tied up using a set of Liberator cuffs and a blindfold, while the other used a warm oil to heat the wand and then either massage or insert the different ends of the wand. The combination of sensory deprivation and the amazing feel of the steel create a fantastic experience.
We did, at one point, use both the njoy Plug (small) and the Wand together, but the two hard steel objects didn't create a very "fun" effect. I think it may have just been too harsh for us (though others may love the feeling). We typically only use a single steel or glass object, and then a silicon or other elastic material covered vibrator, dildo, or most often a penis.
Follow-up commentary
3 months after original review
Our Fun Wand doesn't get a lot of regular use because it's boxed up in it's gorgeous little box and cover which is fitting for such a work of art. But we pulled it out last weekend for a spin with our other restraints (see our review on the Fresh series of restraints), and it never disappoints. The hardness and smooth, temperature conducting steel definitely adds to the excitement when restrained and blindfolded. The varying diameters of the bulbs at either end add to its versatility. Yes, this is a luxurious toy that we will keep close by!
This content is the opinion of the submitting contributor and is not endorsed by EdenFantasys.com

Thank you for viewing
Fun wand
– contoured double ended dildo review page!