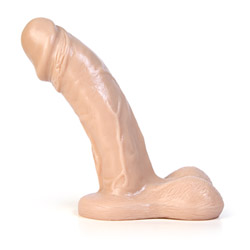 Johnny VixSkin
Realistic dildo with balls by Vixen Creations
A Beauty to Behold in Penis Form
My second favorite penis is Johnny, made of vixskin. Beautiful, hot, attractive, and just delicious looking, he's an excellent dildo for g-spotting, p-spotting, and filling a person up just the right amount. He's not overly large, but has a good girth to him, so he's bound to please and can be used with ease.
Published:
Pros:
Beautiful shaped penis, made of realistic-feeling vixskin, feels absolutely...perfect.
Cons:
Outer skin is a bit thicker than Goodfella's vixskin.
Johnny, Johnny, Johnny. With his luscious head and delicious shaft, what is there to do with him other than take him home and ride until you go sore? This beautiful dildo is not only extremely attractive and realistic, but also feels great internally, if you can take him. Johnny's made of Vixen Creations' special silicone called Vixskin, that's the most realistic-feeling, safe material, so not only is it beautiful and realistic in looks, but the realism is transferred to its feel too.

Johnny's a pretty large penis. He's not overly long, with an insertable length of about 6 1/2", but he is pretty girthy with a diameter of 1 3/4". Overall, though, he's not the largest, not the smallest. He's somewhere in between, which is great if you're looking for a dildo that's a step-up from average, but will not stretch you out too much or become uncomfortable. He's especially comfortable because of his lovely shape, a penis that slips right in. I would not recommend him for size queens, but for people who love to feel a little "more" than average, he's great.

What I love most about Johnny is his shape, but he's made even better because of his material: vixskin. Vixskin is silicone, so it's clean and safe to use—and also realistic. Vixskin consists of an extremely firm inner core and a soft, squishy outer layer, making Johnny feel and look like an actual penis. What I found with Johnny, however, is that the outer skin is thicker than the Goodfella's outer skin, making it slightly less real-feeling. It still feels perfect, but the thickness of the outer skin makes it slightly less.

I almost forgot to mention how beautiful Johnny is. (Or maybe I have. But I haven't stressed it quite enough.) His shaft is slightly curved (g- or p-spot stimulation, you guessed it) and has these lovely raised veins along its length. Johnny also has these lovely, nice-sized testicles that are definitely squeezable and lickable. They're made of the softer silicone (the same as what layers the outside of the dildo itself) so you can squeeze and hold them all you want.

My Johnny is the lightest skin tone, referred to as "vanilla," which matches my skin color very well. Since Johnny is used as a prosthetic for me, the fact that his testicles make a great base in a harness is excellent. And for people who love anal, his testicles work as a great handle and stopper to keep from any embarrassing accidents.

The material that Johnny's made of is completely sanitizable, meaning that you can use it between orifices, partners, and not have to worry about condom use or transmitting disease or bacteria (so long as he's cleaned between every one of these uses). You can sanitize him by boiling him for three minutes, wiping him off with a 10% bleach solution, or putting him in the top rack of the dishwasher. For regular use, cleaning him with soap and warm water is sufficient.

My overall opinion of Johnny is this: he's a perfect dildo as a treat, not an every day prosthetic to wear, but he's excellent when he is pulled out of my drawers. Though he costs a hefty sum ($100), he's worth every penny. You can use him for anal, vaginal, oral, and even in a harness if that's your cup of tea. I love Johnny, with his veins, testicles, and vixskin material, even though he's not the dildo that I use every time I have sex.

Note: Johnny comes packaged in a plastic clamshell box that has some information about cleaning and the material on its back. Remember to only use water-based lubricant with Johnny, as anything else will mar the material.
Experience
I only use Johnny for partner play as a prosthetic, but he's also great for solo-use and masturbation. His curve is easy to take, and his testicles make him easy to hold onto. In a harness, he is excellent. He droops a bit, of course, because of his hefty weight, but using him for a ride is excellent. I do not use him often, because Goodfella is my number one, but Johnny is great for an every now and then treat. He does indeed brush against the g-spot, and gives an easy orgasm.

He's not like the Goodfella in that his testicles sit inside of the harness, so keep that in mind before buying.
This product was provided free of charge to the reviewer. This review is in compliance with the FTC guidelines.

Thank you for viewing
Johnny VixSkin
– sex toy review page!