...Beautiful Like A Rainbow
This is a rather unique beauty, even among glass toys, which are known for their aesthetic appeal. Its iridescent finish isn't perfectly smooth, but its versatility and loveliness make up for that. The size and tapering of the smaller end makes this an excellent first glass toy; however, even size queens may enjoy the large ball-like end for its filling and G-spot-stimulating abilities.
Published:
Pros:
- Gorgeous
- Double-ended
- Safe for anal play with a Vibrator Enhancer
Cons:
- Inconsistent sizing/shape
- Finish feels slightly gritty
I see your true colors shining through...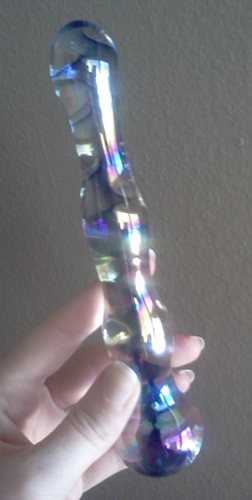 Purpose
The
Icicles No. 8
, from Pipedream Products, is a beautiful sex toy. It essentially has two purposes: providing sexual pleasure, and providing aesthetic pleasure. The latter is pretty obvious, but let's talk about the former. Either end can be used for vaginal insertion. Either end can be used for slippery external stimulation. Either end can be used for temperature play. The smaller end can even be used for anal insertion, as long as you place a
Medium Vibrator Enhancer
around the toy so that it rests against the large end; this will act as a safety stop, protecting this beauty from becoming lost to the light of day.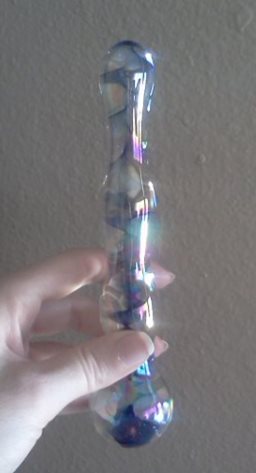 Look & Feel
The
No. 8
is somewhat unique for a glass toy, due to a transparent, iridescent coating with a metallic sheen. In addition, the interior of the glass contains a long spiral of sapphire blue. When viewed with the light-source in front of the toy, the rainbow-like iridescent coating is much more apparent; when the light is behind the toy, the inner blue spiral shows up much more. This effect causes the toy to look different in different lighting, at different angles, and even under water. You may never tire of turning it around in your hands, admiring its many charms.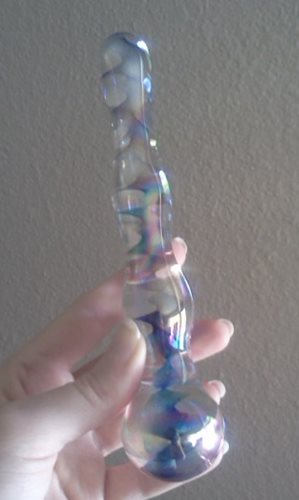 Being made of glass, this toy feels smooth and hard to the touch. Unlike with many glass toys, however, the surface is not completely slick; some of the iridescent areas have a very slightly rough or gritty texture to them. This texture isn't noticeable in use, though if you normally use glass toys without a lubricant, you may find yourself wanting a drop of it with this one.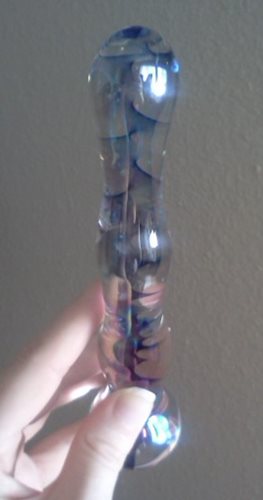 Shape & Size
Each Icicles No. 8 toy is handmade; this causes variations in the exact size and shape from one rendition to another. Mine is proportioned rather differently from the one shown in the product photos, with a smaller and longer "head" and a much smaller first undulation. I was a bit disappointed by the slenderness of the smaller end when I received it, but it still feels very nice inside me.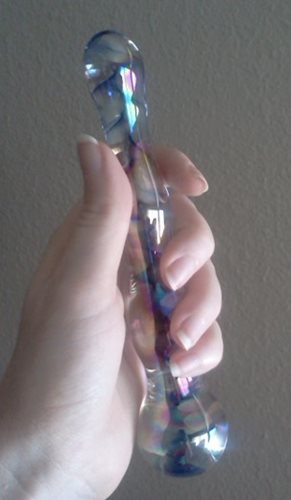 Mine starts out at a circumference of just 2 7/8", or about 7/8" in diameter; it tapers down to about 2" around, then swells to a 3" circumference; after another slight taper, it swells again to 3 1/2" around. The spherical base is considerably larger than the rest of the toy, measuring 4 3/4" in circumference and about 1 5/8" in diameter.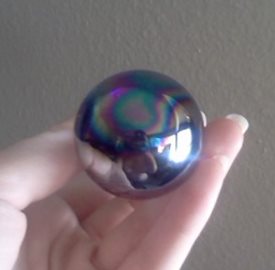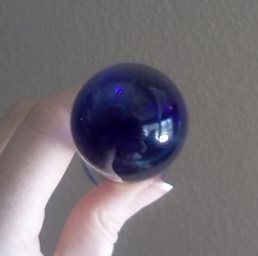 Characteristics & Care
Like all glass sex toys of which I'm aware, Icicles No. 8 is made of borosilicate glass--the same stuff of which Pyrex is made. It's more durable with regard to temperature changes; this adds to its suitability for temperature play, though it still should not be subjected to extreme and abrupt changes in temperature. It's also much stronger than regular glass, and, if dropped onto a hard surface from enough height to cause breakage, this type of glass breaks into chunks, rather than shattering into tiny splinters.
Glass is a good conductor of temperature, so if it's a hot day and you'd like to cool off, just rest your toy in cold water for a few minutes, then glide it over your skin. It can feel especially nice in contrast with your heated erogenous zones, after you're literally warmed up. On a cold day, set the toy in some warm-to-hot water, making sure it's not hot enough to burn you. The steamy glass will feel wonderful against your chilled skin. You can even put one glass of hot water and one of cold next to your play area, and switch back and forth between temperatures for greater contrast!
Glass is also non-porous and completely body-safe. It can be used with whatever type of lubricant you prefer: Water-based, silicone-based, or even oil-based (although most oil-based lubes aren't a good choice for vaginal use, as they can trap microorganisms and make cleaning very difficult). For casual, everyday cleaning, use soap and water or a toy cleaner. When you need sterilization, you can boil it, run it through a dishwasher cycle on the top rack without soap, soak it in a 10% bleach solution, or wipe it down with isopropyl alcohol. For storage, I suggest a soft fabric pouch, preferably with a cushioned lining; this will protect it from scratches, cracks, and chips.
If you're new to glass, take it slow at first until you're familiar with the sensations, especially if another person is in control of the toy; it can be all too easy to get carried away with thrusting, and wind up with some internal bruises. That's no fun for anyone!
Experience
Packaging
Pipedream did a good job on the packaging for this toy. It arrives in a nice-looking matte box decorated with glossy images of the toy.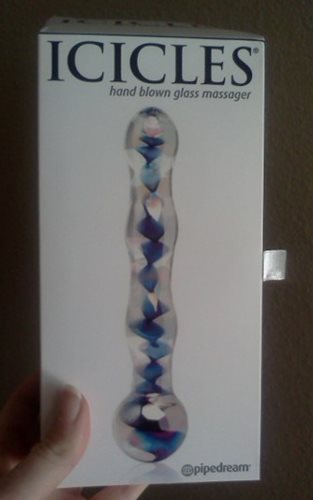 The front flap of the box is held closed with magnets, and can be opened by pulling the projecting loop of ribbon. This will give you a view of the toy inside through a transparent window, as well as a description of the toy and its properties.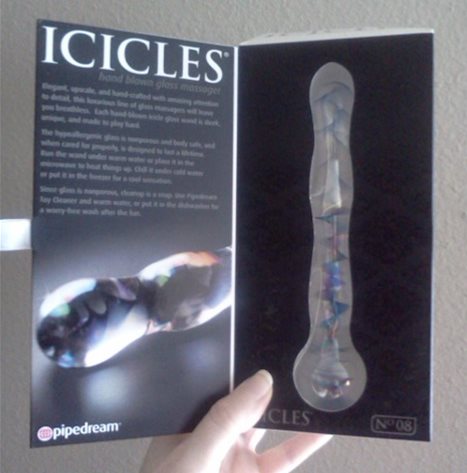 Inside this box, the toy itself is held in a Styrofoam insert with a toy-shaped cut-out. This holds the toy in place for viewing through the box's window and protects it during shipping.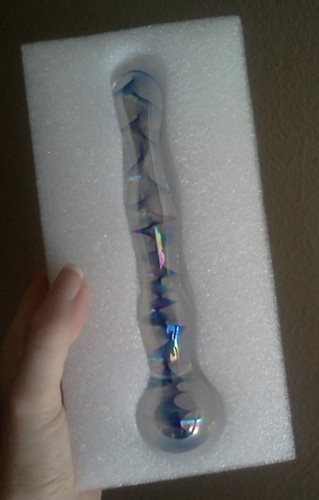 The text on the box--inside the front flap and on the back--suggests microwaving this toy or placing it in the freezer for use in temperature play. I would strongly advise against these methods, as you can easily heat or cool the toy too much and injure yourself or the toy.
Experience
This toy wasn't quite what I expected as far as shape and surface texture go. The smaller end of mine is much less rounded than the one in the product photos, and the coating leaves the toy feeling less-than-perfectly smooth and silky, as my other glass toys feel. However, when used with a bit of an angle, this little icicle still glides pleasurably against my G-spot, and, well, it
is
awfully pretty. I may just have to find an innocuous way to display this as glass art.
This content is the opinion of the submitting contributor and is not endorsed by EdenFantasys.com

Thank you for viewing
Icicles No. 8
– dildo review page!