Oh Icicles, How I Love Thee!
God I love gorgeous works of art I can stick in my pussy! This beautiful piece of glass is sure to please, whether it gets you to orgasm or just have an eye-gasm because it's so pretty to look at. I do believe this has become my new favorite glass toy and I can even forgive it for not vibrating.
Published:
Pros:
Easy to use and clean, Can be sterilized, Good for temperature play
Cons:
Handle becomes slippery when used, No vibrations
First Impression:
At first glance, I thought this glass wand was too beautiful to pass up.
Material:
Icicles No. 8 by Pipedream is made from Pyrex glass, earning it a safety rating of 10/10. The Pyrex is non-porous, retains heat extremely well, does not smell and is hypo-allergenic. It is also latex and phthalates free making it one of the safest sex toys around. Just use a little dab of water, oil or silicone lubricant and you're good to go.
Color & Texture:
Icicles No. 8 is a beautiful hand blown glass massager made in clear glass with a blue swirl inside it and an iridescent finish on the outside.
The glass is very smooth, cool to the touch, hard and shiny and formed into a bulged surface to maximize pleasure while using it. This material also doesn't grab on skin very much, so only a little bit of lubricant is needed to make it glide easily.
Shape:
This glass wand is 7" long with a 1 1/2" bulbous end that makes an easy to hold handle or can give you a full feeling with its girth if you choose to insert it. The 1" rounded tip on the other end makes inserting the full 6" length of this toy easy and pain free and it tapers down to 3/4" three times going down the length of the shaft giving it a bulged shape.
There are no gaps or seams in this glass wand, but mine happens to have some tiny bubbles in it. They have no affect whatsoever on the performance or quality of the toy other than maybe making it a bit more unique.
Since there are no controls I think travel would be simple with this as long as it's safely padded where ever it's tucked away.
Circumference: 3 1/4 " / 4 3/4"
Diameter: 1" / 1 1/2"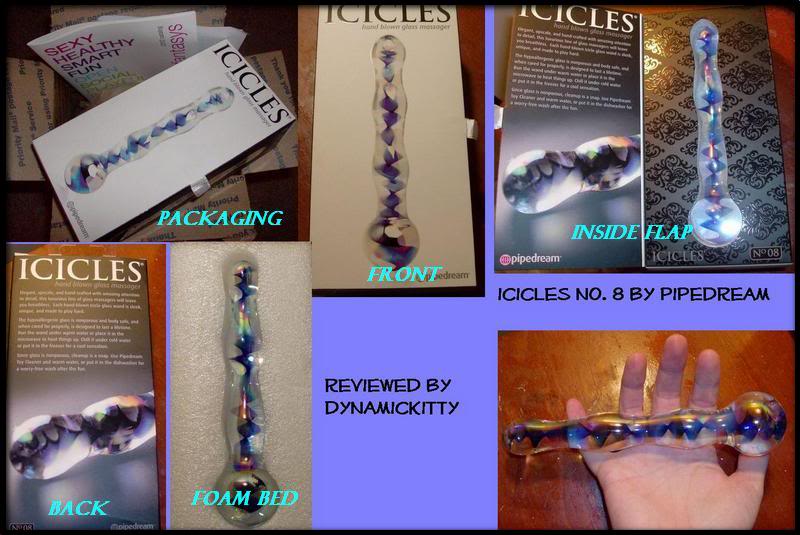 Cleaning & Storing:
Pyrex glass is totally waterproof and can be completely sterilized making clean up a snap. Wash it in warm water with antibacterial soap or wipe it down with a toy wipe or toy cleaner. Sterilize the glass wand by boiling it for a few minutes or putting it in the dishwasher. You can also wipe it down with isopropyl alcohol or a 10% bleach solution, but be sure to wash it off completely before inserting again to keep the bleach away from delicate body parts.
This glass wand did not come with a storage pouch, but the box it came in contains a deep, foamy cutout for it to rest in that could be used if you don't mind the bulk of it. Also, there's no concern of this toy touching others as it won't melt with other materials, so you can store this just about anywhere you'd like. Personally, right now mine is resting in the foam cutout in the box it came in on a shelf in our play room which is always locked.
Packaging:
Icicles No. 8 comes in a black and white box with photos of the toy on the front, back and sides. It says "Icicles hand blown glass massager" on all sides and has a detailed description of the toy on the back of the box. You can find Pipedream's company address, website and "Made In China" on the small rectangular tab of the box located on the bottom. The box has a flap that opens up to reveal the glass toy nestled in its foam cutout and an identical description to the one found on the back of the box on the flap itself.
The box this glass wand came in is not discreet at all, but makes great storage if you can handle its bulky size. This should be wrapped if gifting, just to make sure it's kept private.
There were no instructions or warranties of any kind included but it seems pretty straightforward on how the wand is to be used.
Use:
This toy was designed to internally massage the vagina, but if you're
really cautious
this could also be inserted anally. Just mind the extra slipperiness when it's lubed up and there shouldn't be any problems.
I think anyone could get some use out of this glass wand, especially beginners due to the smaller size and smoothness of the glass. Since the material is so stiff this toy may be great for hitting the g-spot, but probably won't work for some.
Icicles No. 8 can be warmed or cooled in water before use to incorporate temperature play or a partner can use this during foreplay to tease and arouse. This toy can also be inserted vaginally while engaging in anal sex for that extra full feeling.
Experience
I could not wait to get this inside me as soon as I saw it. So I made sure I took all the pictures I'd need for the review and then opened the box. I was pleasantly surprised that it had an iridescent coating to it and thought that it definitely added to the beauty of this piece.

I took this glass wand into the play room and grabbed some silicone lube. Just one drop of the lube was enough for it to glide around and be easily inserted. Once inserted I slowly moved it in and out and found that the bulges are definitely noticeable and very pleasurable.

Once I was pleased with using it that way I added some more lube and tried to insert it anally, but I'm afraid that day just wasn't right for it because my ass was being touchy, so another time I'll probably try it anally.

Using this in the bathtub was lots of fun aside from the splashed water on the floor, so I think next time I'll try it in the shower to minimize splashes.

I also enjoyed this glass wand vaginally once while videoing the act for my husband and he seemed to like that I sent it to him while he was at work.
Follow-up commentary
2 months after original review
This is one my new favorites and will probably always hold a spot in my heart. The material is holding up really well and there haven't been any nicks, chips or cracks in it with fairly regular use.
This content is the opinion of the submitting contributor and is not endorsed by EdenFantasys.com

Thank you for viewing
Icicles No. 8
– dildo review page!