Icicles No. 8 - First Place Winner in Bed!
With dazzling spirals and an iridescent glow, the Icicles No. 8 is a beauty that will stand out in any glass collection. The toy's slim waves are great for anal stimulation, with the bulb end used as an anchor. The bulb end works g-spot wonders during my playtime. Considerably less hefty than my other glass pieces, this is one I won't be putting down any time soon.
Published:
Pros:
Glass, Artistic, Double-ended, Wavy, Slim
Cons:
Doesn't come with a pouch, May be too slim for some
USE
The Icicles No. 8 is a wavy-textured glass dildo with a gorgeous iridescent finish and internal blue spirals. It is by far one of the most attractive glass pieces I've seen. Either end of the dildo can be used vaginally. The large bulb on one end is great for g-spotting when used vaginally and can serve as an anchor when using the dildo for anal use. I don't know if this dildo would work for P-spotting, but I do not recommend inserting the large end anally since it could get swallowed.
Glass can be used for temperature play by heating or cooling it under running water, or putting in the fridge, or something similar, but it should not be exposed to extreme temperature changes, such as putting it in the freezer directly after boiling, since it could crack. Test the toy's temperature on your wrist before trying to insert it.
Rigid materials like glass can be tricky for partner play, since the giver can easily hurt the receiver if they're not really careful. This is a more gentle glass piece than some, since it's very slim, but I would still recommend going slowly with any thrusting until you know you've found a good angle for your partner.
MATERIAL/TEXTURE
This lovely Icicle is completely smooth. The surface has no drag. Used vaginally, I never require any lube with this toy because of it's slim girth and smoothness. It has a wavy texture that is very stimulating during use, but won't overwhelm those unused to textured toys. The toy comes in one color, and that is clear with a blue spiral inside and an iridescent finish that is lovely to look at.
This toy is made from
Pyrex glass
which has a material safety rating of 10, since it is completely non-porous, hypoallergenic, latex-free, and phthalates-free. Glass is completely rigid, with no give or bend at all. Pyrex glass is made to be tough and shatter-resistant. It won't break during normal use, although you should always inspect it for cracks or chips before use to look for signs of breakage. If you did drop it and it broke, it would probably break in chunks, instead of shattering.
DESIGN/SHAPE/SIZE
The Icicles No. 8 is 7 inches long, 6 inches being insertable from either end. The shaft has three small bulbs, measure 7/8" in diameter, with the spaces between measuring 5/8" and a large bulb on one end measuring 1.5" that works very well for g-spotting, whether you have a shallow or deep g-spot. Keep in mind that this is a handmade glass product, so each one is a little different. Mine has a slimmer shaft than the description on the product page, which I actually enjoy a lot, since I can use it anally without having to warm up with another toy. I'm no anal virgin, but I'm no size queen either when it comes to my backdoor. This toy's slim waves give me the best anal stimulation I've had from any toy. It's a little slim for vaginal use, but beginners or fans of small toys may like it for this reason.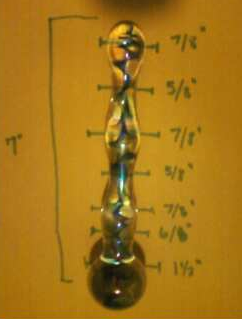 CARE AND MAINTENANCE
Glass is very easy to care for. It can be washed with soap and water or a toy cleaner for regular use, and sterilized with a bleach solution, rubbing alcohol, boiling for three minutes, or putting it in the dishwasher. Use tongs when removing from boiling water and do not freeze directly afterwards. I'm unwilling to test the effects of bleach or rubbing alcohol on the toy's iridescent finish, but be aware that those may make you toy become less shiny. Glass toys can be used with your favorite lube, whether it be water, silicone, or oil-based, but you may not need lube due to its slick surface if using this toy vaginally.
This toy is discreet in the sense that if someone found it, they might think it was a piece of art until they looked closely at the shape. If you can get away with displaying it, do so. If not, it can be stored in the original packaging or a soft pouch, which, sadly, does not come included with the toy.
PACKAGING
The Icicles line packaging is very beautiful, but not practical or discreet. The toys are clearly shown on all sides of the box, and labeled as hand-blown glass massagers. The front of the box opens to reveal the toy through a layer of clear, stiff plastic. The box opens from the top to remove the toy. The packaging does a good job of protecting the toy, with its thick foam bed, but it's too bulky for storage. I wish this toy (and all glass toys) came with a pouch. I'll just have to buy one now.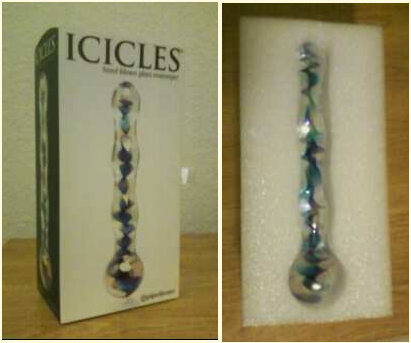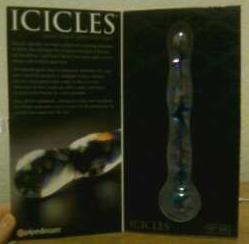 Experience
PERFORMANCE
Chilling this Icicle and then inserting it into one's ass is about the most amazing sensation I can think of. I can't even describe it. This toy is small enough for me to use it anally without a warm-up toy, so I get to appreciate the slight stretch of each wave going in that much more until I'm warmed up enough to really thrust hard with it. It's really only about as big around as two fingers, so the size makes it great for a beginner's anal toy. The texture is subtle enough that beginners won't find it overwhelming, but I'm no beginner, and I still enjoy it a lot. Vaginally, I prefer warming up with the small end, then using the large bulb for g-spot stimulation. The g-spot end will work well for those who like to feel a large bulb rubbing against their g-spot, rather than thrusting something to press hard against it. My g-spot is located about 4 inches in just above my pubic bone, and this toy rubs me in just the right way. This toy is strangely light for a glass piece, and I can get in all the fast thrusting I need to orgasm before my arm gets tired. At the moment, this is my favorite glass piece.
PERSONAL COMMENTS
This toy is very similar to the
Sasha Grey Signature Swell Wand
which was my first glass piece. The differences I see are that the Icicles No. 8 has a more colorful design, and is much lighter and slimmer. The Sasha is a very solid, dark piece of glass work with gorgeous curves. I think the bulbed ends of the two toys are equally good for g-spot stimulation, but I prefer the Icicles for anal use. For users who are used to inserting glass vaginally, this would make a great first anal toy. Glass is really easy for anal use, since it's rigid and smooth, which makes it easy to insert. But really, you should get to know your glass piece a little vaginally before using it anally to get used to navigating a rigid toy internally. Users who want a little more girth than the Icicles offers, for vaginal or anal use, might want to check out the Sasha. It's a great piece. I think the Icicles is more beginner-friendly, because of its girth, and it's more beautiful to look at. The Icicles No. 8 is great for users who don't like girth but want glass.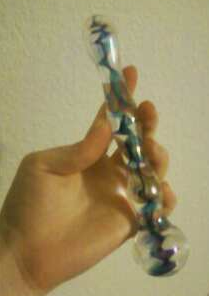 This product was provided at a discounted price in exchange for an unbiased review. This review is in compliance with the FTC guidelines.

Thank you for viewing
Icicles No. 8
– sex toy review page!