The art of glass and pleasure
A stunning glass toy that is more like a piece of art, a gorgeous 2 in 1 toy offering the choice of sizes to use depending on mood and experience, heated up or down use for massage or pleasure it has something for everyone; this has a place in everybody's toybox.
Published:
Pros:
Thinner shaft for beginners, 2 in 1 glass toy, stunning iridescent colours
Cons:
Slight glass defects in base but didn't affect use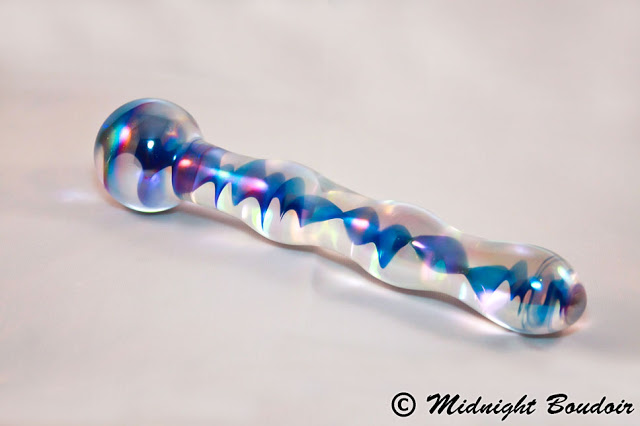 This is a beautiful piece of Pyrex hand-blown glass produced by Pipedream and is completely non-porous and body-safe, hypoallergenic, latex and phthalates free. It has a gorgeous blue swirl like twisted ribbon through the middle, similar to the marbles you used to get as a child, this really catches the light beautifully. Being hand blown glass you will be receiving a unique piece of glass, each one will be very slightly different. It is 17.7cm in length and 2.7cm in width with a 2cm thinner girth. The ball end is 3.9cm in width and the most important measurement we all want to know is the insertable length, which is 14cm.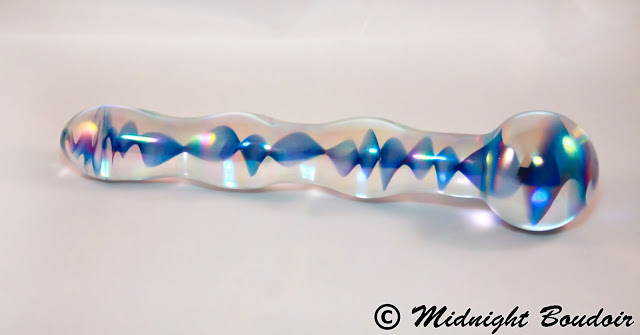 The shape of the shaft has gentle undulating waves with a softly tapered tip. The base is formed into a glass ball with the same stunning blue iridescence inside like a giant marble perfect to hold on to. The internal blue ribboning really is gorgeous as you turn it in your hand; its a beautiful piece of art from base to tip. As with any glass sex toy its ideal for temperature play.
PACKAGING
As with every Icicles products it screams luxury with its gorgeous well designed box with beautifully photographed image of the product on the front. You can then open the front like a book with a small ribbon tab to reveal your actual toy hidden behind transparent plastic sitting in a foam insert; it has its own magnetic clasp to keep this cover closed making this an ideal gift for someone.
It is a shame that Pipedream didn't include a soft pouch to keep it in but you can keep it in the box if you have room as the foam insert will then protect it.
CARE and CLEANING
Being non-porous glass and waterproof, this cleans beautifully under hot soapy running water. Or simply rinsed while in the bath or shower. Then sprayed with a sextoy cleaner, It can also be popped into the dishwasher, I just don't have one. Pyrex glass is shatter-resistant but regular inspection of the toy is always recommended to check for any cracks or chips to be on the safe side.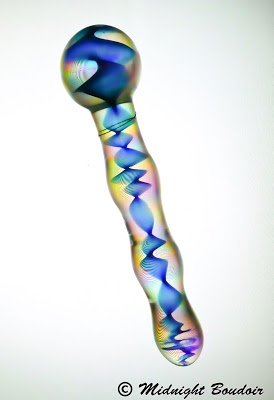 Experience
Holding this in your hand you cant help but stroke the smooth glass as its really touchy feely with a lovely substantial weight behind it. The tip is beautifully tapered and smooth and feels incredible when inserted, the undulating waves of the glass shaft feel fantastic inside. Gently angled upwards you can stimulate your g-spot and this tip is also great for gentle anal play.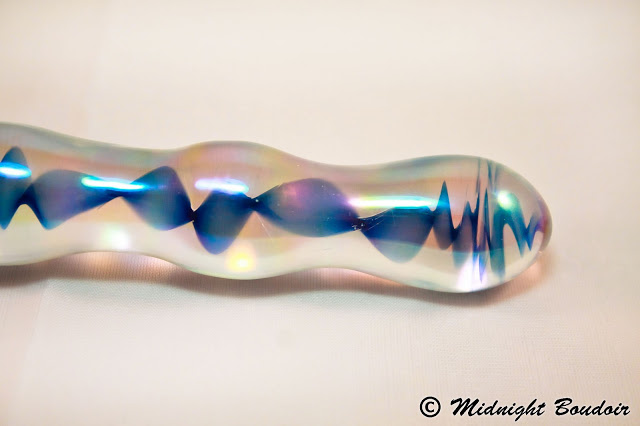 I heated it up in some hot water and it slips inside easily with no lube, wow it felt incredible. I personally love it hot and it feels incredible when rolled firmly over my back and shoulders for foreplay, right down to my bum cheeks and lower thighs, you need little pressure as its own weight enables you to roll it firmly over your skin and muscles for deep tissue massage. Its like a home hot stone treatment as the solid glass holds the warmth for up to half an hour and by then it had certainly completed its mission well. If you love your cold (you mad things) it can be placed in the fridge to chill for 10 minutes...brrrr!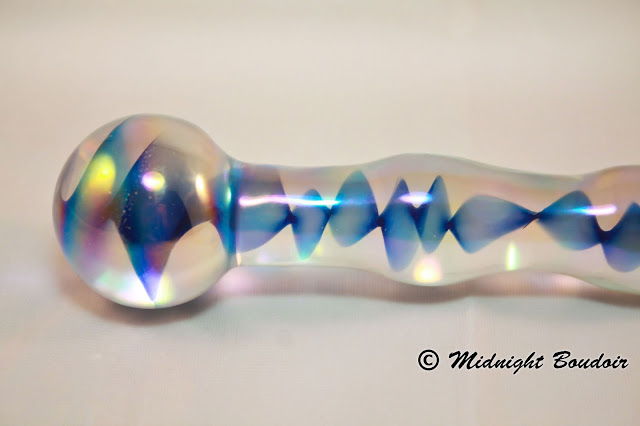 The solid glass ball fits really well into the palm of my hand making it perfect to grip onto while using this. I haven't attempted to insert the larger glass ball base anywhere yet...but its something Ill work up to eventually...maybe; but others may enjoy the larger width and smoothness for either vaginal or anal penetration. There were some slight flaws to the glass ball as you can see but its smooth and doesn't affect the use.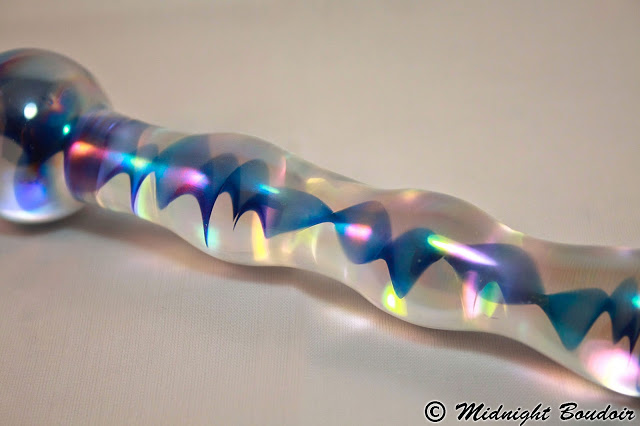 To my surprise it also cast sparkles of light over the skin in low light, it is really beautiful.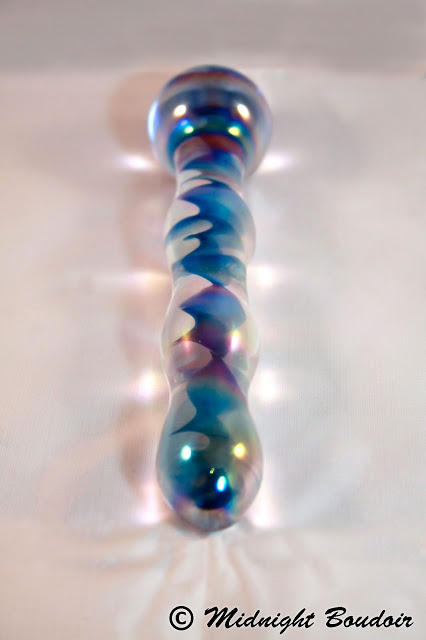 Although I didn't come directly with this dildo; it certainly was perfect for foreplay and after having the intense heat inside it really lead to some strong orgasms. My OH loves being inside me after having the heat of this inside me.
CONCLUSION
A beautiful unisex glass toy and perfect for those new to glass dildos as its very unthreatening; the gently tapered tip and the slim softly undulating shaft is perfect for both vaginal and anal penetration. It holds the heat well as glass is a great conductor of heat ideal for sensory play; making it a perfect treat for relaxing in a warm bath or shower, no noise to worry about except your own, this will give you some wonderful sensual moments even if its just simply run over your skin as a massage tool. Both you and your partner will love using this on each other.
You really do have a 2 in 1 toy with the choice of ends depending on your mood and experience. A wonderful gift for someone you love or as a treat for yourself and also a beautiful glass piece to add to any collection.
I really loved the iridescent beauty of this dildo the colours are stunning and you are getting a piece of individual art as well as a sensuous dildo and massager. A beautiful glass piece to add to any collection.
Follow-up commentary
26 days after original review
I still love this gorgeous piece of glass its one of the most stunning glass toys I own, its so beautiful.
But I do now have slightly wider glass toys but still not as pretty.
I still often just get it out of my ever growing toybox and just hold it up into the sunlight, I cant help but watch the blue sparkles around the walls.
Maybe I should tie and dangle it in the window like Pollyanna did with her crystals (eek I'm showing my age now) and have permanent blue light sparkles on my walls, do you think anyone would notice?
This content is the opinion of the submitting contributor and is not endorsed by EdenFantasys.com

Thank you for viewing
Icicles No. 8
– dildo sex toy review page!