Comet wand
This is really and beautiful toy made from quality silicone and glass. It's size and shape, combine with the rigidness of the toy make reaching you g-spot a breeze. It's just got so many little places that are hard to clean. It's a great toy, just be prepared to spend extra time cleaning it.
Published:
Pros:
Smooth, seamless premium grade silicone. Large rounded head, with a sever curve at the neck.
Cons:
Gap between silicone and glass handle. Also little ridges on handle that can be difficult to clean.
I grabbed the Comet wand by Jopen as an upgrade from a simple glass g-spotting wand that I already own (The Bent Graduate). I really love the Bent Graduate, it's simple and easy to use and it really gets the job done. Honestly it's an inexpensive toy that had a fairly simple but effective design, but I have one major issue with it. The head on the toy is slightly pointed. It's actually not a big deal when I am using this toy for solo play, but with a partner it becomes uncomfortable fairly quickly. The major plus to the Comet is the head is completely round and therefore much more comfortable, but still very effective.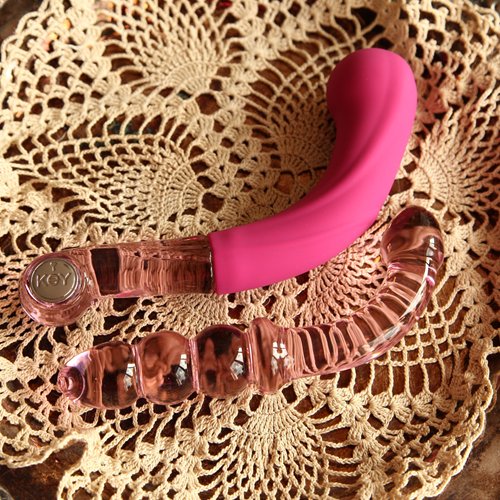 The Comet Wand is on top, Bent Graduate on bottom.
When looking for a g-spotting toy I need something that has little to no give. I have tried several toys that bend when you apply pressure, and that simply doesn't work for me. The Comet is firm, and has no give at all.
The Comet has a very severe curve at the neck and depending on how you hold the toy, it's very easy to get the right angle. I think this is really a versatile toy that can really work for just about everyone. The size is comparable to many other g-spotting wands, however the head is slightly bigger than other g-spot toys I have tried. For me, I didn't mind the little bit of extra fullness.
Total length- 7 and 4/5ths inches
Shaft Diameter- 1 inch
Head Diameter- 1 and 1/2 inches
The materials used to make this toy are high quality. The silicone is soft, smooth and seam free with a slight ripple pattern. The glass handle is nice and smooth, with a ball at the end. The ball is flattened and hollowed on one side and inlayed with a stainless alloy disk. The metal disk has the Key logo pressed into it. The metal is not under the glass... it's exposed and there is a pronounced ridge around the edge on the metal that can easily collect fluids.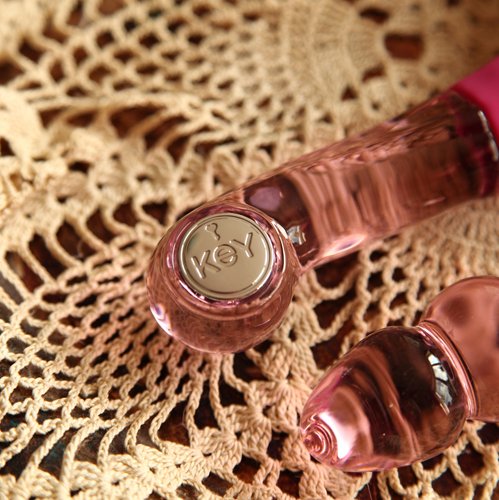 There is also a pronounced ridge where the silicone and glass meet on the body of the toy. I'm not sure there is a way to make the transition between silicone and glass a seamless one, but it makes for difficult cleaning. And to be honest, I don't think that there is a way to NOT get fluids in the ridges. If you have lube on your hands it's going to get into the metal/glass area on the handle. Not to mentions the location of the glass/silicone ridge. It's practically begging to touch bodily fluids.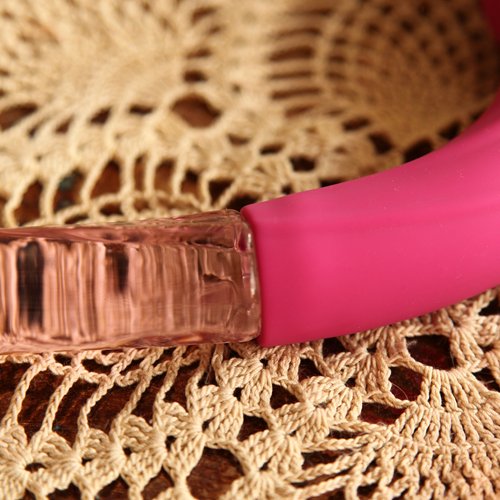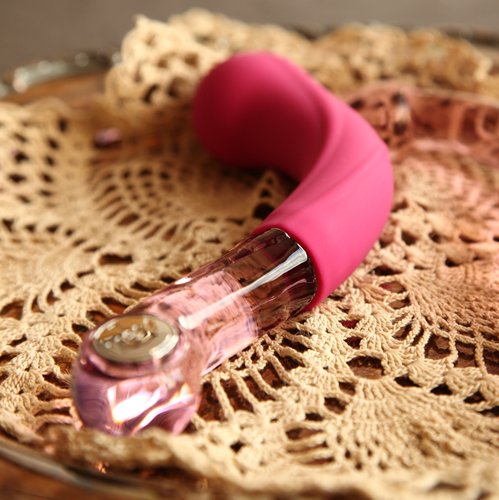 These ridges don't really make for a deal breaker. It doesn't make this toy unusable by any means, but it's really something that I wanted to bring attention to. The more I learn about sex toys and the materials involved, the more I want toys that are body safe. The Comet is made of super safe materials but the presents of these ridges that can easily hold fluids. If you don't get it completely clean there is always a risk of infection. I really do like this toy, so I have gotten a small cleaning brush to use only on toys, and I scrub the areas that can possible hold any fluids. On top of all that the Comet is boil-able or you can toss it in the top rack of the dishwasher. However you decide to clean it, just be sure you do.
The Comet comes in a lovely box that is perfect for gift giving. The toy is set in a nice dense foam and comes with a thin satin drawstring bag for storage. Water based lubes only with this toy.
This product was provided free of charge to the reviewer. This review is in compliance with the FTC guidelines.

Thank you for viewing
Key Comet G
review page!