Seeing Stars from the Comet
The Comet G is the G-spotting gem of my collection. I don't regret it, but the price is certainly steep. For this price, you get some of the strongest G-spot pressure I've experienced, attractive design, stimulating weight and uniqueness like no other dildo.
Published:
Pros:
Dramatic curve
Breath-taking G-spot stimulation
Weight
Cons:
Catches the pubic bone
Price
Initial girth, no taper
Overview:
The Jopen Key Comet G was a much anticipated toy. I was excited for the dramatic curve. I was not disappointed, though the price is inflated since it has no motor and the packaging is underwhelming. These are small faults, since
it's amazing in use.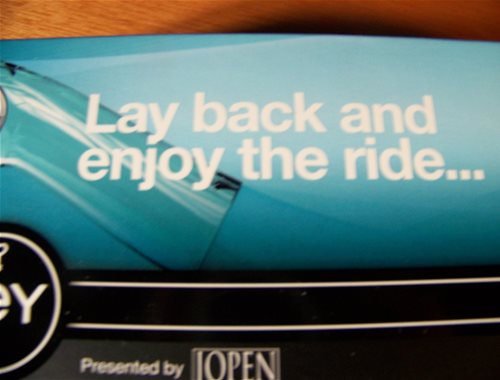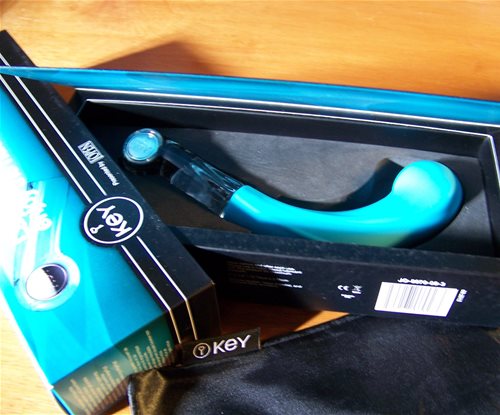 Comparisons:
The Comet G is a medium dildo. It has the most dramatic curve and angle compared to other toys.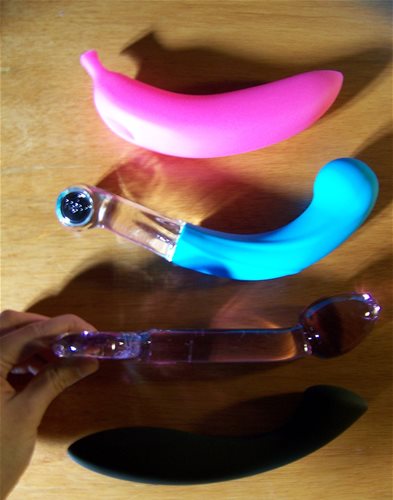 I recently rave-reviewed the Ella, but there are subtle differences. Both are excellent G-spot dildos.
Compared to the Comet G, Ella is...
1. Smaller
2. Flat head provides gentler, gliding G-spot stimulation
3. **Much more reasonable price
Material and Texture:
The seam between the two materials is flush and won't gather fluid or lube.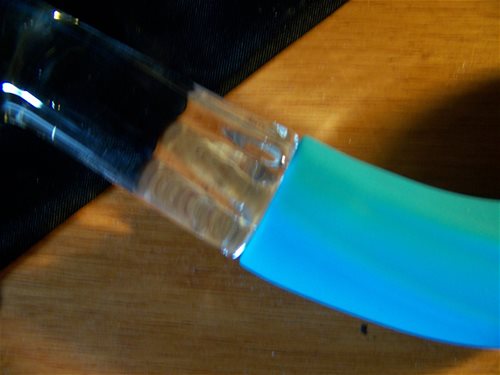 The Comet G has gentle ridges,which don't contribute to the internal sensations and feel muted by the silicone. Overall, the toy is rigid and inflexible.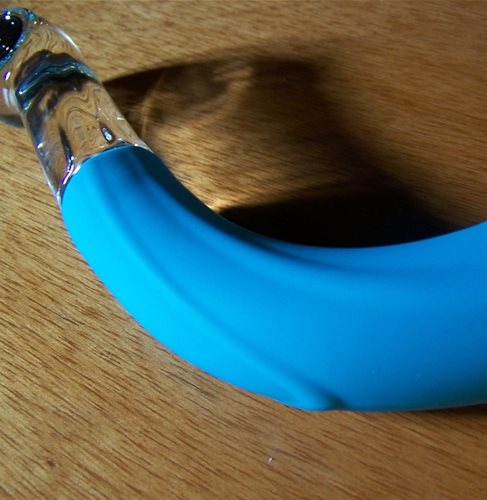 Design:
G-spotters accomplish their stimulation in one of two ways:
1. Dramatic curves stimulate the G-spot with thrusting or rocking motions, which is dynamic
2. Bulbs/oval shapes stimulate the G-spot by placing somewhat stationary pressure on the G-spot and can be felt most strongly while doing Kegels
The Comet G takes no prisoners and goes for the gold by doing both. It's awesome. Check out the crazy curve: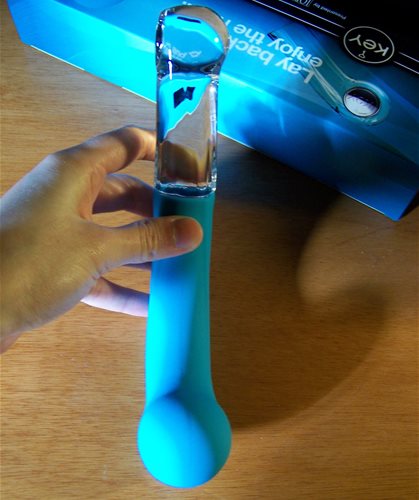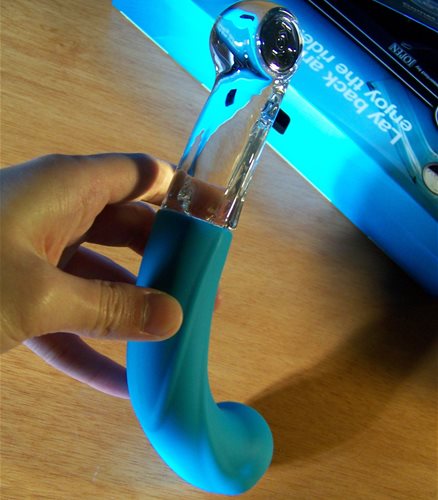 As you can see, Comet is a j-curve. This, combined with the girth of the toy, fulfill the two stimulation methods above.
Measurements:
Check out that bulb! The diameter is 1.5", which translates to a circumference of more than 4.7". This is larger than the Teneo Smartballs's girth of 4.5", which are very sizeable and have a poor reputation for comfortableness based on that.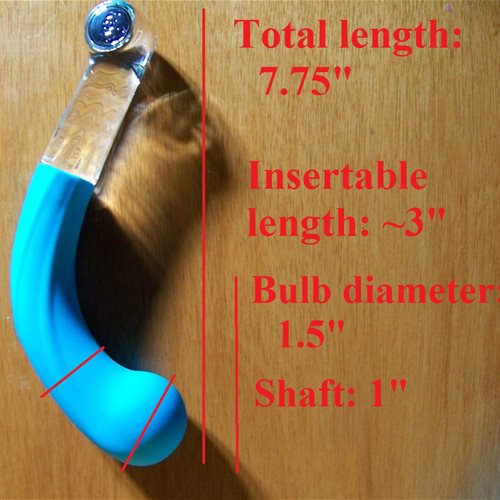 The Bulb:
First, the bulb is almost completely spherical and rather large. Surprisingly large.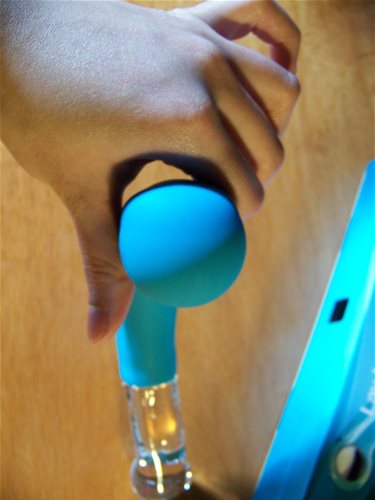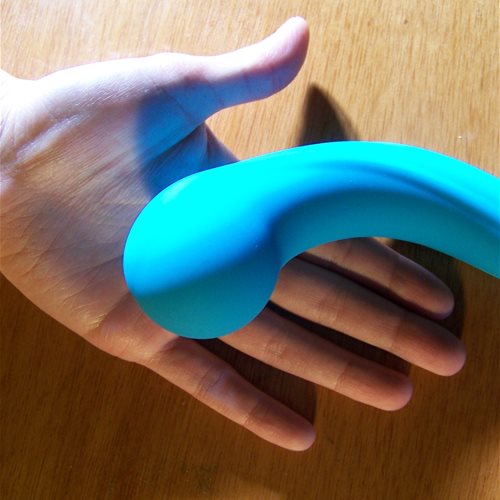 The bulb, if it didn't feel
so good
once inserted, would be a con for me. To insert, the bulb requires a hefty amount of lube and some finangling to get inside. The top is totally smooth and the lack of a taper really inhibits comfortable insertion.
But once it's in, the large bulb feels divine. The strong curve additionally positions it to sit directly on your G-spot and half the feel-good work is done for you.
Unfortunately, once you're done, getting it back out is kind of difficult. I've never had a toy catch on my pubic bone before the Comet G. I'd only ever heard rumors about the experience. Believe when I say I was drafting a text to my boyfriend that went something like this: "Plz come home, dildo is stuck". Luckily, if you're sure to angle the head of the toy on a curve (pulling the handle towards your body) it's a bit easier to get out -- but you cannot, absolutely cannot, pull this toy out. Be warned.
The Handle:
The handle is gorgeous. The glass is clear and continues the slight ridging texture as seen on the silicone body, which catches the light and sparkles. The Key logo is set in a metallic disk at the top of the handle. This, combined with the dual-material body, make this toy exceptionally pretty.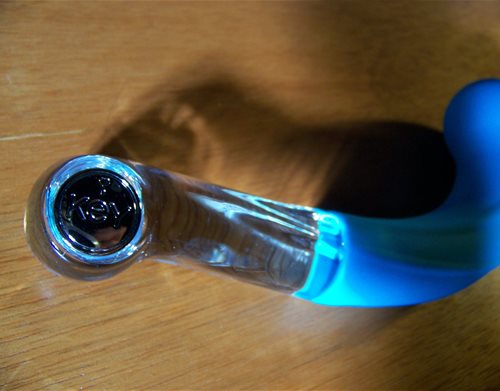 Maintenance and Cleaning:
Comet G is like any other silicone dildo: clean up with toy wipes, a 10% bleach solution or warm water and soap. As I mentioned before, the seam is not a problem, so it doesn't require extra attention.
Packaging:
The Jopen Key box is exciting to look at, but not very discreet with slogans like "just what you need for unparalleled pleasure".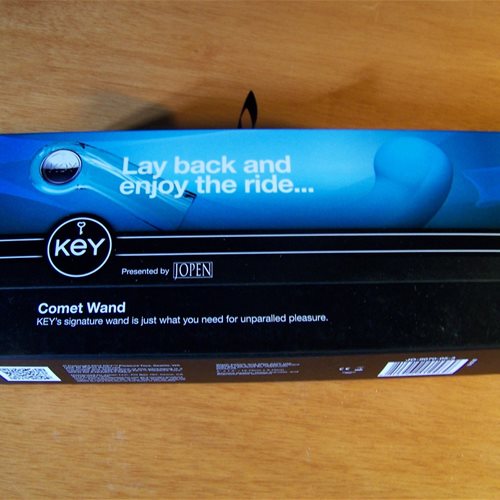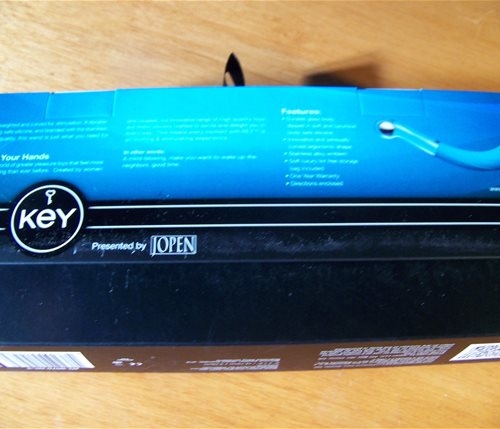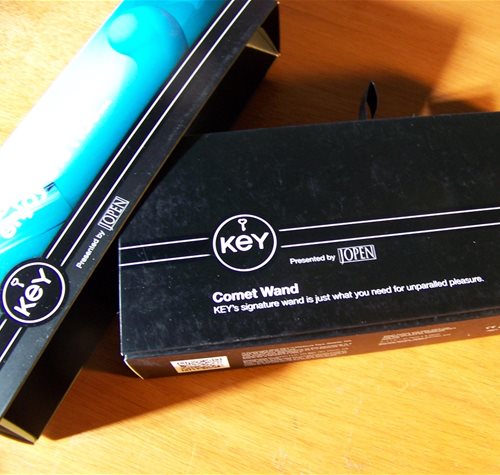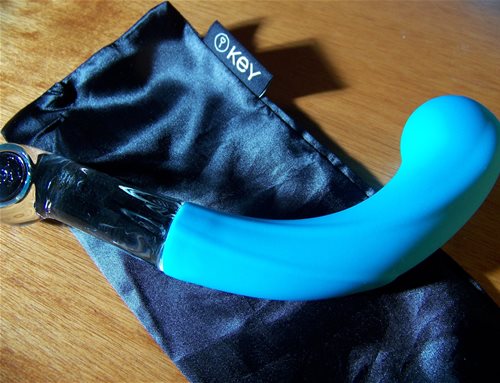 Small complaint -- the included bag is described as 'soft and luxurious'. It's not. It's the grossest, cheapest, crinkly nylon I've ever touched. Come on, Jopen!
Two Materials
There's been contention about the materials: if the insertable portion is silicone, can't silicone lubes. However, premium-grade silicone lubes are potentially acceptable for use with silicone toys, just do a patch test first and use at your own discretion.
Others rankle at the idea that, since the entire toy isn't glass, the exceptionally smooth feeling and temperature play will be muted. This is true, but it's true of 100% silicone dildos as well.
So what's the point of two materials?
Because Comet is
heavy.
It's not crazy heavy, but it has some heft to it that your vagina will feel. This weight will exert more pressure on your G-spot and make it feel substantial. To me, this is what makes a toy feel as good as say a real penis -- because it has weight to it and will have momentum and inertia. The box wasn't kidding -- enjoy the ride.
Follow-up commentary
1 month after original review
Now that I've used the Comet a number of times and am not nearly as surprised by the large girth of the head, Comet is amazing. Comet can be comfortable (not to scare anyone with the analogy, but there's a definite technique to inserting and removing that's rather like hooking a fish...but it's necessary to avoid discomfort). Comet can thrust. Comet can press me into shaky, hungry orgasms like no other dramatically curved G-spot dildos (especially after being so disappointed by the Delight, I know the Comet is doing things right). I adore the Comet.
This product was provided at a discounted price in exchange for an unbiased review. This review is in compliance with the FTC guidelines.

Thank you for viewing
Key Comet G
– g-spot dildo review page!