Seeing Stars
The Comet Wand or Key Comet G by Jopen is an awesome toy for G-spot play. I love Jopen's Vanity line, so I thought I'd check out the KEY line, which this is from. I liked this one very much and I won't hesitate to check out more. It's beautifully made and can be compared closely to the function of the Pure Wand. The silicone feels nice and the shape is perfect for me. My vagina loves it!
Published:
Pros:
Body safe materials, Easy to clean and care for, does exactly what it's supposed to do
Cons:
nothing
The Key Comet G or Comet Wand is brought to us by Jopen from the more affordable Key Line. Being a huge fan of Jopen and all things G-spot, I had to get this. It was similar to one of my favorite toys, the Pure Wand, so I knew I'd love it.
The Comet is a non-vibrating dildo and it's primary use is for G-spot stimulation. Given the curve and handle, it could be used for P-spot play. For added security, you could always use a
vibrator enhancer
to add a base. It's made with durability and beautiful to boot.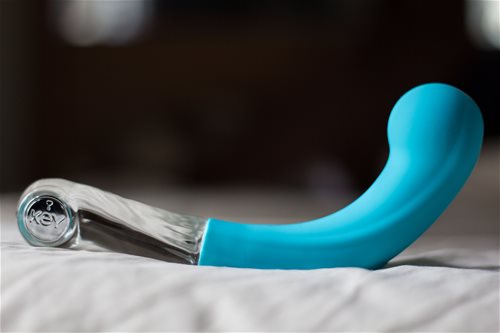 It's made with glass, but dipped in high quality silicone. Being glass and silicone, we're working with the safest materials offered. Both being rated a 10 out of 10 on the safety scale, they're body safe and easy to clean and maintain. Both materials are non-porous and hypo-allergenic. The glass handle is supposed to be a light blue, but it looks clear and and it's rigid. There's some gentle horizontal furrowing on the handle that can make gripping a bit easier. The logo on the side of the handle is made of stainless steel alloy and has 'KEY' embossed in it. There is a slight line of demarcation where the glass meets the silicone. On mine it can not be lifted and does not separate easily. I can't say that won't happen over time, but it doesn't seem like it's going to happen any time soon. The same furrows are carried through to the silicone and fade completely at the bulb. The silicone is powdery soft and so smooth. It's actually made from Sin-Etsu silicone, a brand that's used in healthcare, automotive, electronics and aerospace! I experienced very little drag and needed next to no lubricant with this. I received the light blue Comet. It also comes in lavender and raspberry.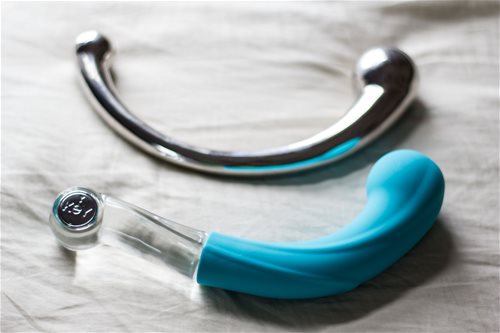 It's more beginner friendly than the Pure Wand. The Comet is light weight and elegant. It measures just over 7.5 inches, but if it's measured from end to end along the curve, it's 9.5 inches. At it's widest point at the bulb, it's 5 inches in circumference and tapers down to about 3.5 inches at the handle. While the Pure Wand is 2 pounds, this one is a light 8 ounces. You don't really have to worry about this one flipping while your arm gets tired. We get what's describes as a "soft luxury lint free storage bag included". It's lint free for sure, but "luxury", no way. It's a crispy nylon. It works just fine and the drawstrings hold together really well, but it's definitely not luxurious.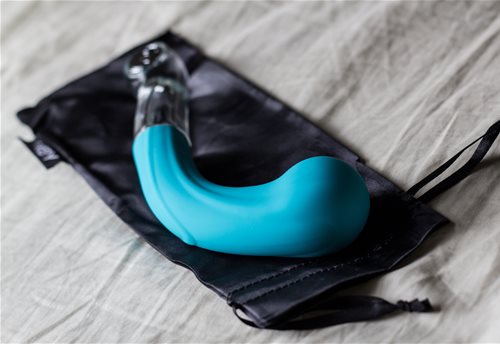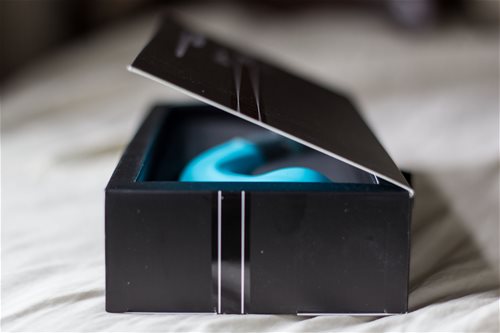 It comes in a flip top box. When the top is popped open, the wand is nestled in a black foam. The box is nice and can easily be used as storage instead of the bag. It's 10.5 x 4.5 x 2, so it can fit on a shelf or under the bed nicely. There's a misspelling on the box. Correct me if I'm wrong here. Seriously, shoot me a comment. But, I'm pretty sure 'unparalled' is not a word. The box says that the Comet Wand is 'for unparalled pleasure'. I'm confident that they mean 'unparalleled' pleasure.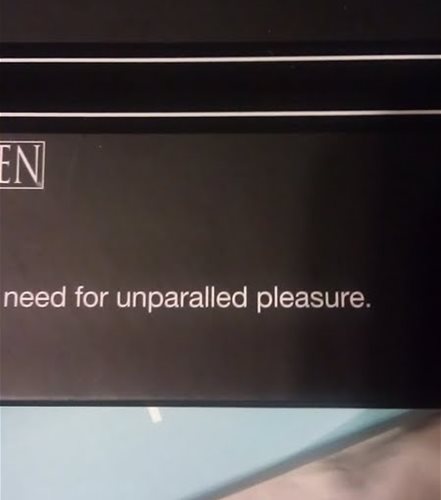 It's completely waterproof and totally safe to use in the bath or shower. It can easily be cleaned with a mild soap and water or toy cleaner. I use my favorite California Exotics toy cleaner. I'll saturate it for about 30 seconds, then rinse and pat dry. I make sure to be aware of it's grooves where the silicone ends when cleaning. It can be scrubbed with a toothbrush in no time flat. I pat it dry with a chamois towel, so lint doesn't get on it. Being made of the awesome silicone it is, it doesn;t collect as much lint, dust or hair like some of my other toys do. I can leave the Comet out for days and it won't look like a small animal! I love that. It can be disinfected by boiling for a couple minutes or soaked in a water/bleach solution. I really don't think the steel logo is anything to worry about while cleaning. Overall, this toy is fairly low-maintenance.
Experience
So, like I said, I got this because I am a fan of everything that hits my G-spot and I love the Pure Wand. The Key Comet G stimulates my G-spot really nicely. It's soft silicone glides brilliantly. I don't have to deal with this slipping around because of a hefty weight and slick finish. I do prefer my Pure Wand, but if I want a quick solo session, I'll definitely reach for my Comet. It's the same circumference as the big end on the Pure Wand, but the Comet is a little more forgiving because it is softer. It's not that much smaller in length either. The first time I used this, I didn't have any kind of warm-up, I just went straight for it. I tried it without lube and was quite pleased to find that I didn't need any. I rarely ever use it with it. I recommend using a water-based lube with it, but I sometimes use a high quality silicone lube with it, as it fared a patch test just fine. The Key Comet G is a really cool G-spot toy. It can be used as a kegel exerciser, as well! Just insert, squeeze, relax, repeat. If it being non-vibrating is a deal breaker, it's nothing a little vibrating c-ring won;t fix! If you're fan of curved toys like I am, I'd say get this. If you're someone that is just trying to discover your G-spot, I'd say get this. I'd recommend it to anyone from no vocabulary to a huge vocabulary with toys. It's just that nice. I've had wonderful experiences with Jopen's products and this is no exception. It's pretty and does exactly what it's supposed to do. Really, the only thing that I have that's bad to say about it, is that terrible misspelling on the box, eek!
This content is the opinion of the submitting contributor and is not endorsed by EdenFantasys.com

Thank you for viewing
Key Comet G
– g-spot dildo review page!