The Next Big Thing in G-Spotting
If Jopen were hoping to create a celebrity of the sex toy universe with their Comet Wand, they are well on their way! This toy is a beautiful and luxurious G-spotting superhero. If you like G-spot stimulation and can contend with the toy's unrelenting girth and need for frequent lube re-applications, you should get this toy, stat!
Published:
Pros:
Absolutely amazing G-spot curve
Elegant-looking
Body-safe materials
Cons:
Unhygienic groove in shaft
Silicone has lots of drag
May be too girthy for some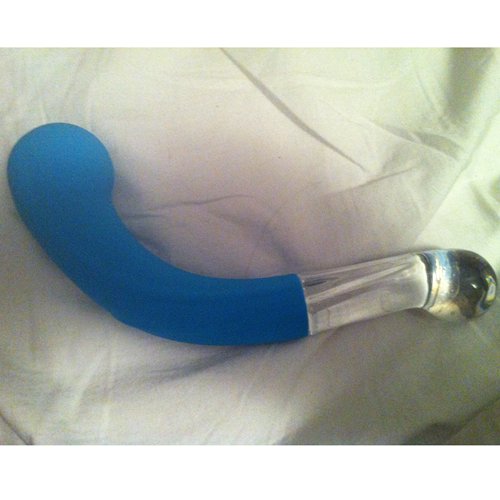 The Jopen Key Comet Wand (which is its official name, according to Jopen, so it's the one I'll be using in this review, even though EdenFantasys uses a different name) is a toy from Jopen's Key line. It is the only item in the line that is not a vibrator. Instead, it is a dildo, designed to target and stimulate the G-spot.
Even though the Comet Wand has the type of curve that works well for prostate stimulation, it is not safe to use anally, because it doesn't have a flared base.
The Comet Wand is made of glass dipped in silicone. This means that, although silicone is usually a flexible material, this toy has no flex at all. Those who are accustomed to squishy toys might need to take some time to adjust to this dildo.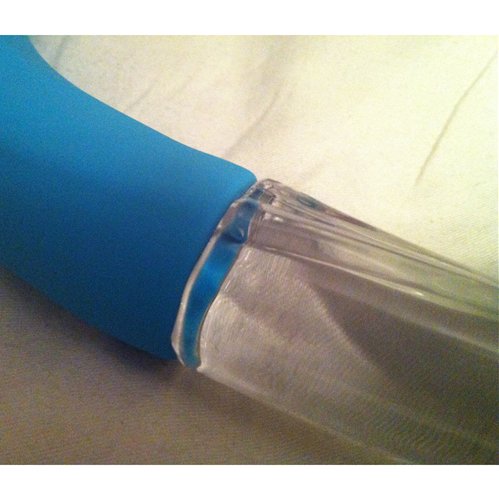 The place where the silicone meets the glass has a small dip that goes all the way around (see above). This dip is far enough up the shaft of the toy that it's unlikely you'll get any bodily fluids into it, but if you do, it's important to take extra measures to clean that area so that bacteria doesn't build up there.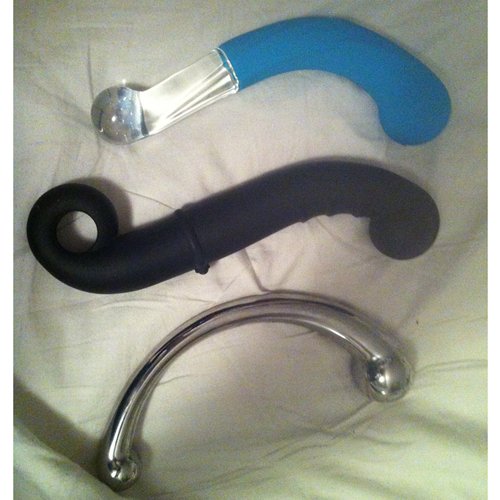 Above is a photo which shows the difference in size and shape between the Comet Wand and two other popular G-spot toys, the sadly discontinued Ophoria Beyond 3 and the Njoy Pure Wand. As you can see, the Comet Wand's shape bears a striking resemblance to that of the Beyond 3, and the bigger balls on each are all about the same size (1 1/2" in diameter).
Taking care of the Comet Wand isn't hard, as it's made of two body-safe materials. You can wash it with soap and water, boil it, or run it through the dishwasher with no soap.
The Comet Wand comes with its own fake-satin storage bag.
Experience
The Comet Wand is an amazingly good G-spot toy. That big ball finds my G-spot with ease and stimulates it mercilessly when I rock the toy back and forth.

The glass handle is easy to hang onto and thrust with. It could also theoretically be used too, as if the toy were a double-ended dildo, but I wouldn't recommend this, as the stainless steel emblem on the handle is engraved with the company logo and would be hard to clean.

The silicone-dipped glass is an ingenious move because you get all the firmness of glass but without the coldness that some people find unpleasant. Silicone has a naturally higher temperature than glass, so you don't have to pre-warm this toy if you're one of those people who hates cold toys.

One of my only issues with the Comet Wand is the type of silicone that Jopen have chosen to use. It has a lot of drag, meaning that you have to apply a lot of lube to get it to glide smoothly (water-based only, of course) - and on top of that, it also seems to absorb or "eat" lube way faster than any of my other toys. I usually have to reapply at least once every session.

My other criticism of the Comet Wand is that its big bulb is actually a little too big. The 1 1/2" diameter paired with the total firmness of the toy can be a tricky combination. I have to be very warmed up and lubed up, or this toy simply cannot be inserted without pain.

If you can handle the girth, though, and you have no qualms about using a lot of lube, this toy's definitely worth getting. The G-spot action is incredibly intense and I absolutely believe that this toy will become a star in the sex toy world, right up there with the Pure Wand.
This product was provided at a discounted price in exchange for an unbiased review. This review is in compliance with the FTC guidelines.

Thank you for viewing
Key Comet G
– g-spot dildo review page!