Um...WOW!
Um...WOW!!! I have never been a dildo girl, but my world has officially been rocked. Jopen doesn't lie when they claim the Comet will bring you "Unparalleled Pleasure." The unique shape, the high quality material, the fun colors...this toy is going to be at the top of the charts in no time! If you are looking for "wake up the neighborhood" pleasure, pair your Comet with a clitoral vibe and you'll have some of the most incredible sensations ever....
Published:
Pros:
+ Sterilizeable
+ Fantastic Shape
+ Silicone
+ Lovely
Cons:
- Might intimidate beginner with size
- designed to be single headed
Use:
EXTRA, EXTRA, READ ALL ABOUT IT: JOPEN'S NEW KEY LINE IS SENSATIONAL!!!! And the Comet is going to prove to be a must have toy box accessory for many! Similar to the Pure Wand (a somewhat famous g-spot dildo here on Eden!), the Comet is beautiful, functional, and totally lust worthy. I've never been a huge fan of dildos, because I've always been the type of girl who loves vibrations, but the Comet has officially changed my view dildos…I mean like….WOW! That's my opinion of this toy.
Sooo, what can you do with your brand new Comet? Well, you can use it for absolutely amazing g-spot stimulation, which is now my absolute favorite thing. Ever struggled in finding a g-spot toy that really worked for you? Well look no further! This is the kind of toy that will bring women to some of their best g-spot orgasm ever. I can honestly say that the g-spot orgasms I had from this toy beat out every toy I've ever owned. Pair it with some clitoral vibrations from another toy…and I have officially died and gone to heaven!
One brief warning, this glass/silicone combo doesn't have a lot of give. Meaning, it's firm and if you just go to town all crazy it might not feel amazing! It's brilliant curve and balled shaped ends make for fantastic sensations, but there is a bit of learning required to master the curve. I personally suggest to experiment with the toy yourself before bringing into the bedroom with your man because of the rather firm material it's made out of!
Need more convincing of why you need a Comet in your toy box? You could even use the Comet as a kegel exerciser if you really wanted to... This is a toy you will never outgrow. Beginners to advanced users will find themselves madly in lust with the Comet, from the first time they open the box for the rest of forever.
Material/Texture:
Glass dipped in silicone. Two of the most incredible materials paired together for a smooth, safe toy! The silicone portion of the toy is slightly ribbed. For me, this very slight ribbing neither added nor took away from the fantastic sensations of the Comet.
Although I don't own the Pure Wand, I can assume that this toy is going to be lighter since it isn't stainless steel. However, you don't completely lose the element of the toy being able to hold temperature. Silicone, if ran under warm water, will retain some of the heat allowing for some sexy temperature play.
Many of you are probably familiar with silicone and know it glides best with a little bit of water based lube. For those of you, who are new to a glass coated silicone, just keep in mind that it does not have a realistic feel and it is quite rigid. Does that make it bad for a beginner? Heck no!
Also, the glass portion of this toy is designed to be the handle, not the instertable side. Just a side note.
Of course, silicone is a ten on the safety scale! And because this toy is a glass/silicone combo and doesn't have a motor it can be boiled for three minutes to fully sterilize!
Design / Shape / Size:
As Jopen puts it "...the Comet is weighted and curved for your stimulation. A durable glass body, dipped in silicone, and branded with the stainless alloy KEY emblem of quality, this wand is just what you need for unparalleled pleasure." And for once ladies and gentleman, the box isn't lying! In other words, the Comet's shape and design is what is going to give you those out of this world, screaming, moments of pure bliss that wakes up everyone on your block. Curious how they do this? The large, bulbous head which is about 4 3/4" in circumference, and 1 1/2" in diameter hugs against your g-spot with just the right amount of firmness that fingers will never be able to re-create!
You have about 7 4/5" inches of total length on this toy if you are measuring straight from end to end, but it's designed to only insert about 5" of the shaft, this portion is covered in your body safe silicone.
It is a little heavy (but not in a way that is tiring to use!) as well as a little large which doesn't make it perfect for traveling. (review continued below)
Experience
Care and Maintenance:
As stated before, your Comet is Body Safe! Meaning it sports these safety features: Anti-bacterial property / Food-grade material / Hypo-allergenic / Latex free / Non-porous / Phthalates free. Pretty great, eh?
Now, as far as cleaning goes, a 10% bleach solution, a trip through the dishwasher, ten minutes in boiling water, toy cleaner, or mild soap and water can all keep your Comet clean and pristine. Jopen also backs this toy up with a one year warranty, stating it is designed to last, and with proper care this toy could be around forever and ever! Because of the silicone please only use water based lube! And feel free to take the Comet anywhere, no motor means it's 100% waterproof and submerge-able, so take it everywhere!
Note; The Comet comes with a storage pouch (which isn't the highest quality) that will protect it from lint and pet hair.
Performance and Personal Comments:
Now, I get to rave a little about how freaking great this product is. I was sent this product for review purposes, and usually I wouldn't have picked a dildo for myself because I am a vibration girl, but gosh am I happy this thing is on my nightstand now! I have NEVER experienced a toy that caresses my g-spot like this one, nor have I ever encountered a toy that gives me squirting orgasms, and this one does! If you are looking to experience a g-spot orgasm, this will do the trick! My personal preference is to pair it up with the Noa (which has weaker vibrations that my usual picks, making it perfect for a multi-orgasm session), and enjoy all the sensations that the Comet can supply.
I was a little worried about introducing the Comet to my foreplay routine, because it is a little big and I knew my man would need a little instruction, but this is one of my only toys that permanently resides in my nightstand now.It makes a much better partner for my lover's tongue than his finger's do ;)
I guess, in essence, I want to encourage all you girls who lean towards vibes out there to give the Comet a chance, I certainly wasn't disappointed! Perhaps this won't be THE favorite for those who have already enjoyed the pure wand or similar toys, but I really think this toy will be in the top of the dildo charts before we know it!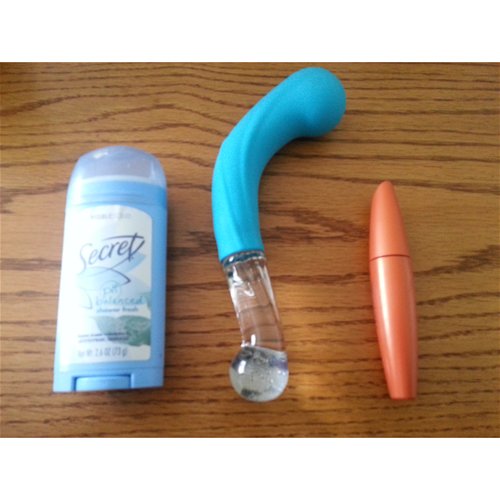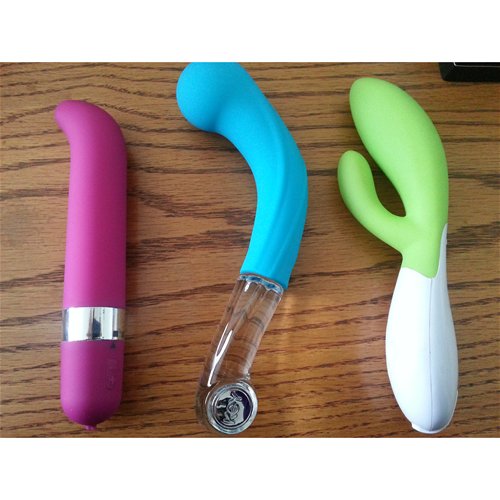 Package: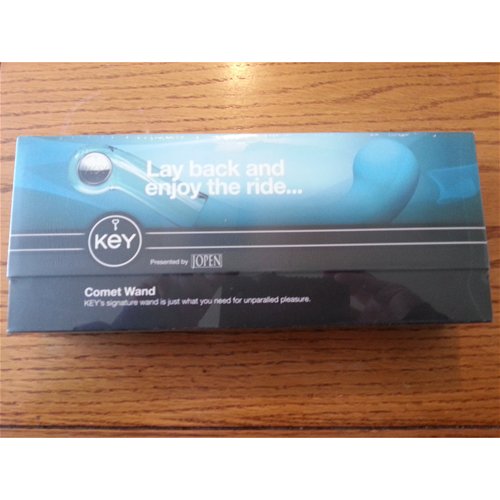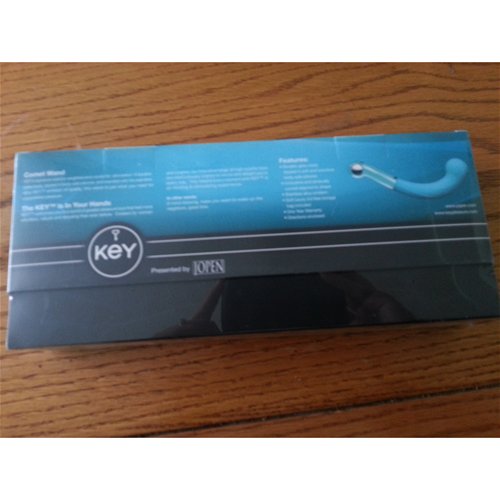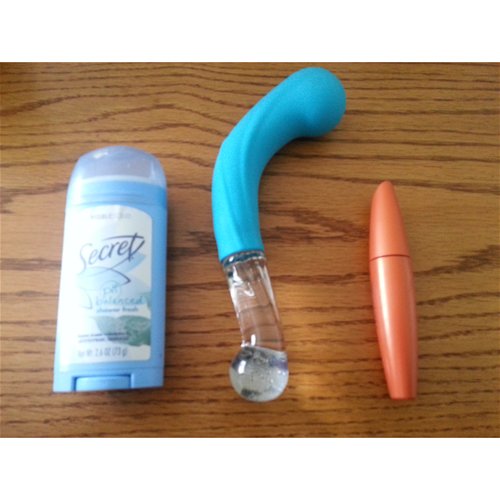 Final Comments: For whatever reasons extended review was not an option in this particular toy for me. So, if there is anything I have missed please feel free to comment or message me and I will get back to you on any other information you might want on this lovely little toy!
Follow-up commentary
4 months after original review
I have gotten used to the girth of the head of this toy and I couldn't love it more than I do. It's a great g-spot hugger, and I have even gotten more adventurous and let my man use it on me which is fannnntastic. On top of it's awesomeness, it's also super easy to care for, and I just love the bright colors.
This product was provided free of charge to the reviewer. This review is in compliance with the FTC guidelines.

Thank you for viewing
Key Comet G
– sex toy review page!