The Key Certainly Fits The Lock!
Simple and elegant, the Key Comet G is a beautiful and functional addition to any luxury toy box. This is a great intro into glass play for more nervous users, and offers superior silicone for those of us looking for easy to care for toys. The toy is user friendly and is perfect for users who are just discovering their G or P spots, or for those of us who found our spots years ago. From the elegant curve to the exciting addition of temperature play, this toy outshines its competition.
Published:
Pros:
Gorgeous looks, high quality materials, simple elegance.
Cons:
None.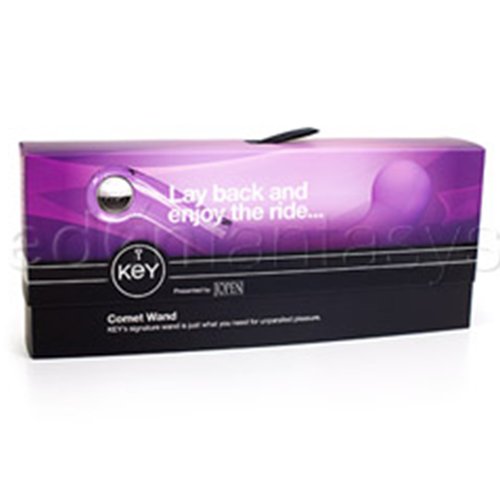 When I first saw the concept of this toy I was worried, because I like the feel of glass inside my vagina. Now don't get me wrong; I also like silicone toys as well, but the thought of all that thick silicone covering up the smooth and chilly glass had me worried. Well, I try to be open minded, so I gave it a shot.
I am lucky to possess a very easily accessible G spot that likes any and all attention. I can use straight toys, without any curve to them, to stimulate a pretty intense orgasm with minimal effort. Don't hate me too much, but when I was offered the option to try the Key Comet G I was a little nonplussed. I didn't expect much and resigned myself to being let down, because I actually like vibration on my G spot.
I am happy to report that I was a complete idiot, and Jopen has shown me the light- flashing, strobing light that exploded in my head as my body did things I never expected! Yes, folks, it would seem that just because I don't NEED a curve to stroke my G spot doesn't mean that a curved G spot toy has nothing to offer me.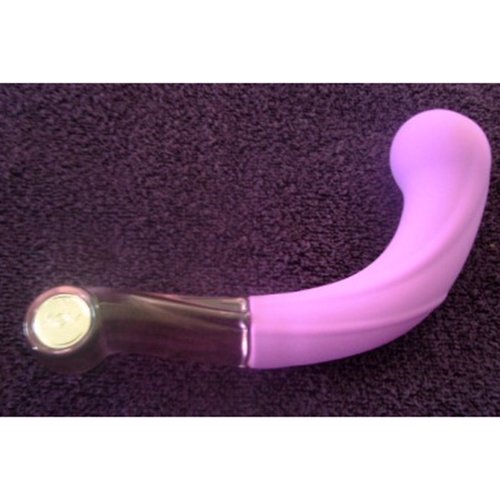 So, brass tacks: this is a glass toy that is covered in anti-bacterial, food-grade silicone. It is hypo-allergenic, latex free, non-porous, and phthalates free. It is a substantial toy and has a very pronounced G spot curve.
The Key Comet is a solid glass toy, overlaid with high quality silicone that doesn't slide off. The silicone is matte and provides quite a lot of drag, unless you use a few drops of good quality lube. Most people will tell you that you should only use water based lube, but I say spot test your favorite lube and look for a reaction if you really prefer silicone based lube. I predict that there won't be any reaction, because the silicone on this toy is so very high quality. Water based lube will work amazingly well, however, and you get great mileage out of it vaginally!
One of the great qualities of this silicone is it doesn't pick up lint like so many other toys will.
This toy is perfect for people scared by the thought of glass toys breaking in use. Borosilicate glass will never shatter or shard inside the vagina or anus, but I can understand the unreasoning fear. So here is the perfect solution! The glass inside the silicone will hold either cold or heat fairly well, so you can experience the joys of temperature play without the worry of breaking the toy.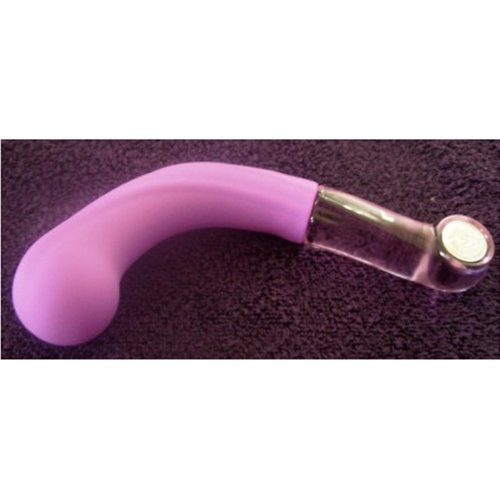 The toy has a glass handle that has the logo of the line in a metallic disc. The handle can be used as an insertable but I've found that it doesn't feel quite as nice as the other end of the toy. The handle is somewhat flattened and catches on my pubic bone more than I like. Still, it's great for temperature play and for simple massage. Add a layer of good quality massage oil and this toy becomes a great deep tissue massage toy.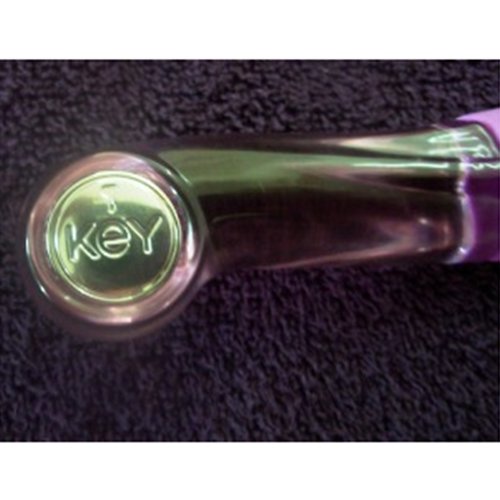 The G spot curve is very pronounced on this toy, and it makes this toy very nice for G spot play. The end of the toy is larger than most G spot toys I have played with. It measures 5 inches around, so if you prefer slimmer insertable toys this is probably not going to be the toy for you. It has zero give, so it's going to feel like it is bigger than other toys with more give.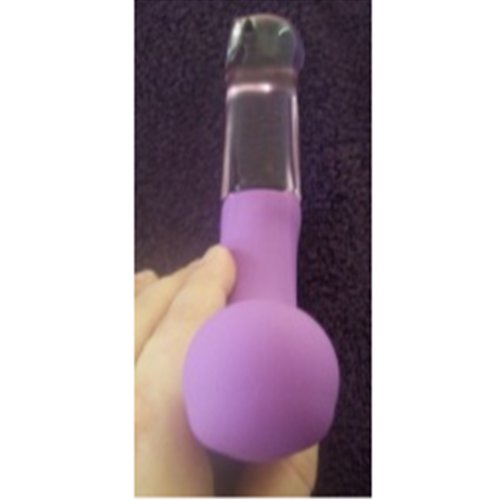 It is a longer toy as well, measuring in at just over 9 inches, which gives the user plenty of room to hold onto the toy and to manipulate it so that it stimulates the G spot. It is too large for me to use anally, and I would be cautious recommending it for anal play because the handle can become very slick with lube. There is a nice curve, but it really isn't enough to be a safety feature.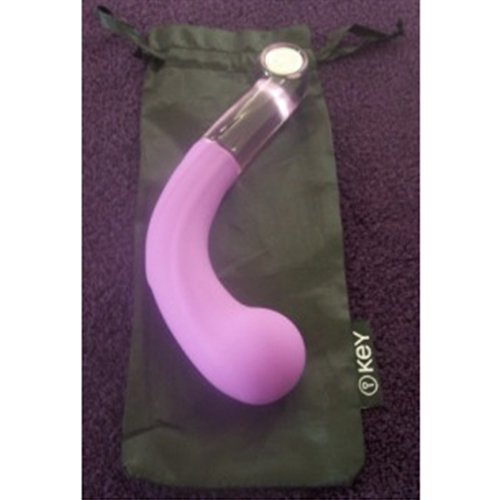 The toy comes in a nice box, but it can be tricky to open. I got too rough and tore it apart, but if you're careful you could use it as storage. it is quite a bit larger than the toy, however, so if space is an issue it might be easier to use the little pouch provided. The bag offers no padding, so it's not going to protect your toy if it bangs up against other toys in a drawer. The toy is fairly sturdy, however, so it can take the banging around.
Experience
Care and maintenance is as simple as hot water and soap. It can be boiled, washed in the top rack of the dishwasher (without detergent), or sprayed down with a commercial toy cleaner or 10% bleach and water solution.

The larger head of this toy makes it great for thrusting, but care should be taken since it has no give. I recommend going slowly and increasing the thrusting force slowly, until you learn how much feels good and when it becomes too much.
This product was provided free of charge to the reviewer. This review is in compliance with the FTC guidelines.

Thank you for viewing
Key Comet G
– g-spot dildo review page!