Not the Size of the Stick...
As they say, it isn't the size of the stick, but how you use it. The same could be applied to the Mr. Limpy Extra-small (or more like average). Depending on how it's used, it could make for good laughs or the average sized packer for the beginning FtM or Genderplay.
Published:
Pros:
Good for packing
Very nice texture (feels realistic)
Well made for the price
Cons:
Lack of color options
Slight odor of material
No instructions for care
The Mr. Limpy XS arrived in a brown box, packing tissue and a plastic bag. There were no care instructions, which would've been nice. The material can leave one with doubts on how to wash it, etc. and without the advice given on Eden, I would've been left in the dark about it.

One of the first things I noticed was the feel and smell of the Mr. Limpy. It has a very realistic feel, so long as you don't attempt to stretch it out. However, I found the slight odor to be a bit annoying and pungent. Even after washing it twice, it still mildly lingers. It is not a bad smell, I am aware it is the material, but it is not exactly pleasing either.

The texture is very soft, thanks to powdering, and there are also many small details such as wrinkles and an indention at the tip of the head. I noticed the slight contours of veins while inspecting the Mr. Limpy, a larger one down the bottom side and the thin contour between the balls. While not extravagantly detailed, the subtle touches are very nice and add quality for the low price.

Without a-do, I washed and re-powdered the Mr. Limpy and put it on. I found myself, and still do, touching it while wearing it. It's strange, but exciting how real it feels to the fingertips. It feels little different from when I would grope past partners and even though no one knows I'm wearing it, I find a weird confidence in doing so. I also do not wear it with a purchased harness and instead have a temporary home-made one. I have packed with basketball shorts, pajama pants and a pair of Vans and Urban Pipeline shorts; most of which fit me loosely and I have not experienced the packer looking like a semi-hard-on. Perhaps it is how it fits against my body, but to me the barely-there bulge in the shorts looks natural.

As far as washing goes, I rinse the Mr. Limpy in lukewarm water and rub my fingers over it without soap. I read that it is potentially damaging to the material, correct me if I'm wrong because I will then very much use soap. (Editor's note: Taken from SuperSkin Guide to Materials page "Simply rinse toys made of Superskin® with warm water from your sink and allow time to dry before storing. Do NOT use soap to clean it. For tough cleaning, we suggest using a little isopropyl alcohol.") Other than washing and powdering, I pat the Mr. Limpy dry with a cloth and store it in a drawer to keep it out of sight and safe from damage. The last thing I need is my dog walking up to me, or anyone else, with a silicone penis in his mouth.

Mr. Limpy is labeled as a gag gift, and while I would not personally purchase the extra-small as a gag, it has been very tempting to buy an extra one to hit friends with. I am very curious to see if it leaves a penis shaped mark on skin.
Experience
I noticed there was a slight flaw in the material. I am sure that is unavoidable, as things do not always mold perfectly. There is a slight dip, almost as if a flake is missing from the top of the head of the Mr. Limpy. It is not damaged, but looks as though there might've been an air bubble in the mold that kept it from forming completely. Ah well, it isn't in a place that will hinder effectiveness of the packer and flaws add character,so long as they aren't functionality flaws.
The photos below are one of me wearing the Mr. Limpy with the home-made harness and the second one is an attempt to get a photo of the flaw. All I have is a webcam, so the quality is not the best. The third is just a photo of it sitting on a mouse pad. I guess you could say for size comparison, although it's mostly because that is the only available surface in my room.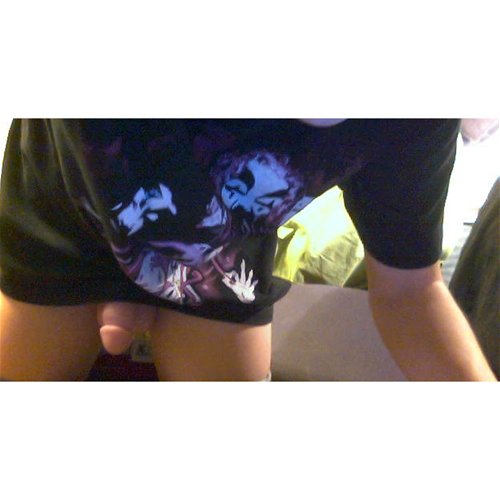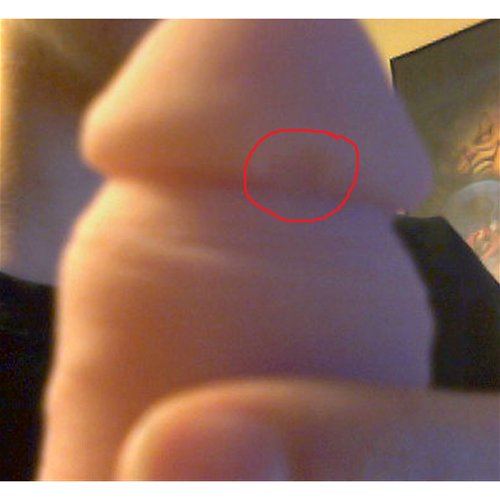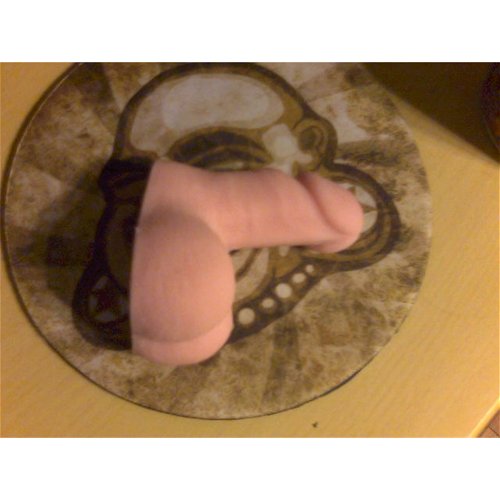 Follow-up commentary
7 months after original review
It's been quite a while since the initial review. I don't wear the Mr. Limpy very often but it is still a product I enjoy. It has proven to be satisfactory and is still in almost new condition (which is mostly because I don't wear it often I'm sure).
This content is the opinion of the submitting contributor and is not endorsed by EdenFantasys.com

Thank you for viewing
Mr. Limpy extra small
– packing dildo review page!