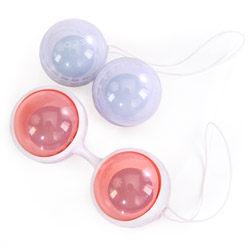 Luna pleasure bead system
Vaginal balls by LELO
Like a Jane Fonda workout for your vagina!
I'm in love with my Luna Beads and I don't know how I've gone this long without using some type of Vaginal Exerciser. The Luna Beads help to strengthen the PC muscles which results in all kinds of benefits from better orgasms to being able to sneeze without peeing! This set is special too because it's customizable so that you can gradually build up to heavier weight as your muscles get stronger. I joke with my husband that soon I'm going to have the vag of steel!
Published:
Pros:
Customizable, comfortable to wear, body safe materials.
Cons:
Separate parts takes a bit extra time when cleaning.
First let me say that I have never used any kind of vaginal exerciser before. I've always just tried to do kegels on my own and I found that I couldn't really get the hang of it. I never really could tell if I was doing it right or not. I hear so many good things about the benefits of using weighted balls like these so I had been looking around for the perfect pair. I was really drawn to the Luna Beads because they were different than the others.

The Luna Pleasure Bead System is a set of vaginal exerciser beads that offer full customization. You get two sets of beads in different weights. The first set, which come already assembled into the "girdle" are the pink beads, which weigh 28g each. Then there are the blue beads, which weigh 37g each. The box has a nice plastic holder for the beads that you're not currently using. As your vaginal muscles become stronger you move up to the higher weighted beads. First you can move to one pink bead with one blue bead and then finally up to the two blue beads.

At first I was thinking that the small difference in weight between the blue and pink beads couldn't make a big difference. So, I tried using the blue ones just to test it out. I can honestly say now that there is a big difference between 28g beads and 37g beads. When I used the blue ones they felt heavy and they weren't very comfortable. At least now I know that when I am ready to move up I'll know I am ready and I won't have to guess. I really appreciate this ability to customize the product to fit my changing needs. I'll be able to use the Luna Beads for years to come.

The girdle, which is what Lelo calls the holster for the beads, is made out of body safe silicone and the beads are a translucent phthalate free plastic. The weights inside the beads are rubber coated so that they are silent when worn. There's a sturdy retrieval cord on one of the blue beads and one of the pink ones, and there's a hole in the girdle for this to be slipped into. It's really easy to slide the beads into place in the girdle because the beads have a groove that matches the girdle which not only ensures you have them lined up right but also holds the beads into place, they won't be popping out while using them.

The Luna Beads were easy to insert, the instruction booklet does let you know that once you have the first bead in you might feel it trying to push out, but that's normal. You just take a breath and push it in and then follow with the second bead. It only took me a few times to get the hang of it and now I'm able to do it with absolute ease. The first day or two I just wore them around the house because I was afraid if I had to take them out to pee (I can't pee with them in..I don't know if this is normal or if it's just me…but I take mine out to pee!) I would have trouble getting them back in. Now, I don't worry about it as I've become as master at inserting them.

The Luna Beads sit as far into the vagina as a tampon would, and I found the Luna Beads incredibly comfortable to wear as the girdle is flexible between the beads and it bends with my movements. The only downside I can really say about the Luna Bead System is that since the beads are separate from the girdle cleaning takes a bit more work. Fluids can get into the seam between the girdle and beads so when cleaning them I pop each bead out to clean it and then pop them back together. It's not hard to do as they slip in easily, but it would be more work than it'd be if they were one piece.
Experience
When wearing the Luna Beads you can't feel them except when moving around. Then it's like a subtle vibration when the weights bounce around inside the beads. I didn't exactly feel pleasure from them, but it did make me feel more aware of my body which in turn made me feel sexier. I noticed the vibrations mostly when bending or when using the stairs. Laundry time was an especially bouncy time for the beads, never have I had laundry feel so interesting! I have to say, even though I didn't necessarily feel any sexual pleasure when wearing the beads I found when I removed them that they were wet beyond what I would say was the norm for me. So, maybe it was subtly turning me on without me realizing it.

As for the ability of the Luna Beads to strengthen my PC muscles, only time will tell. The booklet states that it takes about 12 weeks of regular wear for a difference to be noticeable. For now though I can tell you that after doing some kegel exercises while wearing the Luna Beads I am more aware of what they should feel like. Even when I do them without wearing the beads I still feel like they are more effective than they were before I starting using the beads.

It's been a week since I have started with the Luna Beads and for me I feel this is a great start. I look forward to the benefits of the Luna Beads as I continue to wear them as part of my daily routine. I usually wear them for a few hours and then put them away until the next day. The kit comes with a white satiny pouch to keep your beads in while you're not using them and this makes them really discreet so that I can keep them in my downstairs bathroom so that I remember to use them each day.
Follow-up commentary
4 months after original review
I still love my Luna Beads, my only complaint is still that they require more work cleaning. I can really feel these when wearing them though, which is always fun. I also feel that they do an extremely good job of working my kegels. I now have a bit more control over my muscles, which strengthens orgasms and helps to avoid peeing when I sneeze! I wish I could say I remember to wear them every day, but I do forget. Maybe I need to set an alarm on my phone!
This product was provided at a discounted price in exchange for an unbiased review. This review is in compliance with the FTC guidelines.

Thank you for viewing
Luna pleasure bead system
– vaginal balls review page!