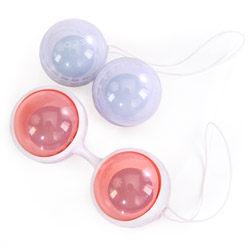 Luna pleasure bead system
Vaginal balls by LELO
Pleasurable Workout
I've tried cheap ben wa balls in the past that did nothing for me, so I was pleasantly surprised with the Luna Beads. They provide a pleasant sensation and allow you to do kegel workouts on the go, so they are perfect for anyone with a busy lifestyle, or anyone who needs motivation to exercise.
Published:
Pros:
Pleasurable, Allows you to do kegels on the go, Easy retrieval, Comfortable for long term wear.
Cons:
None.
The Luna Beads by Lelo are vaginal balls that are designed to exercise your PC muscles. The set consists of two sets of ABS plastic balls (blue ones are 37 grams each, and pink ones are 28 grams each), and a silicone girdle. The set allows room for growth - you are able to wear one bead only (without the girdle), two beads of the same weight or two beads of different weights. One ball of each colour features a nylon string, so retrieval is easy (especially in comparison to the horror stories I've heard about stretchy retrieval strings). Within each ball is a smaller, weighted ball, which can be seen easily through the transparent plastic. The smaller ball moves around as you do. This movement causes your PC muscles to contact, forcing you to do exercises.
I had no problems getting the balls into the silicone girdle. There are grooves on the balls so that you can get the placement right. I find it easiest to insert the balls while lying down. If I do it while standing, the placement of the balls seems to be a little off, and it feels as though they will fall out (although they never have). Try different positions and see what works best for you. The manual recommends that you do not use too much lube, as this makes it harder to keep them inside. I have found this to be true, so therefore I only use a small amount. They go in fairly easily, though it can be hard to get the second ball in due to the gap between the two balls.
It's too early to say whether wearing the balls has had an effect on my pelvic floor muscles, but I certainly enjoy wearing them. The movement of the smaller balls stimulates my vaginal wall. While this doesn't cause me to have earth-shattering orgasms (it's a pelvic exerciser, not a vibrator or a dildo after all), the sensation is pleasant. I have to clean quite a lot of my fluids off of them when I take them out, so they're definitely doing something.
You need to move around for the balls to be effective, so wearing them can motivate you to exercise. The best thing so far has been wearing the balls while going up or down stairs. TRY IT. Not every movement will cause the balls to move, but at the same time, you don't have to do star jumps just to get the sensation. I can't always feel them while walking at a normal pace, for example, but if I'm walking at a fast pase I always do. I can hear them, though it is rather muffled because the weighted balls are rubber coated. I'm not too sure if the sound can be heard by others. I asked me boyfriend if he could hear them and he thought he did, but it may have just been my clothes making a sound as I rocked backwards and forwards.
Warning:
Bodily waste talk. Beware if squeamish.
I have no problem peeing while wearing the Luna Beads. I haven't tried pooping, but I doubt I would be able to, based on my experiences with menstrual cups. You can try, but be aware that the beads may shift when you do.
To clean the Luna Beads, you should remove the balls from the silicone girdle to ensure each part of the system gets a thorough cleaning. Then, just wash them with warm water and soap.
The packaging consists of the typical classy Lelo packaging: a black box, storage pouch, warranty information, and a very detailed instruction manual. Mine also came with a sample of the Lelo Personal Moisturizer, but I don't know if this is typical.
Lelo has recently brought a mini version of the Luna Beads, designed for women who are under 30 and/or have never given birth. I fit both criteria, but I have no problems with the size of the regular beads. The mini ones are not available on Eden yet (at time of writing), but you may wish to wait for them.
EDIT: They're now
available
.
This product was provided at a discounted price in exchange for an unbiased review. This review is in compliance with the FTC guidelines.

Thank you for viewing
Luna pleasure bead system
– sex toy review page!