They'll Never Know What I'm Doing
Swiping my card at the grocery store - I just did one. Thanking a stranger for holding the door - I just did another. Trying on a cute winter hat - you guessed it; I did it again. What am I doing, exactly? Kegel exercises! And no one is ever the wiser to it because I'm using the SinFive Emigi! I am absolutely smitten with this cute little peanut!
Published:
Pros:
Lightweight, Great Material, Easy to Insert/Retrieve
Cons:
Occasionally the Balls Stick and Stop Rolling, Small Seams
First, what are kegel exercises?
They are the contraction of the muscles that form the "pelvic floor" which tone and strengthen the PC (or
pubococcygeus
) muscles. These exercises affect the strength of vaginal muscles as well as urinary tract-related muscles. They are
not
just for women to do but the Emigi is specifically made for vaginal use and is not anal safe (more on this later). So men out there, you're out of luck with this toy but there are other ways for you to strengthen your own PC muscles! But for the sake of this review, I'll be focusing on the biologically/surgically female only.
Why do Kegel exercises?
Well, besides leading to stronger, better orgasms (need I say more?), they are beneficial for health reasons as well! They are recommended for preventing uterine prolapse, to pregnant women to prepare their vaginal canal for birth, and treating urinary incontinence.
What role does the Emigi play?
This little peanut-looking object is designed to be inserted into the vaginal canal as you would a tampon and worn about during normal daily activities. The little string is for pulling it out when you're done. But it could also be worn during masturbation, oral, or anal sex. But please make no attempt at inserting this anally for the number one reason of retrieval. That little string does NOT provide any protection against it getting sucked (literally) into the anal canal and lost, requiring a doctor to fish it out for you.
But it works with the two small balls inside that roll around creating a vibrating sensation against your vaginal walls. This motion is supposed to stimulate your muscles to contract around the Emigi, whether voluntary or involuntary. Congrats! You have done a Kegel exercise!
Design/Material
The Emigi is part WTP (a specially formulated thermoplastic/soft elastomer with anti-microbial properties) and part ABS plastic. Both of these materials are body safe, non-porous, easy to clean, and free of potentially irritating compounds like phthalates and latex. There is a small seam where they join in the concave center of the 'peanut' but it's not detectable in use. But there are two smaller seams around the widest two globes of the Emigi that I found
were
slightly detectable to my sensitive parts during insertion and retrieval (though not during use).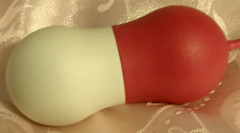 Other than those seams, the entire thing is smooth and lightweight, making it comfortable and easy to 'hold' inside your body. And the WTP provides a slight drag against the skin which helps keep it inside and stimulate just a bit more than plastic alone would. And thankfully the little string is small and fairly easy to ignore because it makes it much more comfortable to wear under clothing. The string isn't stretchy like you might think, but honestly that makes pulling the Emigi out easier.
In Use
So the first time I used this toy, I felt it slipping out! I've never had children and I'm still fairly 'tight' down there so I was quite baffled. But after getting comfortable with the toy, I pushed it further into the canal and that helped it from slipping around as much when I walked around wearing it. Another issue I had with it is that on occasion, the little balls inside would get stuck and stop rolling around. I had to go to a bathroom, remove it, and shake it around to 'unstick' the inner balls.
But on the positive side, this little exerciser was able to help me create a lot more of my own natural lubrication prior sexual activity! Even after just an hour of wearing it while doing laundry or making dinner really made a difference 'down there'. And have I mentioned that the movement of the inner balls, while very satisfying and amusing, are also completely silent to everyone around you? They'll have no idea why you're grinning .
Experience
Care and Maintenance

Because of the material of the toy, you're free to clean it with warm water and mild anti-bacterial soap and/or toy cleaning spray or wipes. As always, be sure it's completely dry before storing to prevent molding or smells. In fact, the cute little plastic pouch that it comes in for packaging serves as a great storing container because it's so small. But because it won't seal completely, you may still need to wash it before use.

Safety Precautions

Other than never using this anally, there are more safety measures you need to be aware of. Just like a tampon, it's not recommended you keep this inside you for more than 4-6 hours at a time. It blocks natural and necessary flow of lubrication inside the vaginal canal that regulates bacteria (the good kind). So if you tried to wear this all night or all day, you risk infection. Also make sure you honestly clean the Emigi well before putting it inside your body.

So now that you've learned the wondrous world of kegel exercises, go forth and contract your way to a better and more satisfying sex life!
This content is the opinion of the submitting contributor and is not endorsed by EdenFantasys.com

Thank you for viewing
SinFive Emigi
– exerciser for vaginal muscles review page!