You want me to put electricity.... WHERE?????
For starters, I am not a fan of this as a sex toy. I much prefer it as a muscle massage. And as a muscle massager? It's lovely!!!! And I would strongly suggest it to people as a massage tool for sore and aching muscles. Not to mention you can get some relief from lower back tension.
Published:
Pros:
Great for sore and tired muscles, great for minor aches and pains.
Cons:
Not as good as a real massage, but decent enough at the end of a long day!
Hello ladies and gents!!! Welcome to another review with me!!!
Firstly; let me just say I never thought I'd buy the Shock Therapy by Pipedream. Simply because I am scared as hell of electricity. But, then I figured what the heck. I have the points, BUY IT!!!
So I did.
And I was a little surprised of the results. But that comes in the experience section. So I'll tell you about that a wee bit later.
So let me take you through a verbal description (and of course with some pictures) of the toy itself.
But first.... DANGER WILL ROBINSON!!! DANGER!
If you have any sort of heart condition, epilepsy, neurological conditions, pregnant... please refrain from using this.
Don't use the unit near any piercings, not in your mouth, not even in your butt and not even in your snatch.
Now I am thinking about green eggs and ham.
Now that the warning labels are over with... let's get it on!
If you'd like dimensions and material, click here
for the product page
.
Packaging: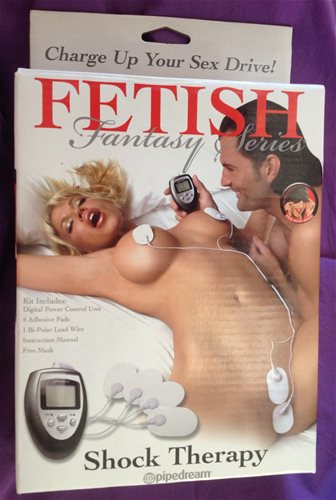 As you can see, the packaging is VERY loud and shows exactly what what the intended purpose of the toy is. Enclosed you'll get your hand held unit, a "Y" shaped lead wire, four self-adhesive pads and a free mask. You also get an instruction paper (with a typo too), but it is quite confusing.
You need 2AAA batteries, and they will last for many hours before you will need to replace them.
Use: Many people will want to use these as a sex toy, on the nipples for example, but I find this is best suited on muscle aches. On my calves, inner/outter/upper and under thighs, triceps, shoulder and even with my sciatica and other lower back issues. Knee and elbow issues too!
All that aside, when you go to use it, be sure your skin is clean and dry, free from lotions, potions making sure your skin is au natural.
When you want to go and use this kit, you'll discover that there is an extreme learning curve that makes you really want to do your head in. I'm going to attempt to walk you through how to use this sucker.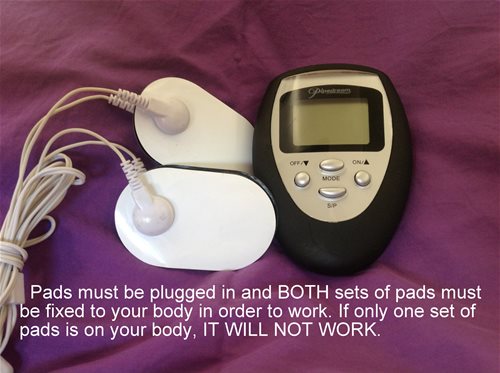 Plug the lead wire into the handheld unit, and place the pads on your clean skin. Make sure that you have the pads of the same side on the same general area of your body. You can get a general idea of what I mean with the same side by looking at the following picture.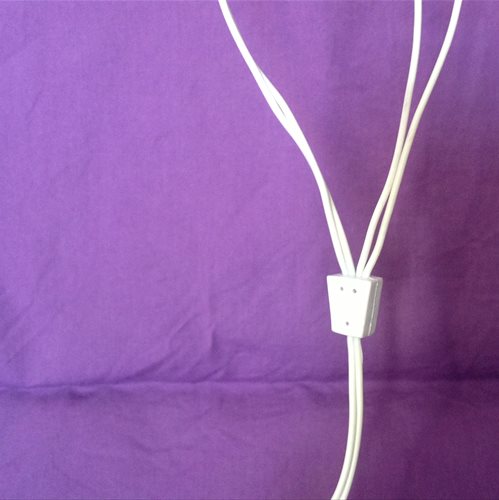 How to control this electricity machine? Now that is where a lot of the confusion will come from. Take a gander: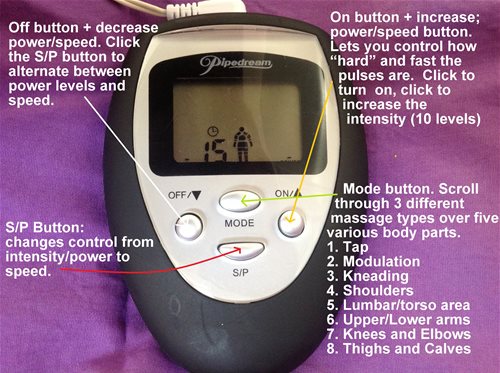 When you turn the unit, lets talk about what happens;

When you first turn on the unit, the far left picture is what you'll see. The first setting is a "tapping". If you click the mode button again, you will see the middle screen. Click it again, and you will see the third screen.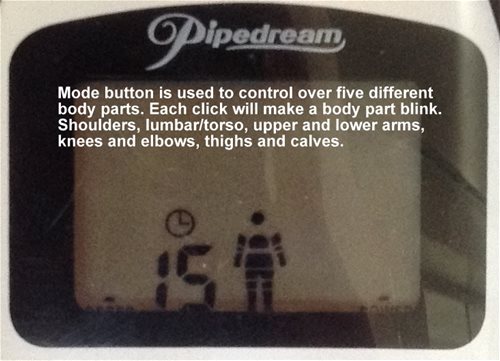 Once you have scrolled through the three different modes, you can have an option to massage other parts of your body as well. Click through for another five settings for various body parts. Using the various buttons as shown in the pictures, you can control the speed of the taps/pulses and how strong they come.
When you start the unit, you get a fifteen minute massage, before the unit will automatically turn itself off. As the unit goes through the massage, you will see a countdown for how many minutes are left.
For how strong it is in use (intensity level), it goes from a very gentle massage to something that could seriously cause injury. However; it is really cool to watch your hands and feet twitch like there is no tomorrow when you crank it up!!! There is no sound while you use.
Cleaning: after every use, I wash the pads. Using the pads on clean skin will ensure that your pads have a long life. After every few uses, I will take a hand wipe and wipe off the lead wire and the handheld unit as well.
Storage: when not in use, I wrap up the wire, and put the whole thing in a box on my coffee table. I feel comfortable leaving the unit itself out and about as it just looks like a TENS unit. Anyone who has seen it, mistakes it as a TENS unit/muscle massager. However; the packaging? Make sure you put it away or toss it into recycling as anyone who see's that? Will know exactly why you bought it.
Experience
When I first bought this, I thought about how much fun it would be to have Zeus send his lightning bolts into my nipples.
Boy how wrong I was.
Then I tried it on my labia. YIKES!!! Never again!!!
I put the pads over my nipples and onto my labia, and it felt like I had just inserted a penny into an electrical socket it was that numbing. And achingly painful. Some people do find it enjoyable though. I just found it uncomfortably painful. Never put a penny into an electrical socket before? Ok, what about an electrical fence? Touched that? That is better explained how it felt. Now imagine that on your nipples and labia!!!
And that is not my cup of tea.
I prefer a soothing cup of tea to one that makes me scream, "OUCHIES!!!"
Now that the review is coming to a close, I'd like to just say, that I would strongly suggest buying the
Fetish Fantasy electro sex gel
which has been discontinued here at EF. I did notice that if I ran through more than one fifteen minute cycle, my skin would get a little dry where the pads were. Almost as if my skin was getting a sunless sun burn. Using the gel, I found I could use it longer and on a more intense massage without any skin damage.
If you do use the gel or any kind of electro-stim gel on your pads, you really must tend for them by cleaning them. If you don't, you get all sort of goo adhered to them and then you'll need to replace them.
So... just to recap... As a sex toy for me I have to say, thanks but not thanks. But as a massage tool? It is a five star. I love using it after a long day on my major muscle groups especially my quads, hamstrings, calves and even my butt cheeks.
Recommendations to make this a better product? Come on Pipedreams! Can you give use some packaging that is elegant rather than trashy? I am going to knock off a star because of the trashy packaging. Other than the packaging, yes, I'd recommend this to a friend for muscle aches!!!
This content is the opinion of the submitting contributor and is not endorsed by EdenFantasys.com

Thank you for viewing
Fetish Fantasy shock therapy
– bdsm kit review page!