Beware: It's a Gateway Toy!
We had never owned any toys specifically for males before this one. Although it won't be our go-to for that kind of stimulation, it has convinced us to look further into men's toys.
Published:
Pros:
Feels great
Contains the mess
Travel friendly
Cons:
A little expensive for a disposable
Doesn't last long
So, I thought I would get a masturbator for my husband to add some variety to oral sex and hand jobs. But, oh, where to start? Would he even like that sort of thing? What kind of textures and materials would he want? Having never tried a masturbator, he couldn't tell me, and we were afraid of buying a high end men's toy that he was going to hate. When we came upon the Tenga Egg, it seemed like a great place to start. We settled on the "stepper" version.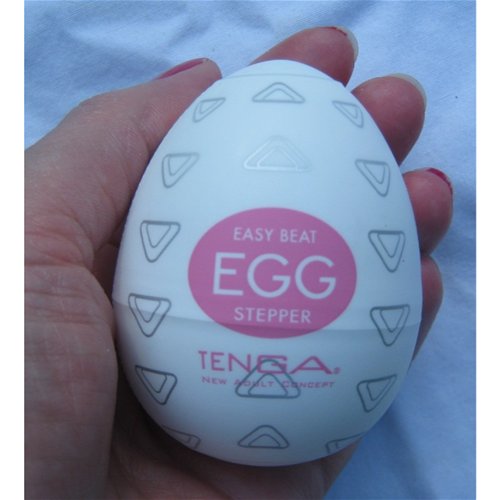 The packaging is very simple. It consists only of a plastic egg with a wrapper that contains the Tenga logo and some basic information on how to use the egg. Once open, we see the egg itself along with a little foil packet of lubricant. In its initial form before use, the egg is small enough to fit in your palm and is about the size of a tangerine. The feel of it is something like we've never felt before. It is made of silicone, but feels like something between egg white and Jell-O. The outside is completely smooth, while the inside contains whatever texture you've selected. The "stepper" has a series of horizontal ridges that mimic steps.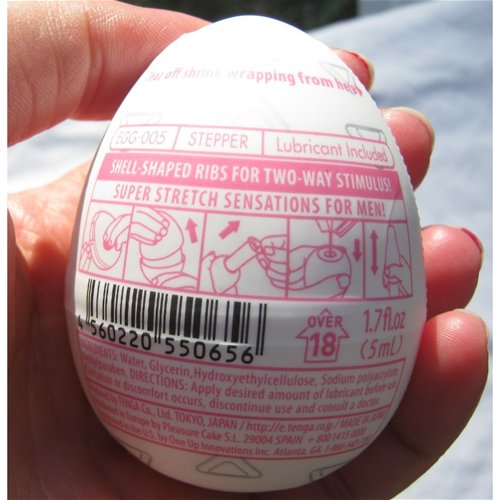 To use, first add some water-based lubricant to the inside through the hole on the bottom (either the included lube or a different one). Remember this toy is made of silicone, so adding silicone lubricant can cause it to degrade faster than expected. After the lube is in, slip it over the top of the penis, with the textures on the inside. It will stretch as far as you need it to, and now you can just rub away!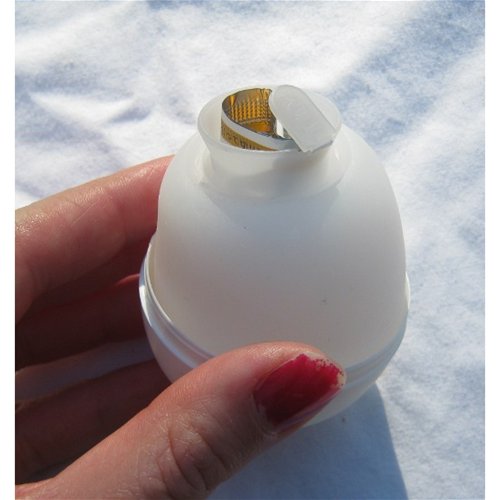 When you are done, you can do one of two things: toss it or try to clean it. The Tenga Egg is disposable and loses some of it's shape after just one use, but if you are careful and clean it well and allow it to dry before putting it away, you could get two or three uses out of it. I would think four is the most you could hope for, but realistically, it's made to be thrown out before you get to that point.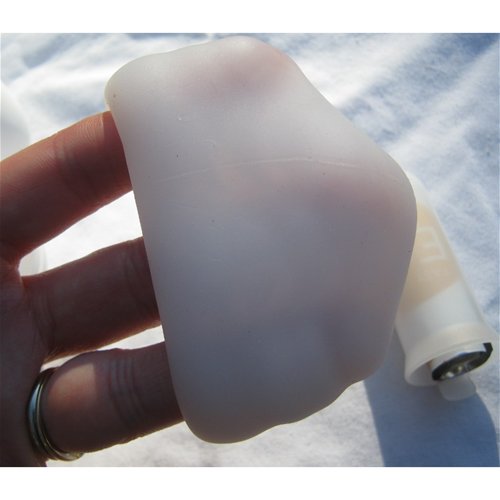 Experience
Husband reports that he doesn't know if the textures inside really help or not, but he says they certainly don't hurt. However, if you stretch the egg too far down over your shaft, the textures flatten out and you can no longer feel them. He found it best to not stretch it too much further than where your most sensitive zones are. The sensations the Tenga Egg provide are neither better nor worse than a standard hand job, just different. It was nice to have the variety. The convenience factor of all the semen being contained in the egg was a huge plus for him.

For me, I also loved the convenience of it. I didn't get lubricant all over my hands and didn't have much to clean up after. My hands did not really get tired while using it on him, and it was nice to be able to relax and let the egg do most of the work.

The pricing was a bit of a hang-up for both of us. $10+shipping for something that's made to be used once? That's a little steep. We both would feel better about it if the price was more like $3-5 per egg and if you could buy them in a set, not one at a time. However, even at $10, it's cheap enough that it would be great for travel if the gent doesn't want to bring along a more expensive toy. Moreover, it makes what Husband calls a great "gateway toy." It's fabulous for deciding if a masturbator is something he will enjoy either alone or as a couple before spending more on a better, more permanent toy. As it stands, the Tenga Egg convinced him that men's toys, which he had never been interested in, deserve another look.
Follow-up commentary
1 month after original review
It turns out that he and I both love, love, love the Tenga Eggs. We tried the Tenga Flip Hole, but it was too heavy to be comfortable. We've found that the eggs are just fantastic and convenient. In fact, I'm about to order yet another! Now, if the price came down just a little bit, they'd be perfect.
This product was provided at a discounted price in exchange for an unbiased review. This review is in compliance with the FTC guidelines.

Thank you for viewing
Tenga egg masturbator
review page!