Keeps you dry, that's for sure.
I think this is an awesome product that anyone who sweats where their groin meets their legs would enjoy thoroughly. The smell is not distinctly feminine and could be used by both males and females. It doesn't seem like it would come with much, but if used daily this powder should last you about two months. While it is intended for after shaving use, it can be used daily to absorb moisture.
Published:
Pros:
Made in America, Smells nice, Keeps you dry, Not tested on animals, Paraben free, Comes with puff
Cons:
At this time I see none.
Classic Erotica's line, Body Boudoir, did keeping you dry easy when they made "Coochy After Shave Protection". It doesn't keep your hair from growing back as quickly as it normally would, but it does keep where your legs meet your "coochy" much dryer. This will be very helpful for me, as well as many other ladies, this upcoming summer. It will also help you cut down on the extra irritation that more sweat provides from shaving that very sensitive area. It does this by helping your skin glide across other skin, preventing chafing.
This after shave powder comes to you in a little pot, similar to many loose powder concealers. The container itself isn't very discreet as the name of the brand "Coochy" is written more than once. The container is about 2" wide, 1" tall(with lid), and contains 0.046 ounces or 13 grams. I know that doesn't sound like much, but keep in mind loose powder doesn't weigh much. When you unscrew the black lid, you will discover a powder puff(again similar to most that come with loose powder concealers), and underneath that you will discover 21 square holes, in a circular pattern, with a clear plastic sticker covering them. There will be a white pull tab for removing this sticker.
The top of the black lid has a shiny blue sticker that telling you the brand and name of product as well as the amount inside. The bottom half of the container where your powder resides is clear, but has a shiny blue sticker(matching the lid's sticker) that wrap almost entirely around the container horizontally. On the front of this wrap around sticker, it again states "Body Boudoir, Coochy, after shave protection powder". To the left side of this label you will see that this product was "Made in America", is "Paraben free" and it "safe for all skin types". This side also has a bar code and some basic directions. Including "Use after shaving, Bathing, or Anytime". It also states this product will "Absorb moisture and prevent chafing". On the right side of this label are the ingredients(which are listed on the Edenfantasys.com product page, and I will not include) and that this product was "Not tested on Animals" and is "Sugar-Free". The very bottom of this container is completely clear and you can see your powder inside.
The lid: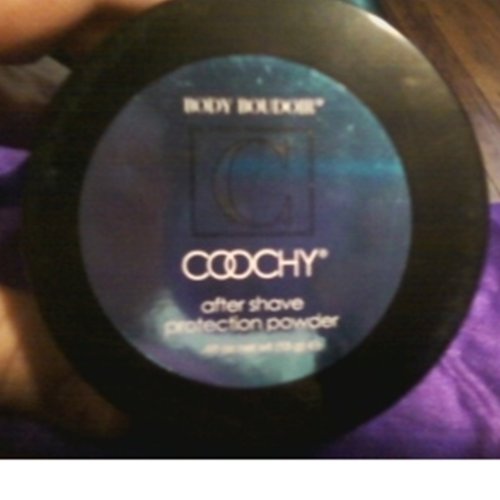 Front view: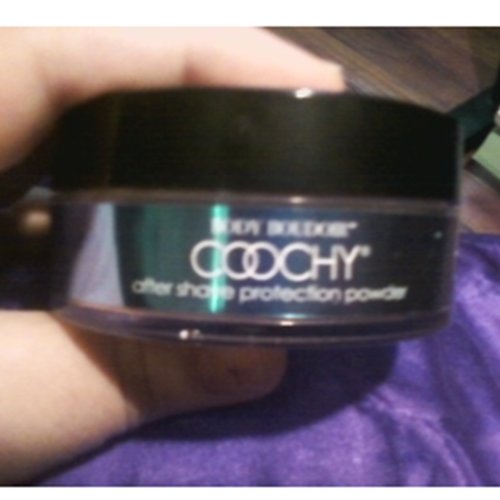 This product is very easy to use once you get the hang of it. At first, it is a little hard to get the powder to come out without spilling it all over the place. The method I have found most handy, for not spilling and still getting powder on the puff, is while leaving the puff, puffy side down, in the container replacing the lid. After the lid is securely screwed back on, flip it over so the lid faces the floor, then start shaking it! When you open it back up, after turning it back over of course, there will be enough powder on the puff and surrounding area to last you a day or two.
The Included Puff: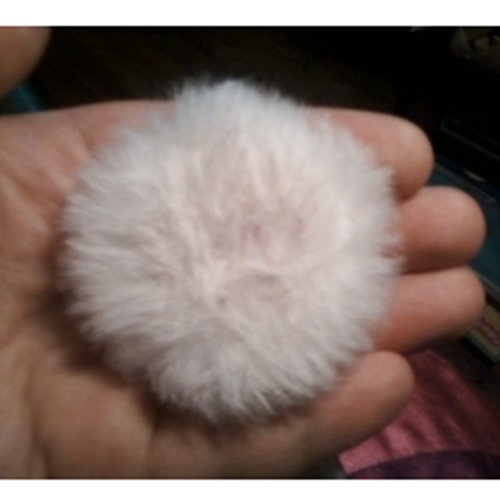 The holes the powder comes from: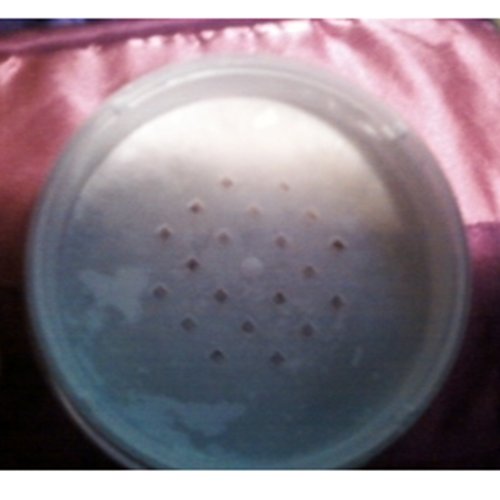 Experience
I have been using this product on both the place where my groin area meets my legs and the area over my belly button where my tummy hangs over a bit. I have found both to be much dryer regularly than they were before. In my opinion, the scent of this product is very faint once it is on the body. The smell reminds me of baby powder with just a hint of floral, which I love, and love to smell like. The feel is super smooth, where I used to be a bit sweaty or just a tad moist stays completely dry when using this. I have stopped using it only after shaving and started using it on a daily basis to prevent sweat and moisture in the places I named above.
Powder sprinkled onto hand: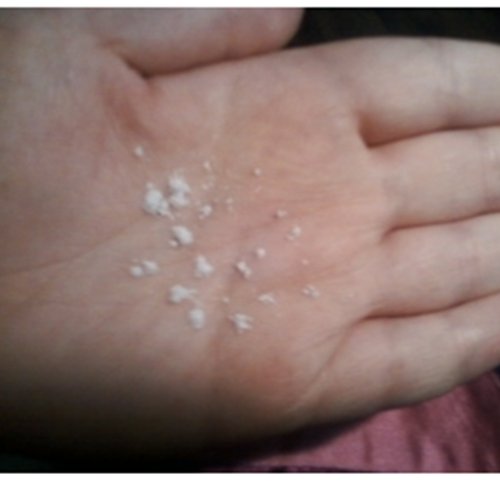 Powder rubbed it, can barely be seen, but can be felt.: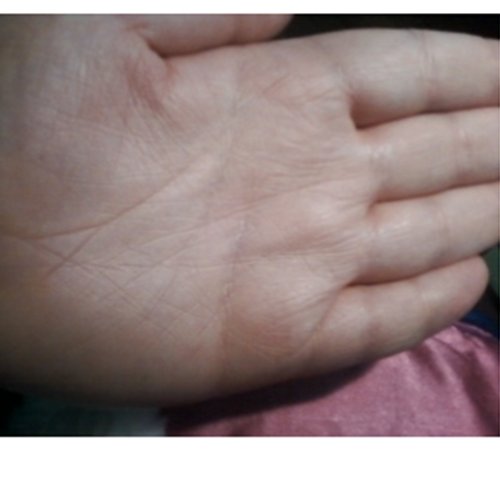 Follow-up commentary
4 months after original review
I still have this in my bathroom cabinet. I usually try to wait until bath and body products run out before writing a follow up review to give people a general idea as to how long the tub will last. But since I received Simply Sensual's after shave powder, I seldom use this one. It does still work as well as it ever did. It keeps me dry and prevents chafing.

Invest in some for yourself, one tub will last you a super long time. It is well worth the money, in my opinion.
This content is the opinion of the submitting contributor and is not endorsed by EdenFantasys.com

Thank you for viewing
Coochy after shave powder
– aftershave review page!