Sexy toy time machine in a bottle!
Who doesn't like the wonderful look of a new toy? Well, with this soap you can have just that with every wash. It takes away the germs, makes your lovely things look better than brand new, conditions them, and smells wonderful! No more soapy residue left behind! It takes all of the junk on your toys rinse right off with very little effort. Seriously, if you have toys you need this stuff. It makes toy bath time fun!
Published:
Pros:
Antibacterial, conditioning, makes things look better than new, smells wonderful.
Cons:
I want it in a gallon size container.
Use
I don't know about you, but washing my toys is often my least favorite part of having them. It's about as boring as washing the dishes, you know? (And if you're like me you actually have a dish rack specifically for toys. It's crucial that you use a toy wash that's specifically designed for your sexy friends so you know that they're clean in the best possible manner and not going to somehow get damaged or be left with icky residue. Things that you stick inside yourself are a little different than things you eat off of.
This toy wash is the most impressive thing I've ever used. Not only does it clean your precious things, but it conditions them, as well. Who knew toys needed conditioning? I didn't, and I'm certainly impressed with what this stuff does. Vitamin E oil helps to moisturize your material and keep it looking just like new. It's like you just bought the thing! Not only does it do this, but it's also anti-bacterial for getting all of those icky sex germs off of everything. It's also much more effective at removing love residue than your traditional soaps.
This can be used on any type of toy material. Yeah, jelly's not going to get totally clean, but that's a given. It works on delicate materials as well as it does on your bad ass non-porous ones. Not only is it good for sexy things, but it also works as a wonderful cleanser for menstrual cups, as well! No more having to use hand soap because this stuff is meant for things that wind up in vaginas, sexy or not.
Here's what's in it:
Water, Triclosan 0.30% w/w, Acrylates copolymer, Ascrobyl palmitate, Cellulose, Chromium hydroxide green, Cocamidopropyl Bectaine, Coco-glucoside, Disodium EDTA, Fragrance, Glyceryl oleate, Hydroxpropyl methylcellulose, Iron oxides, Mannitol, Methylchloroisothiazolinone, Methylisothiazolinone, Polyquaterium-7, Propylene glycol, SD Alcohol 40, Sodium C14-16 olefin sulfonate, Sodium hydroxide, Sodium laureth sulfate, Tocopheryl acetate
Now, that sure is a whole bunch of stuff, but I promise you that it's an effective cleanser that's intuitively designed for your insides. If you're concerned about the long list of chemicals just make sure you rinse your toy really well (even more of a reason to go for silicone, glass, plastic, or metal). But hey, you should be doing that already.
Scent
Ahh! That's the scent of clean! The scent is a little hard to describe, but it certainly makes everything seem fresh and squeaky clean. It's not going to leave anything behind on your toys, though. It smells slightly like soapy berries without being too overpowering or sweet or anything like that. It's light and delicate and a lot like what you'd find in lovely smelling dish or hand soap. It makes washing your toys a fun and satisfying experience!
Performance
Holy crap! Look how clean everything is!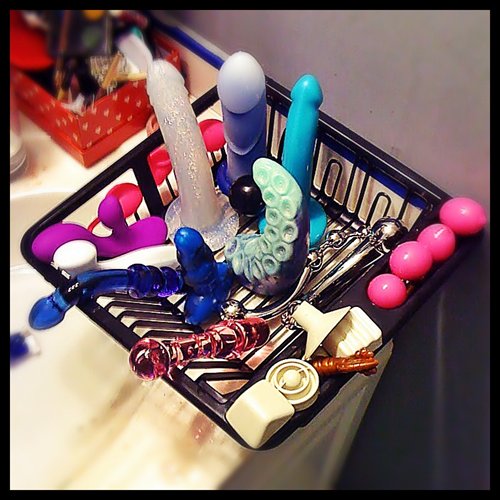 Seriously, I couldn't believe the magic of this stuff. It did a few things for me:
The first was the amazing ability it has to bring out the beauty of things. I was in complete awe over how shiny and gorgeous everything was! It was like I had taken these things out of the package for the first time! No, it was better than that. My Pure Wand and Fun Wand were given the most amazing mirror finish. They look a hundred times better than they did before, and almost better than they did when I first got them! The Vixen Silicone had such an amazing shimmer to it again and the light really reflected off of it bringing out that wonderful feature of their awesome material. Seriously, it's quite impressive. Glass turned almost crystal clear and had such a lovely amount of sparkle to it again. It really makes your toys look as if they're brand spanking new. Not only this, but it makes silicone soft and supple again and cuts down on the tackiness a little. This proves that there's no yucky soap residue left behind!
Experience
The second thing I really appreciated was the ability that this stuff has to remove basically everything that's stuck to the toy. I have a fluffy kitty who sheds EVERYWHERE and somehow her fur ends up on my toys. I'm totally not a fan of fuzzy dildos, either. Washing everything with normal soap was a pain in the ass because it wouldn't get the furs off without me having to scrub like crazy. As soon as I dried it, it was covered in fur again. Ahh! No fun! With a little of this soap everything rinsed away with no effort needed. There was no having to pick off each piece of lint and hair one by one. Nope, a little scrub and it was good. This also goes for those things you tossed aside during moments of passion and forgot about. All of that yucky crusty stuff was no match for this awesome soap. It was much easier to clean out cracks and crevasses, too.

I take pleasure in knowing that all of my toys are squeaky clean with this stuff. I've never met a better sexy thing wash ever. It makes them pretty, gets them clean, and takes away all of the gross germs and icky stuff.

Washing a considerable amount of my toy collection (which was about 20 different ones with a bunch of odds and ends) only took up about 1/10th of the bottle. Not bad at all. I'd suggest that you grab yourself a soft scrubby brush like a soft toothbrush or something of the sort, and a soft sponge or washcloth. You'll end up using less than what I did.

Overall, me and this soap are a match made in heaven.
Follow-up commentary
2 months after original review
This stuff is just that amazing. My toys are always sparkly and clean. What I use this most for, though, is washing my silicone menstrual cup. It's really important to keep those things super clean and most soaps tend to leave behind gross residue that can lead to some uncomfortable infections. Not this at all. It's really a lifesaver.
This product was provided at a discounted price in exchange for an unbiased review. This review is in compliance with the FTC guidelines.

Thank you for viewing
Climax bursts toy cleaner
– toy cleanser review page!