Bust Out a Fresh, Clean Burst!
Your toys treat you well, so treat them to the sweet luxuriousness of Climax Bursts. This lathering cleanser will take your toys to a whole new level of clean. It's moisturizing qualities will ensure their long and happy life so you can be happy too. It's a fun and easy to use cleaner that smells fantastic. My only caution regards the active ingredient.
Published:
Pros:
Conditioning,
Smells amazing,
No residue
Cons:
Contains triclosan,
Awkward dispensing,
Doesn't come in a bigger size
Use
Climax Bursts is a toy cleaner made by Topco Sales and sold across the world. Topco Sales are a leading, FDA registered company in the United States. It comes as no surprise that this product is so great.
Being water based, it's safe to use on any material, getting it as clean as that material will permit. Silicone, glass, and steel will get squeaky clean, whereas jelly is porous by nature and will never be as clean. Since the cleaner must be rinsed off with water, it is best used on toys that will take kindly to such treatment. Any non-waterproof toy runs the risk of being damaged, though it can be used with caution.
The bottle contains 4 ounces. The translucent gel is thick enough to stay where it's put. There are tiny green and yellow beads suspended in it. They burst to release Vitamin E that conditions and moisturizes your toys. Four ounces doesn't sound like a lot but it lathers up really nicely. Only a dime-size amount is needed to clean an average-sized dildo. On the other hand, everything about this cleaner entices you to wash as many toys as often as you can and it may not last as long as you'd like.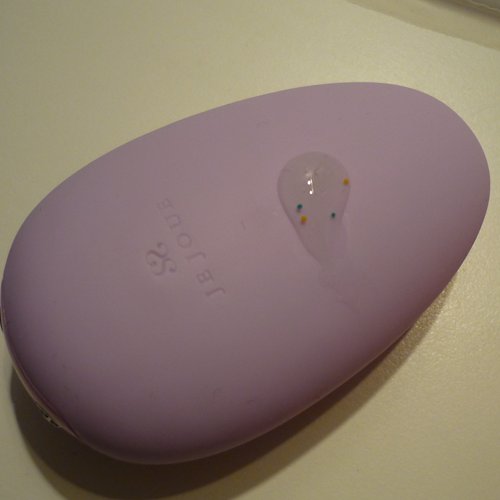 Scent
Climax Bursts smells as good as the name sounds. It has its own unique blend of fragrances that make it tough to describe, but I'll give it my best. The closest comparison I can make is that of a citrusy fresh smelling laundry detergent. The scent is sweet, light and clean, without smelling overly soapy. Anyone sensitive to strong scents, as I am, should be alright with this one. The scent seems to linger on some toys and not others. I tried to figure out if this was due to material types but found no correlations. It is not strong, but rather a soft freshness, reminiscent of the cleaners smell.
Directions
As written on the bottle: "If toy is electrical unplug before cleansing, if battery operated remove batteries, and replace battery cover. Apply generously to all toy surfaces, wait 30 seconds and wipe, rinse completely with clean water, use clean dry cloth or paper towel to remove moisture." However, more of the cleaner will be used to cover the toy and this can be wasteful. Since the cleaner lathers up so well, it can be rubbed and scrubbed in with water and then rinsed off.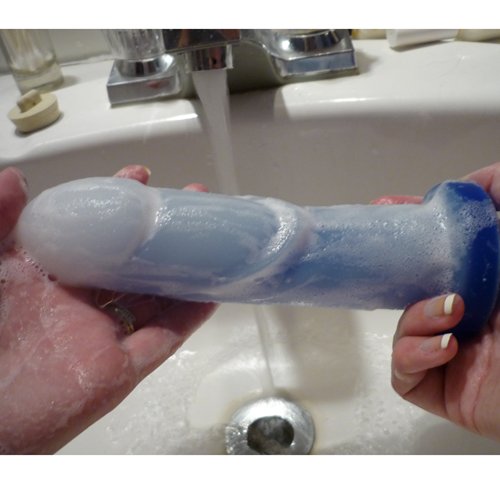 The bottle must be turned upside down to allow the cleaner to come out the top and persuasively squeezed due to its stiffness.
The bursted beads can very easily get stuck in crevices of textured toys. Therefore, a little extra attention must be paid when rinsing the cleaner off these toys. It is not meant to be used internally so a thorough rinsing is always in order either way.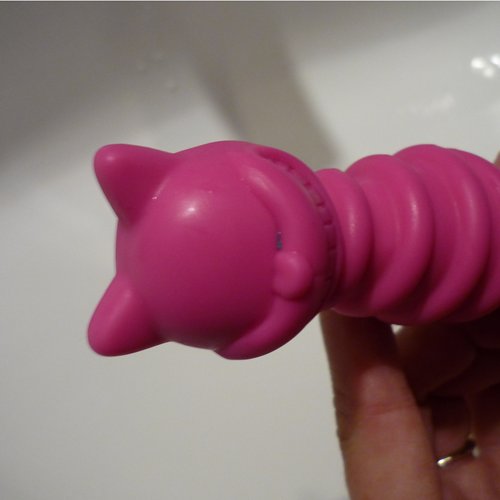 Ingredients
Acrylates copolymer, Ascorbyl Palmitate (Vitamin C), Cellulose , Chromium Hydroxide Greens (CI 77288
, Cocamidopropyl Betaine, Coco-Glucosidase, Disodium EDTA, Fragrance, Glyceryl Oleate, Hydroxypropyl Methylcellulose, Iron Oxides (CI 77489, 77491, 77492, 77499), Lactose, Mannitol, Methylchloroisothiazolinone, Methylisothiazolinone, Polyquaternium-7, Propylene Glycol, SD Alcohol 40, Sodium C14-16 Olefin Sulfonate, Sodium Hydroxide, Sodium Laureth Sulfate, Tocopheryl Acetate (Vitamin E), Water
Active ingredient:
Triclosan
0.30%
Some of these ingredients are known irritants. If this is a concern, spot test to check that no allergies or irritations will result. Do not use if any irritation develops.
Triclosan is the ingredient of interest. This dynamic little compound has some good and some bad qualities. First off, its antibacterial properties have been proven, making it effective here. Sadly, its safety is currently under revision by the FDA and Health Canada for several reasons.
It does not get broken down completely and persists in the environment and in our bodies. It reacts with chlorine and gets degraded by the sun, forming toxic and stable dioxins. Some dioxins are potent endocrine disruptors (hormones). It can be absorbed through the skin to go on to affect immune function. Recent studies have shown that while these are risks tied to triclosan, its concentrations are not high enough to affect humans. It does, however, affect our environment and aquatic life. Diatoms are a large group of oxygen producing algae whose photosynthetic activity is blocked by triclosan. The development of Super bugs that have managed to bypass the inhibition placed on them by triclosan remains a big concern but is yet to be proven.
Triclosan is found in many other products such as toothpastes and even clothing. Studies on the affect on humans in the concentrations available to us are ongoing. So, until a decision is made for us, each can make their own choice to use this product or not.
Experience
Packaging
Right out of the postage box, the bottle is inside a clear plastic bag tied by a knot. The bottle itself is made of a clear sturdy plastic with a green screw cap. There is a seal beneath the cap that will need to be removed. The cap is covered by a hard clear plastic dome-shape that pops up to allow for dispensing. When closed, a nub sticks out of the top, sealing the dispensing hole. This cap can be difficult to pop up and is it easy to go too far and pull the whole sphere off. I did this and feared I had broken the bottle altogether. Should this happen, it can be placed over the cover and pushed back on with a bit of force. This is a useful feature that will allow the cap to be easily cleaned if it gets crusted up. Also, for traveling purposes, it won't leak en route as the cap is strenuous to lift off.
There are what appear to be green bubbles on the front of the bottle. "Climax Bursts" is written lengthwise across the front. There is also mention of this being a toy cleaner, making it less discreet. The back of the bottle is more obvious. If someone were to pick this up and read it, they would know exactly what it is for. The ingredients, uses, directions, warnings and manufacturer information is listed here. Otherwise, it could be passed off as a facial cleanser or something of the sort. An acceptable expiration date is stamped on the bottom of the bottle. Mine is said to expire in August of 2014, giving it a very reasonable two year shelf life.
To ensure the products integrity and maintain its long lifespan, this cleaner should be stored in a cool (20 to 25 degrees celcius ), dark place.
Experience
It's always that much more satisfying when the difference is noticeable. With this cleaner I can actually see how clean my toys get. Whether it's before or after use, whenever your toys need cleaning, Climax Bursts is about as reliable as it gets.
It leaves such a wonderfully fresh, clean scent on my toys. An even better feature, however, is its ability to take care of them. I am confident that this non-abrasive cleaner will actually lengthen the life of my toys. They are softer, smoother, shinier, and cleaning is always a breeze. Crudded up fluids effortlessly lift right off and I never have to worry about having a residue left behind.
My Kinky Kat had a terrible new silicone smell. So bad that it triggered a migraine and had to be put back in its box. The next day I cleaned it with Climax Bursts and not only was the smell gone but it actually smells good now.
Though it is argued that any old soap will get the job done just as effectively without the worry that triclosan poses, my toys have never looked or smelled better. Quality materials look even better. This cleaner does more than just get stuff clean. I am hopping on the Climax Bursts bandwagon. This is a 5 star product that I can't recommend enough.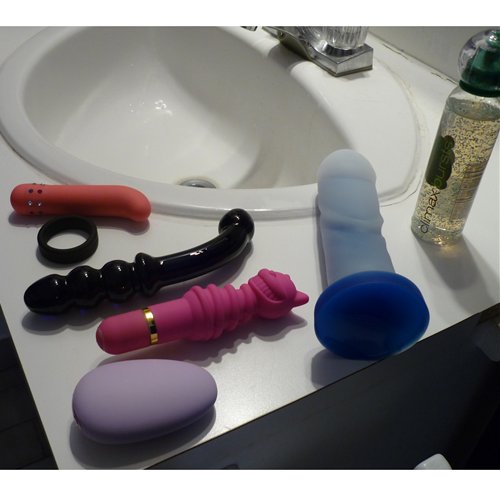 Follow-up commentary
10 months after original review
I still love this cleaner and would repurchase it from Eden should it get restocked, though I probably wouldn't seek it out somewhere else once I run out. Still, it smells fantastic and I really enjoy the lingering scent on my toys.

The triclosan is still a concern for me and I often opt to use a regular antibacterial soap over this one. Not just for the sake of the risk that triclosan poses, or for saving the product, but mainly because the top has broken off and made dispensing frustrating and even more awkward. I have to either dip a finger in or hold the bottle upside down until the thick formula pours out in a huge glob.

I wasn't even using much force to pull the top open when the whole thing came off. At first, I thought the plastic bulb had just come off again, but it turns out the actual spout broke off inside the bulb. I just sit the cover over it now and leave it sitting upright in my vanity. It's definitely not travel-friendly anymore.
This product was provided at a discounted price in exchange for an unbiased review. This review is in compliance with the FTC guidelines.

Thank you for viewing
Climax bursts toy cleaner
– toy cleanser review page!