Silky Body Oil
Body Boudoir's Body Dew is an awesome skin moisturizer that doesn't leave any greasy or oily feeling after use. It has a great scent that's not overpowering in anyway and lingers around for a decent amount of time. Not sure about the pheromones, scientifically speaking. I don't buy it. Regardless, this body oil is highly recommended!
Published:
Pros:
Nice viscosity, Absorbs Well, Good scent, long lasting, large bottle
Cons:
None
Body Dew Silky Body Oil with pheromones is a great product by Body Boudoir that will leave your skin soft and smooth. I chose the Make Me Blush scent. It is not at all overpowering and smells fabulous. My legs can get fairly dry, so I got this to help improve the issue. It really works fabulously. I usually use it at night when I get out of the shower. I only use very little and it goes a long way, so I can see this bottle lasting a long while. I've been using it for almost a month now and it barely looks like I've used any. I use about 3 pumps per leg and it rubs in nicely. It doesn't leave you feeling oily or sticky. I'd say it's lighter than baby oil. I really like the Make Me Blush scent. It's not strong and will linger for about 2 hours before it's no longer noticeable. The scent consists of Sweat Pea, Blue Violet, and White Cedar. As far as the pheromones go, I really can't vouch for them. If you aren't clear about pheromones, they a secreted or excreted chemical that triggers a response from other people. They are chemicals capable of acting outside the body of the secreting individual to impact the behavior of the receiving individual.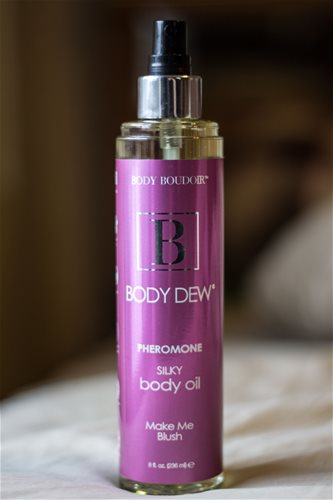 It comes in an 8oz bottle. The oil has a yellowish hue, but comes out perfectly clear. It sprays easily out of the pump top. It's more of a stream, rather than a mist. While in the bottle, when shaken, it barely looks thicker than water. Once it is on the skin, it becomes runny and will start to drip. It is clearly seen how thin it is. This is a good sign, that it won't be greasy. So, once it hits your body, it is a good idea to rub it in. It's recommended on the bottle to put it on damp, moist skin; I'll put it on dry or damp and it works just fine both ways.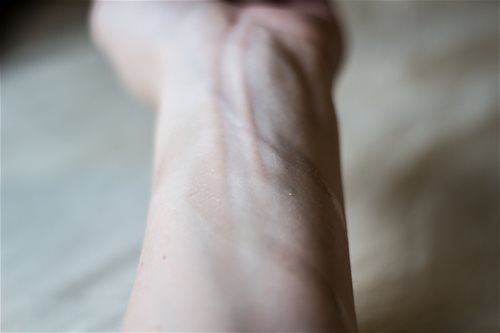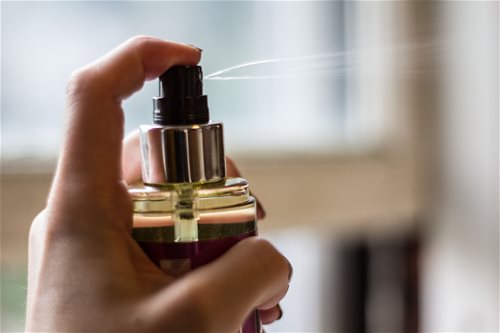 The ingredient list:
Glycine Soja Oil - soybean
Isopropyl Palmitate - palm oil (thickener, moisturizer)
Caprylic Triglyceride - coconut oil
Carthamus Tinctorius Seed Oil - safflower
Prunus Amygdalus Dulcis Oil - sweet almond
Copuline Alike - Parfum
Reconstituted Andronone - pheromone
Retinyl Palmitate - Vitiman A
Tocopheryl Acetate - Vitiman E
BHT - presevative (debated to be linked with cancer, but no scientific evidence)
Fragrance- parfum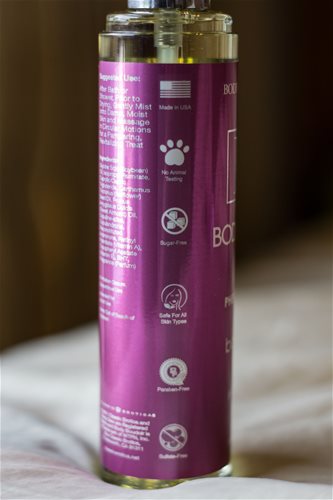 Experience
Some perks about the Body Dew is that it's made in the USA. It's not tested on animals. It's sugar free; while sugar can be great for balancing oils and helps eliminate blemishes, it can cause wrinkles. It's good for all skin types. It's paraben-free; there's been no direct link between parabens and cancer, but some scientist conclude that they may be linked. So, better safe than sorry. Finally, it's sulfate-free; sulfates can strip away the natural fats on the skin and upset the balance which make skin too dry.

I would probably grab another one of these if I ran out. I like that I don't have to plan on that because this bottle is going to last forever, unless I just wanted to try another scent. I wish I had this during the winter months because I get terribly dry skin around then and I'm confident this would have helped. The only negative comment I have about it is that the packaging reminds me of some old bottle of stuff that's been lying around grandma's house for 50 years. Even though I've had no problems with leaking, I probably wouldn't risk traveling with it in fear that it might. It doesn't really perform too well as a massage oil because it rubs into the skin easily, but it's okay for a quickie shoulder massage or something of the sort. This oil is intended for external use only and not as a lubricant.

I use this frequently and I would definitely recommend it!
This content is the opinion of the submitting contributor and is not endorsed by EdenFantasys.com

Thank you for viewing
Body dew silky body oil
– body moisturizer review page!