Venus Body Butter
For excellence in hydration and something that will last all day, Venus Body Butter is a fantastic choice! With a wide selection of great scents to choose from and a generous amount for your money, to turn this product down might be a mistake! This body butter contains vitamins and shea butter for a little something extra!
Published:
Pros:
~Creamy and thick
~Moisturizes all day
~Smells fantastic
~Absorbs well
Cons:
~Contains a paraben
Venus Body Butter
by
Venus
is a moisturizing, wonderfully fragranced thick cream. It comes in 11 different scents: Pomegranate, Juniper, Mandarin Mango, Lavender, Cucumber Melon, Peach, Milk, Green Tea, Pineapple Tangerine, Man and totally unscented. Although having all of these great choices made it difficult for me to decide which one to try first, in the end, I went with peach. I'm a sucker when it comes to peach; it is one of my favorite scents.
The jar that the product is inside of is a clear plastic with a pretty discreet label on it. It features the company name, what the product is, and a picture you would find on most body butters! There is a black lid that you can screw on and off, and it is very easy to use. You get 8 fl oz in each jar, which should last you a good while! Body butters are much thicker than lotions and tend to stick to the skin a bit better, which is why I love them! First opening the jar there is a white circular flap covering the product which can easily be pulled up with the tab sticking out. Once removed, you will reveal the body butter. The jar is very discreet and one would not suspect that it came from a site like Eden, were they to see it in your bedroom or bathroom. It is also great for travel because the lid does not easily come off, though I would consider keeping it in a plastic bag during travel just in case!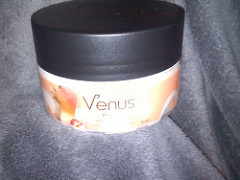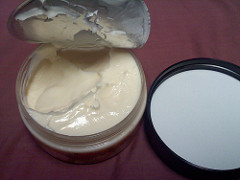 For your price, although this is expensive, if you are used to shopping at places like
Victoria's Secret
, you will find that this is not all that expensive. For example, I took the two places I shop the most for such things and compared. Victoria's Secret offers similar
body butters
for $12, but you get only 6.5 oz per jar. Additionally, they do not contain the same hydrating ingredients.
The Body Shop
offers 6.75oz of product for $18, if you want a product that has similar ingredients. So, really, you are actually not spending as much money as you think, if you consider the amount you are getting and the ingredients involved!
The aroma is instantly noticed. It is true to its scent, smelling much like freshly cut up peaches. It smells somewhat sweet, though I did not taste the product to find out if it tastes as sweet as its scent leads on! Once applied to the skin the scent is still strong enough to be detected from a few feet away but eventually fades. For the first few hours you can smell this product well from a slight distance, and if you need to get rid of the scent you can simply wash it off with soap and water.
The moisturizing affect of the product lasts for anywhere from 4 to 8 hours depending on where you use it. On the hands I found that it does not last as long because I am constantly touching things and rubbing it off. On my elbows, however, I did notice that the product lasted through almost my whole work day! I tend to have very dry, chapped skin and so thick butters like this are excellent for relief of that issue!
Dipping your fingers into the jar, you'll notice that although the butter is very thick, it still comes out easily and is not clumped up. Some body butters are a bit chunky coming out of the jar, or so thick they are hard to spread, but neither is the case with this product! I appreciated the fact that Venus Body Butter spreads like a cream and absorbs quickly, not leaving a greasy feeling to it! All that is left over once the product is rubbed in thoroughly is a silky smooth feeling!
Before and after rubbing it in: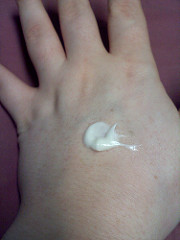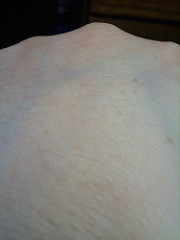 As a
side note
, this product is made in the USA and they do not test on animals!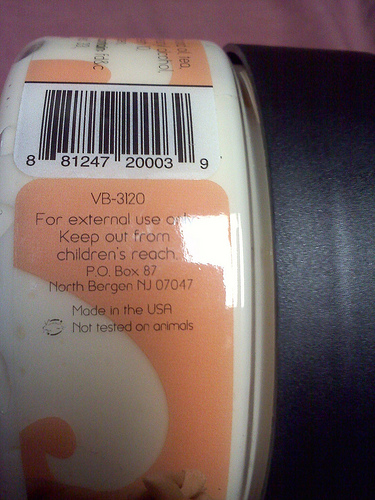 INGREDIENTS NOTES
This product does contain a type of paraben. Also, it contains almond oil, which may be an allergy concern for some.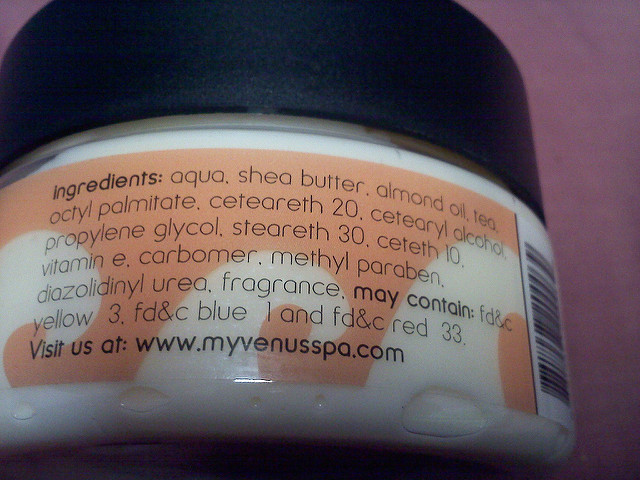 Experience
I enjoyed applying this body butter to my whole body (externally only, of course) after a shower. It hydrates the skin long-term, so if you shower in the mornings you won't need to worry about feeling dry halfway through the day! My partner loves the way this smells on me, and he says it makes him hungry for peach pie!
Follow-up commentary
4 months after original review
I still frequently use this body butter. Most of it is gone at this point, because of how much I rely on it to hydrate my skin. I absolutely love this scent and I am glad that I purchased this moisturizer. I plan to buy more of these once this first jar is finished! I'd say it's lasted me a long time, especially considering how much use it gets!
This product was provided at a discounted price in exchange for an unbiased review. This review is in compliance with the FTC guidelines.

Forum
| Discussion | Posts | Last Update |
| --- | --- | --- |
| venus | 11 | |
Thank you for viewing
Venus body butter
– body moisturizer review page!