My box of wonders!
Love toys? Love collecting toys? Need a place to store them? Here is your solution! A cute box that has a combination lock on it - comes in 3 colors and easy to open! Stores your favorite toys, or your makeup!
Published:
Pros:
Locks
Discreet
Inexpensive
Holds quite a bit for its size
Cons:
You may forget the combination
The
lockable sex toy case
by
BMS Enterprises
was an easy and quick solution to a bit of a problem for me. I have so many toys and not enough places to store them! Although you can use this box for many things, I chose to use it for its intended purpose. You can, however, store makeup, lotions, jewelry, really anything you'd like that fits! It would even be good for smaller hair accessories like clips and scrunchies!
When choosing a box, you will have the option of 3 colors: pink, purple or black. I chose black for my first box, but plan to get the purple one as well. Each box comes with a lock function controlled by numbered turn wheels. For convenience, the box also has a handle so you can carry your box with you wherever you go!
Your lovely box will come wrapped in bubble wrap. Who doesn't love bubble wrap?! Once you are done popping all of the bubbles, you can make sure that you turn all of your numbered wheels to "0", which is the default code. Then, push the button next to the numbers to the right, and watch the latch fly open! Inside of the box you will find a piece of paper, which gives you instructions on how to change the numbers. Make sure that the numbers are
not
something that you will easily forget, because there is no recovery system should you forget! If you do forget, you may have to break open your box! I just left mine at their default numbers, but spin the wheels so that it is not on "0", so it can't immediately be opened.
The outside of the box had a bit of a texture to it, almost like a fine sandpaper. It wasn't really scratchy, just bumpy. The box itself is made of vinyl. There is apparent metal lining on the box, including the handle, but the inside is lined with suede. The outside of the box, if needed, can be wiped down with a damp (but not wet or drippy) wash cloth and soap, or a simple toy wipe. I would avoid getting too much water on the box because you won't want it to somehow get inside! Suede should
never
be wet, so be sure to put any lubricants or oils in a bag before storing them inside, just in case! Should the suede become wet or stained, try to dry it immediately, or the fabric will become ruined. For the most part, though, the box should stay clean and pretty on the outside, and unless something leaks or spills on the inside it should be fine too!
As for the size, it is 12x4x4. For my uses, this was perfect. I could store my favorite vibes and a few other things as well! I plan to get at least one more of these boxes in the purple color, but it does hold a lot more than it seems it could. The size also allows you to easily hide the box in a drawer, under your bed or in another location. It also makes it a lot less obvious as to what it is! For all anyone might know, this could just be your makeup or hair accessories! A larger box may be more of a giveaway!
The box is latex-free, very discreet, and compact! The number wheels are easy to turn and the latch opens up easily. The handle makes it convenient to carry or move around, and you could easily take this with you on trips!
How the box looks outside of the fun bubble wrap:
Inside of the box: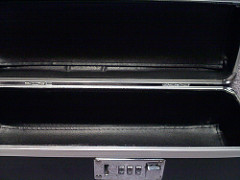 Lock:
The inside of my box with my toys: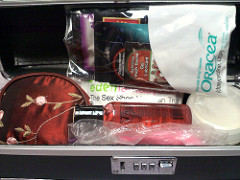 AND THE TRUE TEST...everything that was inside!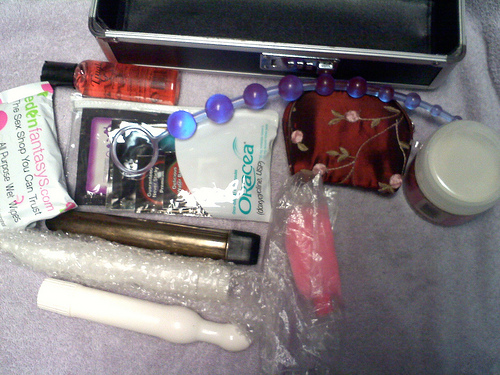 In the above photo, you are seeing:
my silicone anal beads
,
tingle gel
,
honey body powder and feather in a bag
, a vibrator that I haven't located on Eden as of now (I had it before joining),
my clitoral hummer
,
the slim and smooth delight
, lube sample packs, a pack of Eden wipes, and a bag I keep my batteries in.
Experience
I had a lot of fun picking the toys to store in my box. I chose my two very favorite vibes and a third that I got from Eden, and a few of my other favorite things. The box does hold quite a bit for its size and I keep it under my desk on a shelf. It is hidden and no one would notice it at all unless they were under my desk for some reason (maybe the boyfriend might be under there and see it, but not sure who else would be!)

I did notice slight "new car" smell to it almost, when I first got my box, so I did decide to give it a quick wipe-down on the outside and the smell wasn't noticeable.
Follow-up commentary
3 months after original review
Since my initial review, I have not purchased the toy case in purple, but I do plan to. I may even get a few more of one or both colors, just for extra storage. I've noticed no problems with the lock mechanism or the latch, the hinges seem to be just fine and I haven't experienced issues opening it.

I have traded out the toys that were once inside for other ones, but I still enjoy and use this lockable toy case.
This product was provided at a discounted price in exchange for an unbiased review. This review is in compliance with the FTC guidelines.

Thank you for viewing
Lockable sex toy case
– sex toy storage review page!